Leipzig/Halle Airport opens new refrigerated warehouse for temp-sensitive goods
<p style="text-align: justify;">Apr 21, 2017: Leipzig/Halle Airport's World Cargo Center (WCC) has started operations at new cold storage for airfreight shipments. The warehouse has direct access to the apron and thus guarantees short transport routes to and from the aircraft as well as for trucks.</p> <p style="text-align: justify;">The configuration of the cooling system allows parallel […]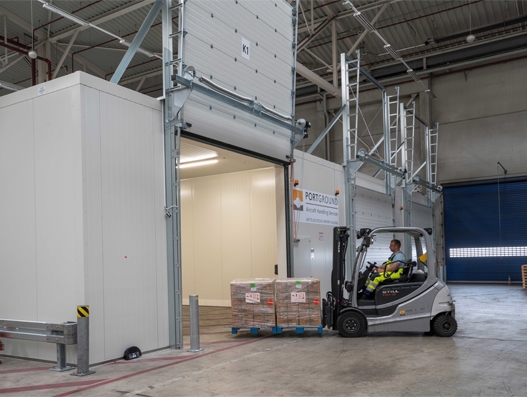 Apr 21, 2017: Leipzig/Halle Airport's World Cargo Center (WCC) has started operations at new cold storage for airfreight shipments. The warehouse has direct access to the apron and thus guarantees short transport routes to and from the aircraft as well as for trucks.
The configuration of the cooling system allows parallel storage of pharmaceutical products and perishable goods and temperature-sensitive goods which may be stored heat neither in freezing and transported. These include, among other instruments or means of production in the semiconductor industry.
With the commissioning of the certification of the storage area, operations are carried out according to the European Guideline "Good Distribution Practice" (GDP).
In the new cold storage, goods can be stored at temperatures of + 2°C to + 25 ° C and the facility Is operated by Port Ground, specialised subsidiary of the Central German Airports Group.
The temperature can be individually adjusted in three separate areas. Access control, video and temperature monitoring ensure the highest safety standards.
"The new cold storage for air freight expanded our comprehensive logistics portfolio and is particularly interesting for companies in the pharmaceutical, food and semiconductor industry in Germany and Eastern Europe," says Alexander König, CEO of PortGround.
"Our customers not only benefit from the wide range of services PortGround the handling of freight of all kinds, but also access to a route network that consisted of Europe's fifth-largest cargo airport in the past year more than 220 destinations around the world. "
The Leipzig / Halle Airport is a subsidiary of the Central German Airports Group. In 2016, some 2.2 million passengers and 1.05 million tonnes of air freight were registered.