FROM MAGAZINE: Latin American air freight is flying high
The air trade in Latin America is growing with new capacity introduction and demand for fresh Latin American perishables from across the globe. However, the archaic regulations and slow growth in infrastructure is hindering the continent from realizing its full potential. Nahida Jafferi Latin American airfreight makes up only 2.3 percent of the world's total […]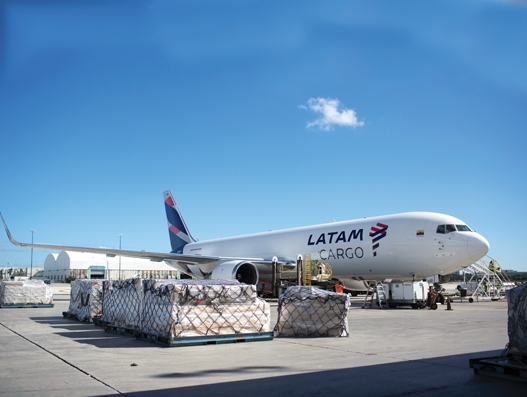 The air trade in Latin America is growing with new capacity introduction and demand for fresh Latin American perishables from across the globe. However, the archaic regulations and slow growth in infrastructure is hindering the continent from realizing its full potential.

Nahida Jafferi

Latin American airfreight makes up only 2.3 percent of the world's total in terms of Freight Tonne Kilometres (FTK).
The International Monetary Fund (IMF) predicted a 2.2 percent growth in 2019 for Latin America. In February 2019 versus last year, Latin American airlines posted the fastest growth of any region with demand up by 2.8 percent. The outlook for Latin America is positive. The International Air Transport Association (IATA) points out, "Despite the economic uncertainty in the region, a number of key markets are performing strongly. Seasonally-adjusted international freight demand achieved growth for the first time in six months."
A few major players namely, LATAM Cargo, Avianca, Copa, Aeromexico and Atlas, dominate the Latin American air trade.
Michael T Steen, Executive Vice President and Chief Commercial Officer, Atlas Air, said, "We are seeing continued strong growth on northbound sectors from Chile, Colombia, Brazil, and Ecuador into North America, Europe and Asia. The demand for fresh, healthy food from global consumers primarily for fresh fruits, vegetables and fish, has led to good opportunities for the airfreight industry in these regions."
Perishable exports from the region drive air freight demand in the region, may it be flowers from Columbia, salmon from Chile, or berries from Peru.
Situated to its north, the US is the top trading partner with Latin America. China is becoming an important market for Latin America's exports. There is a lot of salmon being produced in Chile, which is in demand in China, thereby boosting air trade.
The South American region is an important and growing part of the global economy and an integrated part of Atlas' operation. "We have increased our footprint in the region over the past 10 years and created a large freighter network with presence in all major markets. We expect to continue expanding our network as demand continues to grow, both intra-regionally and globally," added Steen.
Capacity is also steadily increasing in the region. Andrés Bianchi, the CEO, LATAM Cargo, said, "We plan to expand our freighter network by utilizing the two additional Boeing 767BCF that we will receive in 2019 while continuing to leverage the expansion of our passenger network to provide customers with a broader set of ODs."
He further added, "We are also working on our joint business agreements with American Airlines and IAG, which should significantly enhance the number of ODs we can offer our customers."
In 2018, LATAM Cargo moved 921 thousand cargo tonnes. "The main source of growth," cited Bianchi, "in recent years has been the expansion of perishable exports out of South America. A great example is the growth of Chilean fresh salmon shipments to China, which grew more than 15 times to 700 tonnes per week between 2014 and 2018. Another factor contributing to overall growth is improving connectivity within South America."
With this, LATAM Cargo offers its customers a broader set of options, in terms of destinations and routing alternatives.
In terms of infrastructure and IT, LATAM is currently working on a new end-to-end system that its plans to deploy during early 2020. "We are also working on facilities in key airports such as our new transit cooler at Guarulhos airport in Sao Paulo," he informed.
Challenges
While Central and South America have made significant progress in the improvement of the processes and infrastructure in and around airports, there is much more work to be done. Latin America's regulatory environment is complex and outdated, and that is hindering the rapid clearance of cargo. Many countries still requiring signatures, stamps, and associated fees on export shipments.
"Fragmented logistics chain with delays, infrastructure constraints, inadequate ground services, complex customs process, regulatory restrictions are the main challenges that increase transit time and create inefficiencies in the supply chain. This under-investment into the infrastructure and digitization by many stakeholders, including customs authorities throughout the region, causes the entire supply chain to suffer," stated Steen.
He suggested that ongoing discussions and collaboration between supply chain stakeholders and regional regulators is important to increase investments to improve infrastructure and connectivity in all regions. "Intraregional partnerships to improve customs processes and technology and efficient ground handling would result in reduced transit times, a significant increase in airfreight volumes and an overall contribution to the regional economies," said Steen.
The infrastructure limitations at key airports in Latin America and outdated regulations are impediments to improve efficiency.
Bianchi recommended, "On the customer side, we believe reducing uncertainty and no-shows would contribute significantly to a more efficient and reliable supply chain. We also expect airports to improve infrastructure to allow for more efficient operations and better peak management. It is important that governments update regulations so that cargo can flow faster and more efficiently."
Amsterdam connection
Flower imports are a steady trade lane, and Latin America, together with Eastern Africa, makes up for about 28 percent of total airfreight import at Schiphol.
Roos Bakker, Director Business Development Cargo, Amsterdam Airport Schiphol, said, "In 2018, Schiphol saw positive figures for both inbound (+5.48 percent) and outbound (+6.23 percent) cargo from Latin America, with inbound cargo being higher than outbound due to the import of perishables/fresh cut flowers from countries such as Colombia and Ecuador."
As Schiphol is a slot restricted airport, having reached its maximum amount of slots, growth in Air Traffic Management (ATM) to Latin America (or any other region) is not possible. That's why; Schiphol is looking for alternative ways to boost the flower trade lane.
In cooperation with KLM Cargo and Royal FloraHolland, Schiphol has established the Holland Flower Alliance, which is an alliance dedicated to improving the floral logistics chain. Bianchi said that Schiphol is now exploring possibilities for improving flower routes between Colombia and the Netherlands, while the focus remains Nairobi and Amsterdam trade lane.
Bakker highlighted, "In cooperation with Vrije Universiteit Amsterdam, one of Amsterdam's two largest universities, a dedicated group of students will travel to Bogota during the so-called Amsterdam Research Project in order to explore possibilities and to see how we can optimize the flower logistics chain on the Bogota-Amsterdam route."
Bogota that is increasing in importance has made significant improvements via their hub carriers, Copa and Avianca.
Opportunities ahead
Although there are several open skies agreements in place with Latin American countries, more needs to be done to open markets. The recent open skies agreement between the US and Brazil has improved trade between the countries.
Intra Latin American trade is slow, however, its growth is deemed as a distinct possibility.
In an article in TIACA Times, Juan-Cruz Racana, the CEO, Americas Alliance, a network of freight forwarders in Latin America, says that there are many intra-Latin American businesses that are generated by the need for immediate deliveries and offer very competitive freight rates, in relation to others.
Whereas, Eric Hartmann, VP Aviation Services, Latin America, AGUNSA, believes that outside Brazil, the continent lacks the big industries that could drive intra-Latin America trade so exporters need to be creative.
The Latin American market is steadily improving and air trade demand is positive within the continent and beyond.