LATAM Cargo's $3.5 mn worth Brazilian perishable hub to facilitate export from South America, North America, Europe
January 17, 2020: LATAM Cargo has opened its perishable hub worth $3.5 million in Guarulhos, Brazil, which is a controlled-temperature cooler facility. The facility will protect the quality and freshness of perishable products while en route to other destinations in South America, North America, and Europe. The company has expertise transporting fresh products, which account […]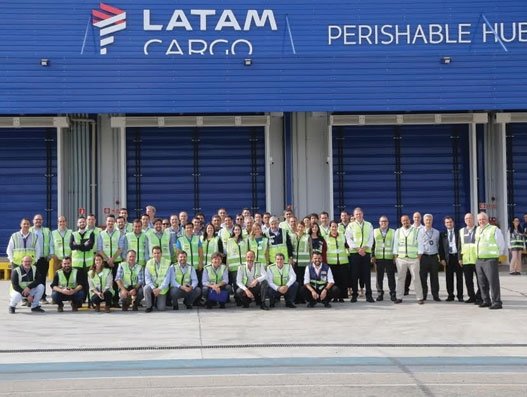 January 17, 2020: LATAM Cargo has opened its perishable hub worth $3.5 million in Guarulhos, Brazil, which is a controlled-temperature cooler facility. The facility will protect the quality and freshness of perishable products while en route to other destinations in South America, North America, and Europe.
The company has expertise transporting fresh products, which account for 45 percent of all goods carried during a year. In this context, Guarulhos occupies a place of relevance because 85 percent of all cargo connecting here is perishable.
(L-R) Andrés Bianchi, LATAM Cargo Group CEO and Gustavo Figueiredo, GRU Airport CEO.
The facility occupies an area of 1,637 square metres, of which 50 percent (825 square metres) are equipped with variable temperature cooling chambers that offer refrigeration ranges of 0 to 2°C and 2 to 12°C for storage and re-palletising. The system also gives the option of raising the temperature of any of the chambers up to 22°C. The group has increased its perishable storage capacity at Guarulhos by 33 percent.
"Our new cooler is a clear example of our commitment to being strategic partners for our customers. We know Latin America is a major producer and exporter of perishables, and that its economic development largely depends on the international recognition of the quality of its products. Faced with this reality, and as the leader in air transportation in the region, we took on the challenge of providing excellence in service and execution and investing in leading-edge infrastructure to protect the freshness of the products carried, with the high standards our value proposal is well known for," commented Andrés Bianchi, CEO of the LATAM Cargo.
Of all the salmon transported by LATAM Cargo, 19 percent connect Guarulhos, primarily to the United States and China. Similarly, 14 percent of the asparagus produced in Peru transit Guarulhos airport on their way to the United Kingdom and Germany, and 22 percent of Peruvian mangoes stop here while en route to Spain and France, among other countries. Other perishables connecting at this hub include cherries, trout, southern hake, and fresh flowers, all of them with specific storage temperatures.
"Our perishable hub will help us to reduce the time perishables are exposed to non-controlled temperatures by up to 20 percent, thanks to its capacity to offer variable temperature ranges and its strategic location closer to the loading areas. Our permanent commitment to offering more and better services that suit the needs of our customers, coupled with our strong and diverse network makes us the best alternative to connect the goods produced in Latin America with the world," said Claudio Torres, international commercial director – South America.
(L-R) Matias Herceg, operations director from LATAM Cargo Group and representatives of ABEAR.
The perishable hub opened as part of the launching of FRESH, an enhanced version of the perishable care option that provides more robust temperature control across the network. With FRESH, LATAM Group will offer controlled-temperature facilities across its network –perishable hub is one among several others, an online storage temperature deviation monitoring the system, reduced exposure time while on the tarmac, and a predictive model that identifies the best measures to ensure freshness, among other benefits.
"Our efforts are focused on determining the core needs of our customers, understanding the nature of the products we carry, and offering a solution of excellence to bring Latin American perishables to the main global consumer centers in all freshness, thus increasing their shelf life," Torres added.
Guarulhos connects more than half (57 percent) of the perishable cargo transported in passenger aircraft holds, making it a strategic location for the company's goal of maximising the use of its passenger fleet. Santiago (Chile), Lima (Peru), Bogota (Colombia), Buenos Aires (Argentina), Asuncion (Paraguay), Montevideo (Uruguay) and Santa Cruz de la Sierra (Bolivia) are the seven points of origin for the perishables that stopover at Guarulhos on their way to their final destinations in North America, Europe, and Africa.
LATAM Cargo Brazil has continuously improved its services to offer the products that best suit the individual needs and profile of its customers. Since 2014, the company has invested in a business plan that includes the renovation and construction of new terminals, as well as security and technological enhancements. It also plans to increase its cargo capacity on a number of domestic and international routes.
At present, LATAM Cargo Brazil is in the process of remodeling several cargoes terminals across the nation and, in line with LATAM Airlines Group, is constantly opening new routes and frequencies, like the new Sao Paulo (Guarulhos) - Maringa route that started operations in December 2019.
In the same year, LATAM Cargo Brazil added two daily wide-body frequencies on the Guarulhos-Manaus-Guarulhos route, increasing capacity by more than 200 tonnes per month. It also began regular wide-body service on the Guarulhos-Fortaleza-Guarulhos route with five weekly frequencies that will allow carrying 800 tonnes per month. Other domestic routes originating in Guarulhos with increased widebody service is Recife, Salvador, and Belem.
LATAM Cargo is the dedicated air cargo business of LATAM Airlines. It transports freight in the belly of the 317 passenger aircraft as well as in its 11 freighters. The group has one of the largest and most modern warehouse and cooler facilities at the Miami International Airport.