LATAM Cargo launches new freighter route to Copenhagen
June 28, 2019: LATAM Cargo, cargo airline based in Latin America, has become the first cargo airline to offer direct service between Scandinavia and Latin America by adding Copenhagen, Denmark's capital, as a new destination to its network. The new route cuts the transit time by up to 48 hours by significantly reducing the need […]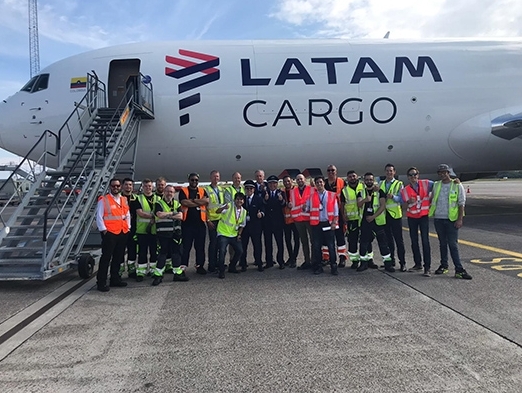 June 28, 2019: LATAM Cargo, cargo airline based in Latin America, has become the first cargo airline to offer direct service between Scandinavia and Latin America by adding Copenhagen, Denmark's capital, as a new destination to its network.
The new route cuts the transit time by up to 48 hours by significantly reducing the need for land transportation.
The route will be operated with a Boeing 767-300 freighter. Initially, approximately 20-25 tonnes will be transported on each weekly flight and over time, if necessary the capacity and/or frequencies can be increased.
The round trip will increase connectivity between Scandinavia and different markets in Latin America with an outbound route that includes Copenhagen (Denmark), Viracopos (Brazil), Montevideo (Uruguay), Santiago (Chile), and Quito (Ecuador). The return will be via Miami (USA), Brussels (Belgium) and Copenhagen.
The main beneficiaries in the Scandinavian industry are pharma companies, car makers, and the oil and the paper sectors, although in the short term machinery and other businesses are also expected to play a major role.
"With the new route LATAM Cargo is now connecting Scandinavia to Latin America with a direct link. This will provide Scandinavian shippers and freight forwarders with a smooth and efficient air freight operation directly to Latin America.
"Adding a direct link is not only important to the handling and shipping of pharmaceutical products, it is equally important to the food ingredients industry and automotive parts industry which also requires stringent and efficient transportation. Being a CEIV certified carrier LATAM Cargo will now offer a unique pharmaceutical solution to South America, together with fast and reliable general cargo solutions," commented Kaspar Andreas Nissen, air cargo specialist at Copenhagen Airports.