LATAM Cargo begins construction of its new Perishable Hub in Guarulhos, Brazil
Jan 29, 2019: As part of developing its PERISHABLE product, LATAM Cargo Brazil has started the construction of the PERISHABLE HUB, a new cool facility at Guarulhos–Governador André Franco Montoro International Airport or simply GRU, which is the primary international airport serving Sao Paulo. The new facility is meant to offer a more reliable connection […]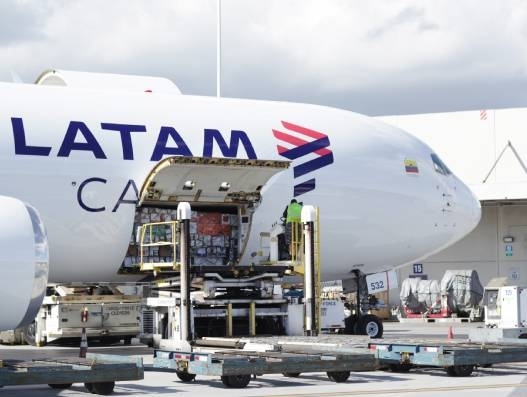 Jan 29, 2019: As part of developing its PERISHABLE product, LATAM Cargo Brazil has started the construction of the PERISHABLE HUB, a new cool facility at Guarulhos–Governador André Franco Montoro International Airport or simply GRU, which is the primary international airport serving Sao Paulo. The new facility is meant to offer a more reliable connection service and improved perishable product offering for the increasing perishable volumes being exported from Latin America to the world. The new facility, when completed, will allow LATAM Cargo to handle 33 percent more perishable cargo compared to what they are now offering at the GRU hub.
The PERISHABLE HUB has an area of 17,620 sqft, half of which will be meant for coolers. The facility's cooler area has two divisions: one division with an area spread across 5,242 sqft is set at 32-36ºF (0 - 2.2ºC), and the second division with an area spread across 3,638 sqft is set at 36-55ºF (2.2 – 12.7ºC) for storage and re-palletizing purposes. Interestingly, the system at the facility allows for increasing the temperature in any of its coolers up to 77ºF (25ºC) in case there is a specific perishable that require a different temperature setting. The new facility and the cold storages will be able to fulfill all needs of the main perishable products exported by the region which include salmon, asparagus, mango, cherries, berries, southern hake and flowers.
LATAM Cargo has a network of more than 140 destinations and GRU is its strategic hub

"Building a new cool facility focused on connecting perishable traffic in our main hub enables us to boost our strategic position. We can now offer our perishable customers a growing number of origin-destination pairs while maintaining the high quality standards associated with our value proposition. Furthermore, the increased flexibility gained with this facility enables us to work on a more efficient fashion," said Andrés Bianchi, CEO, LATAM Cargo.
One of the main benefits of having this facility is that LATAM Cargo will be able to reduce the time exposition of the cargo, since the re-palletizing process will be done under a temperature-controlled environment. In addition, with all the cargo stored at the same location, the preparation and transportation process to the aircraft will be faster and more efficient. As an added value, the duration of the perishable products remaining out of the temperature-controlled area is minimized, thus maintaining the freshness of the cargo longer.
More than 45 percent of LATAM Cargo's volumes are perishable shipments and currently 14 percent of these shipments, which is about 24,000 tonnes, transit through GRU. Salmon, fruit and asparagus are the most transported perishables. "We are very excited to share this investment with our customers as it will greatly benefit them by providing a more robust alternative to continue expanding the volume of perishable exports from Latin America to the world," said Claudio Torres, South America Commercial VP for LATAM Cargo.
LATAM Cargo has a network of more than 140 destinations and GRU is its strategic hub because of its connectivity between Latina America and the rest of the world. In 2018 alone LATAM Cargo added 32 new routes to its network. PERISHABLE is a product of the LATAM Cargo portfolio that specializes in the transport of perishable cargo.