LAN CARGO transports more than 2,000 sheeps to Ecuador
Jan 20, 2016: The Marin Magellan Meat Merino specimens, Chile's main commercial breed from the Magallanes region will be shipped to Quito as part of Ecuador's sustainable livestock program, fostered by its Ministry of Agriculture, Livestock and Fisheries. The sheep, 1,500 females and 507 males will be transported on three cargo aircraft, which will carry […]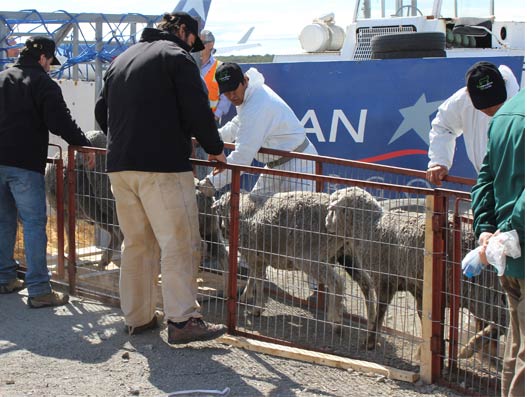 Jan 20, 2016: The Marin Magellan Meat Merino specimens, Chile's main commercial breed from the Magallanes region will be shipped to Quito as part of Ecuador's sustainable livestock program, fostered by its Ministry of Agriculture, Livestock and Fisheries. The sheep, 1,500 females and 507 males will be transported on three cargo aircraft, which will carry around 670 animals each.
The sheep's will be transported by LAN CARGO from Punta Arenas, Chile, to Quito, Ecuador, in three cargo aircraft specially conditioned for the operation. The specimens females weigh between 40 and 60 kilos and males between 60 and 80 will be grouped in pens designed for air transport.
Following an agreement between the governments of Chile and Ecuador, LAN CARGO began transporting 2,000 sheep from the Magallanes region, which will be destined to the sheep-farming and wool-weaving indigenous communities that inhabit Ecuador's central mountains.
"LAN CARGO has been working since last year on this restocking and livestock sustainable development program promoted by the Ecuadorian government, with the shipment of more than 1,000 heads of cattle from Paraguay to Ecuador. Our know-how when it comes to this type of shipment and our transparency, professionalism and accuracy regarding the how, where, why and number of animals to transport per flight allow Ecuador to trust us again with this shipment," said Juan Pablo González, Cargo manager, LAN CARGO Paraguay.
"We have separated the group on three cargo aircraft, each transporting 28 tonnes. Aircraft have strict pressure and temperature control to guarantee the sheep's well-being during the trip. A maximum of 675 animals will be shipped on each flight and they will be divided by sex. It is a very complex operation, which also represents an achievement for the Magallanes region and for the country as a whole. As LAN CARGO, it is an honor to participate in a project as meaningful as this one," said Marco Pacheco, a LAN CARGO expert in the transport of live animals.
The animals are well-known for their high-quality meat and thin wool. "We are exporting Chilean sheep, developed in Magallanes by professionals, technicians and institutions that have worked for 30 years to achieve a recognised genotype. Achieving that international recognition is very valuable both for the region and the country, and for us as a company," said Marín.
Ecuador has a sheep population of 1 million Corriedales and is attempting to create a new genetic improvement pool in the Cotopaxi area. They've chosen Chilean genetics given its compatibility with the geography of the new habitat, which will allow for the reproduction and productivity of the animals.
"We selected sheep from this area and this climate because Ecuador has similar forage and wool yields compared to Magellan sheep. We have wool and sheep meat production deficits and this development will benefit the domestic market," said Margoth Hernández, Ecuador's undersecretary of Livestock.