Kuehne + Nagel breaks ground on new Luxembourg hub
Sep 4, 2019: Logistics specialist Kuehne + Nagel (K+N) held the ground-breaking ceremony of a new contract logistics centre in Luxembourg. The centre is due to open in the second half of 2020. The new state-of-the-art facility is ideally located in Luxembourg, within close proximity to highways and airports which enables fast access to all […]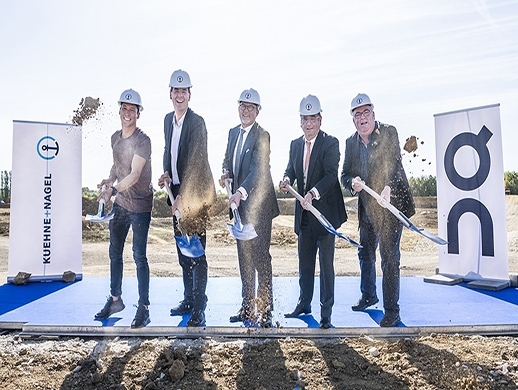 Sep 4, 2019: Logistics specialist Kuehne + Nagel (K+N) held the ground-breaking ceremony of a new contract logistics centre in Luxembourg. The centre is due to open in the second half of 2020.
The new state-of-the-art facility is ideally located in Luxembourg, within close proximity to highways and airports which enables fast access to all European destinations.
Once completed, Kuehne + Nagel will leverage the new hub to offer even more customers its proven end-to-end expertise, especially in the area of e-commerce.
The main focus of the new centre lies on consumer and industrial goods as well as spare parts, informed K+N through a statement.
"In view of the increasing demand for pan-European e-fulfillment services for dynamically growing companies like On, Kuehne + Nagel is positioning itself as an integrated logistics provider in Europe. Kuehne + Nagel's innovative and digital solutions are key to meet this increasing demand," says Tobias Jerschke, managing director of Kuehne + Nagel BeLux.
The ground breaking event also marked the ten-year contract extension between Kuehne + Nagel and Swiss performance running shoes manufacturer On AG.
The two companies started working together in 2010.
The new Luxembourg centre, according to K+N, will serve On as its advanced European distribution centre for both off- and online channels and will play an important role in the rapid international expansion of the Swiss company.
Marc Maurer, COO of On AG, adds: "On is gaining more fans faster than ever before. On's supply chain capabilities are essential to the success of the company and we are happy to lay the foundation for future growth. Kuehne + Nagel's new logistics centre in Luxembourg will play an important role for our European demand, so that we can continue to deliver happiness to all our B2B partners and B2C customers."
With 20 loading bays, the total warehouse capacity built will be 20,000 m² and is extendable up to 30,000 m².
An advanced three-level storage and handling area will support the picking, packing and high-speed sorting of the shoes.