Krix's cinema sound system exports get a boost through partnership with Emirates SkyCargo
June 18, 2019: Emirates SkyCargo has created growth opportunities for Krix, a South Australian business specialising in cinema and home-theatre speakers. Before its partnership with the Dubai-based airline, exports made up 30 percent of Krix's revenue. Today, export revenue has increased to approximately half of turnover. The partnership has helped Krix to gain access to […]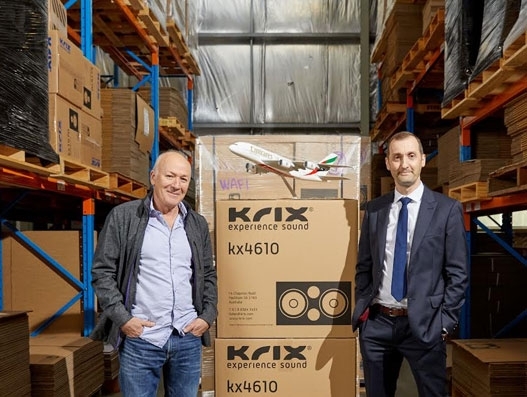 June 18, 2019: Emirates SkyCargo has created growth opportunities for Krix, a South Australian business specialising in cinema and home-theatre speakers.
Before its partnership with the Dubai-based airline, exports made up 30 percent of Krix's revenue. Today, export revenue has increased to approximately half of turnover.
The partnership has helped Krix to gain access to new markets in the Middle East, North Africa and Europe, growing its revenue while putting Australian products on the global stage.
Krix has now supplied sound systems for more than 3,500 cinemas across the world, including over 300 in the Middle East. The South Australian business expects another 200 cinema sound systems to be installed in the Middle East in the next two years.
"Being able to access the Emirates SkyCargo's global network with its hub in Dubai has become an important factor in our growth over the past three to four years. We've been able to reach new customers throughout the Middle East, North Africa and Europe while supporting jobs in the Adelaide region," said Ashley Krix, Commercial Cinema Sales director of Krix.
Krix has exported its products to destinations such as Kuwait, Oman, Egypt, Lebanon, Bahrain, Saudi Arabia, Belfast and Oslo.
"We're committed to offering our customers a superior service and Australian products are known for their quality around the world which is what makes this such a winning partnership," said Jason Brown, Adelaide Cargo manager for Emirates SkyCargo.
Emirates SkyCargo is an important facilitator of Australian exports.
In 2017-18, the air cargo carrier transported close to 50,000 tonnes of exports from Australia including perishables such as meat, seafood, fruits and vegetables as well as pharmaceuticals. Over the last five years, the carrier has moved more than a quarter million tonnes of exports from the country.
While the freight service began carrying general freight from Australia, Emirates SkyCargo has expanded to offer specialised services that cater to the unique demands of Australian industries.
Emirates SkyCargo has been connecting Australian businesses to the world since 1996. In addition to transporting cargo in the belly hold of its passenger aircraft, Emirates SkyCargo also transports cargo on its freighter aircraft. The carrier operates a thrice a week freighter service to Sydney on its Boeing 777 freighter aircraft which has a capacity of close to 100 tonnes per flight.