KLM's Flying-V model takes first test flight
KLM Royal Dutch Airlines and Technische Universiteit Delft have tested successful first flight run for Flying-V scale model, the energy-efficient aircraft of the future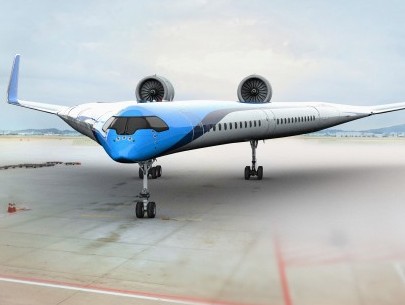 KLM Royal Dutch Airlines and Technische Universiteit Delft have tested successful first flight run for Flying-V scale model, the energy-efficient aircraft of the future. A year and a half ago, TU Delft and KLM announced the start of the design of the Flying-V and, after extensive wind tunnel tests and ground tests, the time had finally come. Last month, a team of researchers, engineers and a drone pilot from TU Delft traveled to an airbase in Germany for the first test flight.
The aircraft's design integrates the passenger cabin, cargo hold and fuel tanks in the wings, creating a spectacular V-shape. Computer calculations have predicted that the improved aerodynamic shape and reduced weight of the aircraft will reduce fuel consumption by 20 percent compared to today's most advanced aircraft.
TU Delft's project leader Dr Roelof Vos and his team of researchers and engineers took the 22.5 kg and 3 m wide scale model of the Flying-V for flight tests to a well-guarded airbase in Germany, where they could work together with a team from Airbus. The pilot's task was to take-off, fly a number of test manoeuvres and approaches until the batteries were nearly empty and land. And he succeeded. Vos said, "One of our worries was that the aircraft might have some difficulty lifting-off, since previous calculations had shown that 'rotation' could be an issue. The team optimized the scaled flight model to prevent the issue but the proof of the pudding is in the eating. You need to fly to know for sure." Rotation on take-off was performed easily and occurred at a speed of 80 km/h. The plane's thrust was good and flight speeds and angles were as predicted.