KLM resumes Mumbai service after a gap of 16 years
October 30, 2017: World's oldest scheduled airline, KLM Dutch Royal Airlines has reconnected with Mumbai with Mumbai –Amsterdam service from October 30, 2017. This move will further enhance the seamless air connectivity offered to flyers. GVK's Mumbai International Airport Private Limited (MIAL), the company that operates Chhatrapati Shivaji International Airport (CSIA), welcomed the Dutch Carrier – […]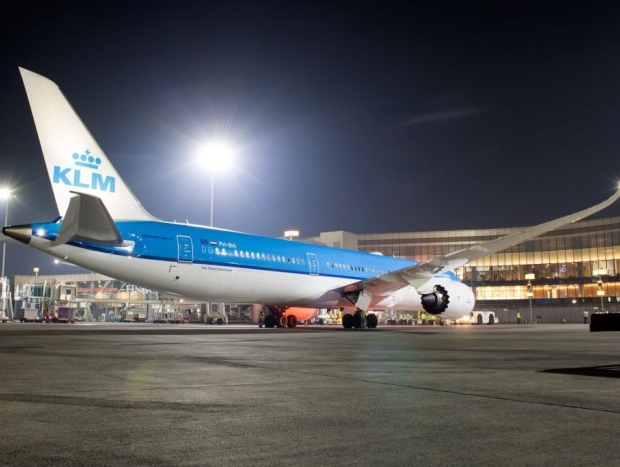 October 30, 2017: World's oldest scheduled airline, KLM Dutch Royal Airlines has reconnected with Mumbai with Mumbai –Amsterdam service from October 30, 2017. This move will further enhance the seamless air connectivity offered to flyers. GVK's Mumbai International Airport Private Limited (MIAL), the company that operates Chhatrapati Shivaji International Airport (CSIA), welcomed the Dutch Carrier – KLM which touched down in Mumbai on Monday.
The airline will operate thrice weekly service with a 294-seater Boeing 787-9 aircraft with 30 World Business class, 45 Economy Comfort Class and 219 Economy Class.
Earlier, Mumbai and Amsterdam route was served with daily services offered by Jet Airways. Now along with KLM, Mumbai-Amsterdam route will be served with a total of 10 services per week.
The start of operations by KLM is a manifestation of CSIA's commitment to continuously strengthen the connectivity enhancing Mumbai's rapidly developing trade and commerce relationship with Netherland and rest of the globe.
Last week, CSIA welcomed Thai Smile's maiden flight on the Mumbai-Bangkok route, the second airline after Thai Lion to start services in the sector within a month.
Mumbai International Airport serves as a key gateway to India and has 52 airlines operating to 100 destinations from the city to various parts of India and the World. In FY 2017, CSIA, Mumbai welcomed 45.2 million air travellers (12.4 million international passengers) registering an annual growth of 8 percent.