FROM MAGAZINE: Kicking the logistics network into overdrive
If technology is the engine that powers the transformation of UPS, then data and analytics are the fuel. Jack Levis The package delivery and logistics business has always been where the rubber meets the road – literally. Shippers rely on their logistics partners to get items from one location to another and usually on a […]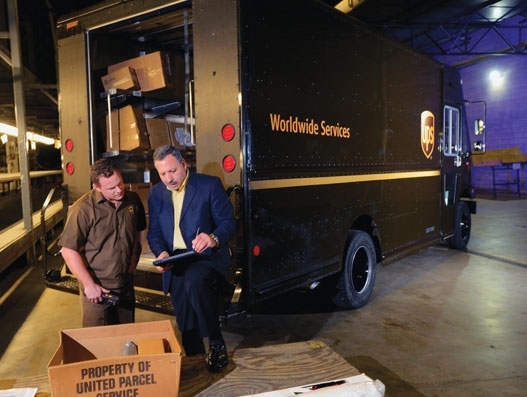 If technology is the engine that powers the transformation of UPS, then data and analytics are the fuel.

Jack Levis

The package delivery and logistics business has always been where the rubber meets the road – literally. Shippers rely on their logistics partners to get items from one location to another and usually on a deadline. There's little margin for error and no excuse for unmet commitments.
Over the years, global commerce shrunk our world, and UPS adapted to meet rising customer demands. Time and again, we've used technology and analytics to make our network bigger, faster, more efficient, more flexible and more reliable.
Data and analytics are a necessity in the supply chain of the future. UPS is on the leading edge, and the evolution only gets more sophisticated.
Today we harness and analyse the vast data we accumulate on package characteristics, volume flows and customer needs. We distill this treasure trove of data into insights, helping us make smarter decisions.
We then add advanced optimisations with UPS' On-Road Integrated Optimisation and Navigation (ORION). ORION, fueled by UPS' vast data infrastructure and powered by advanced optimisations and Artificial Intelligence, is reducing 100 million miles driven annually. Our virtual network is used to optimise our physical network.
Getting smarter
Right now, the UPS Global Smart Logistics Network is getting even smarter as we launch UPSNav, a new data-driven navigation tool that features turn-by-turn directions for our package delivery drivers. This will further reduce miles driven, fuel consumed and carbon emissions while empowering the company to provide better service to its customers.
UPSNav is a big update to (ORION), which determines the optimal order for local UPS package car drivers to make deliveries and pickups. ORION uses expansive fleet telematics and advanced algorithms to gather and calculate countless amounts of data to provide UPS drivers with optimised routes.
UPSNav is much more advanced than the navigation tools we use in our personal vehicles. While giving drivers directions to the next stop, it also provides our drivers with situational awareness to allow additional insight so they can be more productive and better serve our customers.
Different than a conventional navigation platform like Google Maps or Waze that guide drivers in their personal vehicles from Address A to Address B, UPSNav works with ORION and knows how to navigate to all of the 125 stops a UPS driver serves on average each day.
Drivers can see the travel path to their next stop and also the travel path to the stop after that. This provides insights on where to park and allows for better planning.
Additionally, drivers can see other stops on their route, which may be in close proximity to their current location, highlighting opportunities to improve efficiency and service.
UPSNav is powered by the rich UPS data infrastructure used by ORION, which includes highly accurate proprietary maps. ORION maps include information on more than 250 million customer locations, including the travel best route to them.
This means that ORION and UPSNav give drivers directions to all stops in precise detail – even to loading docks and receiving areas that are often on opposite sides of a building's main entrance.
The results have been especially positive on suburban and rural routes. Anyone who has traveled in a rural area knows the difficulty of finding the right address.
Customer locations often are not visible from the main road, and all you see is a driveway and a mailbox with small numbers on it. UPSNav knows exactly where the customer is located and will guide the driver down the driveway if appropriate.
Should a change be needed, UPS' patented technology allows for updates to the map – and puts them in a driver's hands in minutes.
Combined with ORION, UPSNav provides UPS drivers with a new level of accuracy and precision. These technologies were built for the heavy and complex UPS workload.
These and other analytics-based network initiatives prove that more data combined with advanced analytics increases our ability to connect all the dots in the network, which in turn allows us to run our business smarter and provide more visibility and control to our customers.
A real game-changer
For customers who rely on our network every day, UPSNav leads to more dependable service for important shipments. It will enable UPS to make more deliveries within scheduled time windows, which helps our customers plan their own space and staffing needs.
But UPSNav is only part of the story. UPS is working on a major update to ORION that will provide dynamic updates throughout the day. Instead of a once-a-day plan, ORION will evaluate opportunities for efficiency and customer service after every stop.
If a driver is ahead or behind schedule or if a customer has a need like an on-demand pickup, ORION will know and automatically adjust the drivers' itinerary to ensure all commitments are made at peak efficiency. Then UPSNav will guide the driver efficiently to the location.
This relieves the driver's burden of having to manage multiple demands, and it allows them to focus on what they do best – serving customers.
For UPS, this tool is a game-changer, an innovation that provides unprecedented efficiency for our local delivery networks. ORION and UPSNav form a pillar of the operational technology we're implementing throughout our network.
The framework for this investment is network planning and optimisation, operations management and execution, route optimisation and mobility. We are making excellent progress as we phase in the many programs within these broader initiatives.
A lot of these projects employ the Internet of Things, data and predictive analytics to yield benefits that seemed impossible not that long ago. Today the state of the art is far more advanced. Data and analytics are at the heart of everything we do and the lynchpin of our digital strategy.
Rubber meets road
UPS is constantly evolving. We're pulling in more and more data and supercharging our operation. We continuously evaluate the network to ensure our technology and business planning align.
Together, UPS IT and engineering are optimising efficiency and cost with operational technology and increasing customer engagement. We're using artificial intelligence, virtual reality and advanced analytics, all with the aim of preparing our company for the future.
UPS is transforming. If technology is the engine that powers our transformation, then data and analytics are the fuel. They bring our virtual and physical worlds closer together, making our network smarter.
In our business, that's crucial – because this is where the rubber meets the road.
Jack Levis is the senior director of process management at UPS, global leader in logistics. This article was first published in Longitudes, a UPS blog that explores big ideas in logistics, technology, sustainability and global trade.