Kerry Logistics expands food cold chain business in China
May 8, 2018: Kerry Logistics has entered into partnership with Shanghai Zhizhen Logistics Co Ltd ('Zhizhen Logistics') to form joint venture company Kerry Cold Chain Solution. Kerry Logistics is the majority interest holder in this JV company. This helps the Asia-based third-party logistics provider to expand its food-related cold chain capability in mainland China and […]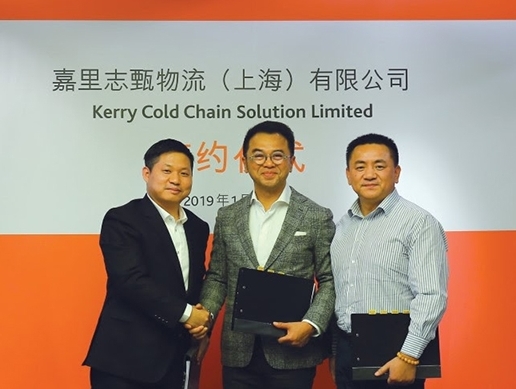 May 8, 2018: Kerry Logistics has entered into partnership with Shanghai Zhizhen Logistics Co Ltd ('Zhizhen Logistics') to form joint venture company Kerry Cold Chain Solution.
Kerry Logistics is the majority interest holder in this JV company. This helps the Asia-based third-party logistics provider to expand its food-related cold chain capability in mainland China and also helps it to tap into the fast-growing domestic market of niche food products.
Kerry Cold Chain provides comprehensive integrated cold chain logistics solutions from upstream to downstream.
Using self-owned cold chain facilities and partnering with local expertise, Kerry Cold Chain will handle a wide range of food products, from raw ingredients to dairy product additives.
Edwardo Erni, managing director - China and North Asia of Kerry Logistics said: "The market for food-related cold chain logistics in mainland China is immense with enormous growth potential. There is also ample room for technological growth to reach international standards.
Kerry Cold Chain currently operates more than 1 million square feet of ambient and cold chain facilities in China, including a temperature-controlled facility of over 50,000 square feet in Shanghai featuring automated storage and retrieval systems.
Founded in 2008, Zhizhen Logistics serves the logistics needs of both domestic and international customers from locations across China including Beijing, Tianjin, Wuhan, Guangzhou, and Shenzhen. It commands a 90 percent market share for imported food essences in the Shanghai region.