Kerry Logistics donates to help Trtl deliver compression socks
Kerry Logistics Network has donated its services to deliver 5,000 pairs of compression socks, given by Trtl, to frontline health professionals across Scotland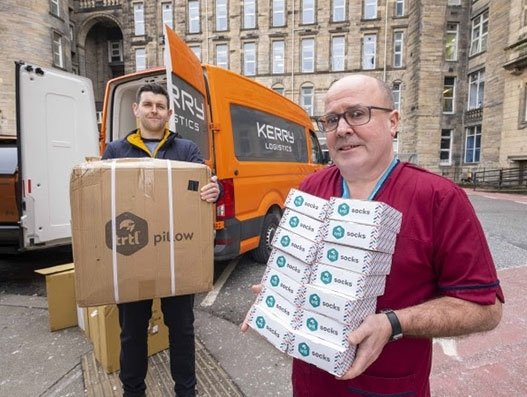 Kerry Logistics Network Limited has donated its services to deliver 5,000 pairs of compression socks, given by Glasgow-based online travel retailer Trtl (pronounced as turtle), to frontline health professionals across Scotland.
Kerry Logistics distributed the socks to National Health Service (NHS) hospitals in Glasgow, Aberdeen, Edinburgh, and Dundee last week, with 5,000 more planned for delivery in London in the next seven days,
The 10,000 compression socks, worth GBP250,000, were originally designed for passengers on long haul flights, will help acute nurses in six hospitals across Scotland fight fatigue as they face 12-hour shifts on their feet.
"We cannot thank the team at Kerry Logistics (Glasgow) enough for their support in helping to deliver our donation to the NHS," said Allison Milligan, Supply Chain & Logistics Lead, Trtl.
"The relationship between Trtl and Kerry Logistics is very new and still developing, however when I contacted them to enquire if they could deliver the socks to the hospitals, they not only agreed but offered to deliver to all sites free of charge, a very generous offer.
"As we needed to deliver as soon as possible to the hard-working NHS staff, our planning had to be quick and Kerry Logistics supported at every point, discussing the best way to accommodate our requirements in a short timeframe.
"With only a few hours' notice they collected and delivered to Dundee, Aberdeen, and Edinburgh, all in one day.
"I think that given the current pandemic it is an excellent example of not only companies but people pulling together for the greater good."
She gave a special thanks to Kerry Logistics team members Lee Woodward, who was the driver on all deliveries and who has also volunteered to drive to London, and Martin Thomson, Business Development Manager, who also supported in the planning.
"It is great to be able to support our customer and ultimately help the healthcare teams, who are on the frontline every day," said Martin Thomson.
"Teamwork is important in challenging times and this an example of how, by working together, we can help each other."
Trtl had stockpiled thousands of the socks in advance of its peak summer season, but with sales stalling because of the Covid-19 pandemic, Chief Executive Officer Michael Corrigan decided to use them to support frontline nurses in his home city, across Scotland, and in London.
"Nurses across the UK will be tested as never before in the coming weeks and if we can do something to help make the time they spend on their feet more comfortable, we must," he said.
"I couldn't just see these socks sitting in a warehouse when they could be helping people saving lives. That's what's important, and nurses need all the help they can get just now."