Kale Logistics, Taiwan's Trade-Van ink MoU to ease customs clearance
January 10, 2020: The global IT logistics partner, Kale Logistics Solutions, signed a Memorandum of Understanding (MoU) with the Taiwan based customs clearance platform developer Trade-Van to facilitate the issuance of digital Certificate of Origin (eCoO). The signing happened during the 60th Pan Asian E-Commerce Alliance (PAA) annual conference held at Cyberjaya, Malaysia. Certificate of […]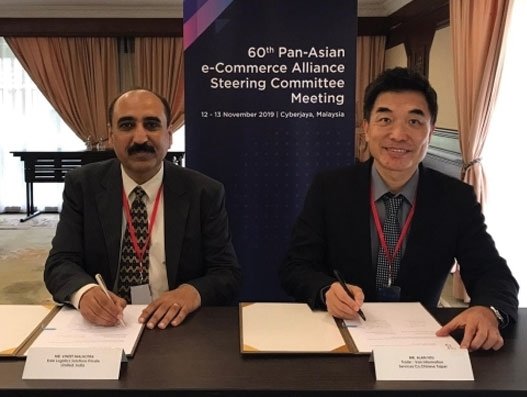 January 10, 2020: The global IT logistics partner, Kale Logistics Solutions, signed a Memorandum of Understanding (MoU) with the Taiwan based customs clearance platform developer Trade-Van to facilitate the issuance of digital Certificate of Origin (eCoO).
The signing happened during the 60th Pan Asian E-Commerce Alliance (PAA) annual conference held at Cyberjaya, Malaysia.
Certificate of Origin
CoO is among the most critical documents in the logistics industry. In international trade transactions, tariff of a product and other trade measures will be applied based on CoO. Also, it is essential to say if the product is legally allowed to be imported.
Trade-Van Information Services Co
Established in 1990, Trade-Van was a government company of Taiwan named "The Cargo Clearance Automation Planning and Promotion (CCAPP) Task Force". The mission of the CCAPP task force was to build a clearance automation and customs duty payment system to speed up customs clearance operations and help traders reduce trading costs.
In 1996, The CCAPP task force was privatized and named as Trade-Van Information Services Co., whose mission was to continue strengthening customs clearance automation services, explore the network resources, research and develop technology, expand business and service and provide a range of value-added network services.
Blockchain for eCoO
Vineet Malhotra, director, Kale Logistics Solutions said, "We are delighted to partner with Trade-Van to facilitate digital issuance of CoO. In an industry, which is dominated by physical paperwork, this is a milestone achieved in order to digitize the logistics world. With the vast experience of Trade-Van and the technical finesse of Kale Logistics, we believe this partnership will let us achieve new synergies going ahead."
"Going ahead, we will also foresee the use of Blockchain technology in delivering eCoO. Blockchain technology can speed up the customs process by tracing the origin of goods or produce without almost any chance of tariff-avoiding forgery," he said.
Validation of eCoO
According to the agreement, both stakeholders will establish a cooperative framework for the facilitation of the eCoO project. They have also agreed to exchange cross-border eCoO to facilitate the customs clearance process. As validation is the most essential factor, the given document must be equal to the existing physical document to facilitate customs clearance. The agreement signed between the two entities is equal to paper CoO and still acceptable as a common supporting document for customs clearance.
eCoO is to be securely transmitted through Public Key Infrastructure (PKI) protection, which facilitates secure electronic transfer of information. PKI comes with a certificate authority to store, issue and sign a digital certificate. To ensure credibility of the entities requesting a digital certificate, PKI mechanism has a Registration Authority and a central directory to securely locate and index keys.
Pan-Asian E-Commerce Alliance
PAA is the first regional e-Commerce alliance in Asia that aims to promote and provide secure, trusted, reliable and value-adding IT infrastructure and facilities for efficient global trade and logistics. Combined membership of the parties now exceeds 350,000 organisations, representing almost all active trading enterprises in the Asian market. Both Kale Logistics Solutions and Trade-Van are members of PAA.