Jettainer inaugurates its new logistics center
May 27, 2019: Jettainer, German container management services provider to the air cargo industry, has inaugurated its logistics centre for unit load devices (ULDs). The logistics center, called as 'JettHub', in the Four Parx Gross-Gerau offers space for up to 6,600 containers and pallets at the same time. The center, with an an area of […]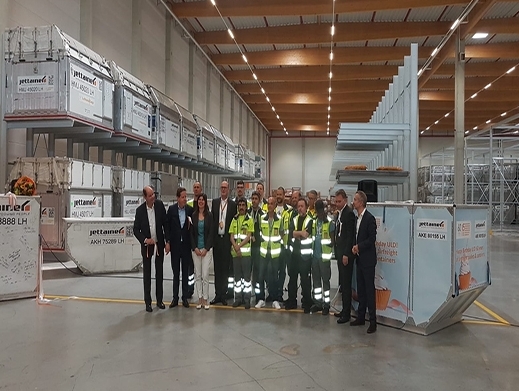 May 27, 2019: Jettainer, German container management services provider to the air cargo industry, has inaugurated its logistics centre for unit load devices (ULDs).
The logistics center, called as 'JettHub', in the Four Parx Gross-Gerau offers space for up to 6,600 containers and pallets at the same time.
The center, with an an area of 18,000 square meters, has all the resources to ensure efficient and reliable handling and maintenance of the devices.
Larger and modern stackers and racks allow for a more efficient use of the storage area, so that around 2.2 times as many ULDs can be stored and maintained in the same area.
"With the modern JettHub, we are securing long-term development potential for the management and maintenance of the world's largest fleet of ULDs. The move has not only given us more space, but also created additional opportunities for further growth thanks to efficient shelving systems," said Frank Muhlenkamp, director Operations of Jettainer GmbH, at the inauguration ceremony.
The company informed through a statement: "A 24/7 shuttle to the Lufthansa Cargo ULD provisioning area is available to transport the containers to the airport quickly and reliably as usual."
As part of the close cooperation with Jettainer, packaging services provider Deufol SE has also moved its workshop to the new JettHub. Here, it carries out maintenance and repair work on pallets and containers in a hall-in-hall construction. This is to ensure that there is no background noise outside the hall from the neighboring metalworking company.