Jet Airways ties up with Air France KLM to shore up cargo traffic
November 29, 2017: As part of the larger "enhanced cooperation agreement" signed in Mumbai today between Air France-KLM and Jet Airways, the cargo divisions of both airlines signed a separate Memorandum of Understanding (MoU) with an aim to bolster their existing cargo cooperation. The purpose of the MoU is to strengthen the cooperation between the […]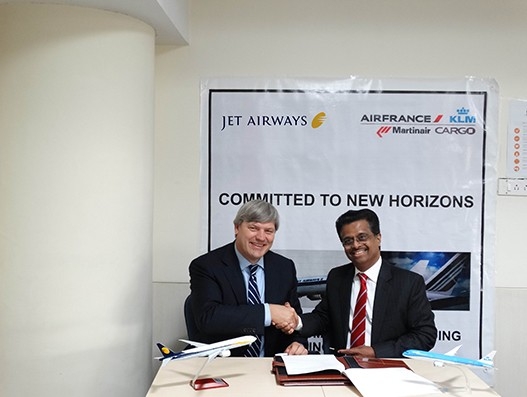 November 29, 2017: As part of the larger "enhanced cooperation agreement" signed in Mumbai today between Air France-KLM and Jet Airways, the cargo divisions of both airlines signed a separate Memorandum of Understanding (MoU) with an aim to bolster their existing cargo cooperation.
The purpose of the MoU is to strengthen the cooperation between the two cargo airlines by linking and leveraging their respective route networks. Besides, offer high-value cargo services and innovative products tailored towards the need of specific industries, such as pharmaceuticals, express and e-commerce.
Elaborating on the partnership, Pradeep Kumar, Sr. Vice President, Jet Airways Cargo said: "We share the objective to jointly explore vast opportunities in the air cargo market through mutual synergies in several areas comprising our routes and networks, as well as warehousing amongst others. We also intend to work closely to co-create new and industry-leading products and services for our clients," said Pradeep Kumar, Sr. Vice President, Jet Airways Cargo, elaborating the details of the partnership.
The MoU will enable both partners to offer a comprehensive set of higher value complementary services, including those on high frequency routes, as well as introduce new and unique destinations into the servicing framework with the help of their respective hubs and gateways, in India (Mumbai and Delhi) and France (Paris-Charles de Gaulle) and The Netherlands (Amsterdam Schiphol).
In an earlier interview with The STAT Trade Times, Kumar, who joined Jet less than two years ago from Emirates SkyCargo, elaborated a series of steps that the cargo division of the carrier is implementing to enhance revenue, optimise capacity and improve yields.
According to him, with the introduction of wide-body aircraft in the domestic network connecting key metros, Jet Airways has significantly increased its current cargo capacity.
"Till about a year ago, our strength was on the seamless domestic connectivity, but things began to change with the induction of wide-body aircraft to various international locations starting Dubai in August last year followed by other Gulf destinations and Amsterdam.
Supplementing it was the introduction of wide-body aircraft in the domestic sector connecting Delhi, Mumbai, Chennai and Bangalore. It was truly a game changer in the domestic aviation sector and the cargo had a significant gain on this account," said Kumar.
From the cargo point of view, such a move has allowed the capacity to increase by 10 percent, and most importantly, FTK (Freight Tonne Kilometre) by 15 percent compared to the previous year.
According to Kumar, Jet flights for Europe and Middle East destinations are able to carry 22 to 23 tonnes of cargo, and they manage to fill that capacity every time.
"Our growth was quite rapid from a strong domestic distribution point, to a network selling capability connecting domestic network with global cargo hubs," said Kumar.
During FY2017, the cargo division contributed Rs 1337.68 crore, which is 6.31 percent of its total sales. Jet also clocked a consolidated profit of Rs 438 crore.
With an aim to create an integrated commercial and operational cargo cooperation model between India and Europe, both airline partners would work through several steps comprising synergising their respective cargo networks, phase in efficiencies in warehousing, exchange capacities and make blocked space arrangements.
Jet Airways Cargo and Air France KLM Cargo would also collaborate to optimise and expand volumes from emerging Indian markets, such as Bengaluru and Chennai where intercontinental connectivity by direct services has recently been enabled.
"The agreement underscores the importance of strong partnership in the air freight market. With the dynamic development in India, we are excited to offer new opportunities to our customers, and strengthen our global network towards the Indian freight market," said Marcel de Nooijer, EVP Air France KLM Cargo.
On the question of starting freighter operations out of India, Pieter Elbers, CEO of KLM, said that he does not rule out the possibility as India offers a huge opportunity for freight transport.
"We will evaluate it as we go along, and certainly there is a possibility," Elbers told The STAT Trade Times on the sidelines of the media meet in Mumbai.