FROM MAGAZINE : Jessica Tyler of American Airlines Cargo – the air cargo transformer
American Airlines Cargo recently rolled out its plans to implement, what it calls, "a next generation cargo management system" designed to enlarge its technology platform. This is perhaps the cargo organisation's largest investment to date meant to position the company for future growth. Leading this initiative that replaces 90 percent of the organisation's legacy technology, enabling end-to-end business process and customer experience modernisation, is Jessica Tyler, who in her career with American Airlines led the team that merged the cargo divisions of US Airways and American Airlines, an integration that the industry considered the most successful cargo merger to date. Jessica Tyler, Managing Director, Culture and Transformation American Airlines Cargo, talks to The STAT Trade Times about building AA Cargo for the future. 
What are your priorities in the transformation of AA Cargo?
We are really looking at the entire modernisation of the business processes at American Airlines Cargo. We are still operating with processes that are 25 to 40 years old. The effort is to leverage these modern technology platforms to really do things differently. So the people process that we have, whether it is the behavior of the customers interacting with us during booking process or whether it is the warehouse logistics or the movement of the freight or on the backend with billing and invoicing or managing the customer relationship, we are literally taking  in and  looking at everything we do and how we do it. We hope that we not only automate lot of these things and streamline a lot of these but also how people are interacting with that technology to do things differently and to meet the rising consumer expectation.
How do you ensure that your technology is eventually transforming the industry in general and AA Cargo in particular?
We have a great technology team. We have partnered with an industry leader in technology solutions provider. We have got an incredible American Airline technology team. I don't lose sleep over that. What bothers me is about how do we leverage technology to begin to do things differently. We have focused so much on technology but we have not done that much on people and processes. We are inching forward with electronic air way bills, but we still have documents that show up. We have not still figured out how we actually begin to remove that paper. So there is quite a bit of opportunity to collaborate to remove the paper. It is a collaboration across all of us to move towards to getting some of these things.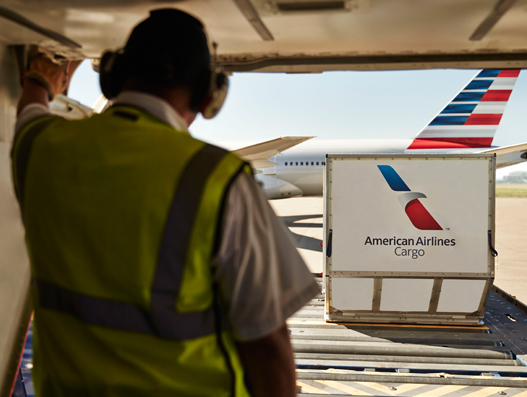 What are some of the biggest challenges in this transformation process?
It is the human behaviour. We are comfortable with how things go, status quo. When I look at a process like changing a piece of paper, it is overwhelming to try to think about undo something that  has been in its current format for decades. How do you take that [paper] out? Even though technology was there, the people are used to a certain way of interacting and processing things. If you ask human being who is filling out the paper form of an air way bill, it is easy, because they have been doing it for 25 years. I think it is the mindset. It is shifting our minds to focus just as much on the people and process as it is technology. We have been putting a lot of efforts on technology in this industry; but it is actually time to have just as much energy to put around the other two aspects - people and processes.
How do you capitalise the data captured to ensure that transparency is improved and customer relationship is enhanced?
One thing that I am excited about is that with the system like IBS, you have a data platform, a unified platform where all your data sits. We have all kinds of access to big data platforms and other data analytics tools that the passenger side of American Airlines has been doing for years. So recently, our cargo IT team was able to take a look at architecting what will be a layer that sits on top of IBS data warehouse. That is just the big data. The clean data go there and enable us to do all kinds of interesting things. So we are going into this effort with that in mind. One of the biggest justifications for this project is to have a cleaner and better data to drive better decision making for us.
Who you think should own the data and how do you provide the access to such data? Is that a hot topic of discussion at AA Cargo?
I think the data ownership has been fairly clear in this industry. I think it is going to be murkier as we move forward to more shared platforms where we are going to contribute data across different stakeholders.
How do you look at your current role as the head of culture and transformation at American Airlines Cargo?
There is so much opportunity as this industry is on the verge of incredible, necessary transformation. I'm excited to be a part of driving and supporting our teams through that change. We get to drive change, and since this industry is rapidly evolving, the challenges and innovation keep on coming, which keeps me excited about the future.