JAXPORT breaks ground on $239 million terminal upgrade
Nov 27, 2019: The Blount Island Marine Terminal in the Port of Jacksonville, Florida will be upgraded at the cost of $239 million for which the groundbreaking ceremony was held recently. The upgrade will expand container handling capacity at the SSA Marine facility to 700,000 TEU annually when work is complete in 2023. US Department […]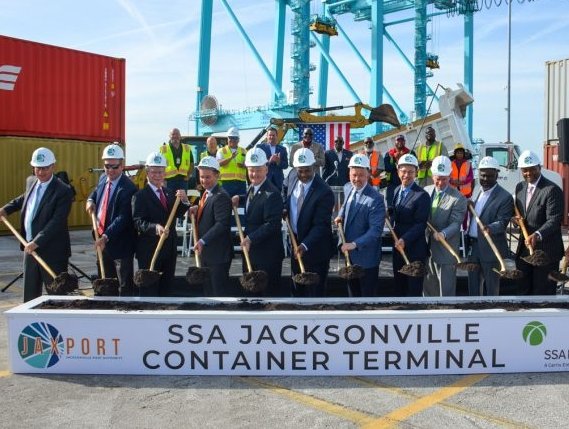 Nov 27, 2019: The Blount Island Marine Terminal in the Port of Jacksonville, Florida will be upgraded at the cost of $239 million for which the groundbreaking ceremony was held recently. The upgrade will expand container handling capacity at the SSA Marine facility to 700,000 TEU annually when work is complete in 2023.
US Department of transportation Maritime Administrator Rear Adm. Mark Buzby joined elected officials and leadership from JAXPORT and SSA Marine on November 22 to break ground on the new state-of-the-art international container terminal. The SSA Jacksonville Container Terminal is a public-private partnership between JAXPORT and SSA Marine, with more than 65 percent of the landside improvements being funded by SSA.
Phased yard improvements are underway at the terminal that will allow the facility to accommodate up to 700,000 TEUs (twenty foot equivalent units) annually. Berth upgrades are expected to be complete in 2021 and will allow the terminal to simultaneously work two post-Panamax vessels. The Jacksonville Harbor Deepening Project includes construction of a vessel turning basin that will allow larger vessels calling on the terminal to turn at Blount Island.
The SSA Jacksonville Container Terminal offers 80 acres of terminal operating space, with the option to grow up to 120 acres as space becomes available. The facility features three post-Panamax electric container cranes and terminal plans include the addition of three more state-of-the-art container cranes.
The facility is expected to create or protect 3,500 jobs, in addition to attracting new businesses and jobs resulting from the terminal's increased efficiency and capacity.
During the groundbreaking, Admiral Buzby formally presented JAXPORT with a previously awarded $20 million grant from the U.S. Department of Transportation. The grant will fund terminal enhancements that will allow the facility to accommodate more containers on an expanded footprint.