JAS is moving essentials for Italian Govt Institutions
JAS has taken charge of the Italian Civil Protection Department's import/export distribution process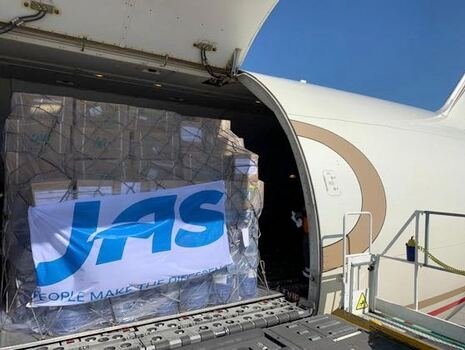 JAS has taken charge of the Italian Civil Protection Department's import/export distribution process, focusing its efforts on domestic destinations and regions, and continues to support Italian institutions during the current Covid-19 emergency.

Urgently needed Personal Protective Equipment (PPE) commodities are being moved on behalf of the Civil Protections Department to address the health crisis in Italy. Starting in February and continuing through today, JAS has thus far moved more than 50 million masks along with protective suits, visors, gloves, respirators, pulmonary ventilators, test tubes, and swabs. When the Covid-19 emergency surfaced, JAS initially arranged shipments from China, Brazil, and South Africa mainly via general cargo urgent flights. However as demand dramatically increased, JAS recognised that available volumes were not meeting the needs of its customers. As a result, JAS ramped up the use of charter flights to better meet customer requirements.
The Civil Protection Dept supplies detailed distribution plans to JAS on daily basis for all deliveries throughout Italy, including the islands. All shipments arrive at Malpensa and Fiumicino warehouse hubs which are then sorted and labelled before sending on to their final destinations. Starting in February JAS has arranged more than 1200 of these dedicated overnight deliveries. JAS Italy also supervises and coordinates daily military flights from Milano and Rome, destined to north and southbound destinations in addition to on-wheels shuttles.
JAS is publicly recognised in the transportation market as a company able to handle medical supplies shipments with high professionalism on Covid-19 contrast. Lombardy Region, as example, contacted and awarded JAS a contract for their shipping needs for the brand new FIERA MILANO hospital preparation; from beds to respirators, and everything else that was needed.
In other Covid-19 efforts, on April 9, JAS Italy operated a dedicated charter flight from PVG to MXP for a private customer who had an urgent need to move in excess of 5 million masks and 20.000 protective suits. Despite the complexities, within a few short hours of the 747F landing, all the commodities were delivered to the customer's warehouse.