FROM MAGAZINE: Japan Holding on to positive growth
Japan's air freight industry has embarked on an upward journey amid favourable global trade scenario. While airports are luring cargo operators to do business on their land, Japanese airlines are expanding global footprint. To maintain this upward trajectory after years of slump, the industry will have to climb the ladder extra cautiously. Shreya Bhattacharya Advanced […]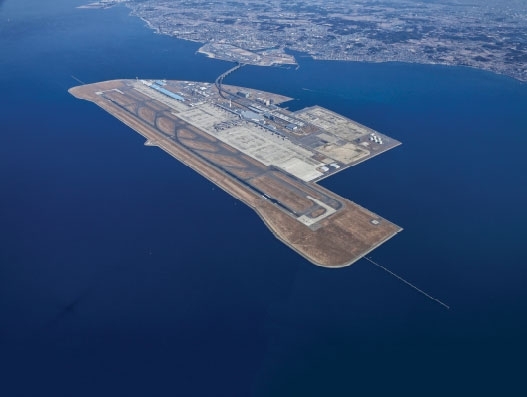 Japan's air freight industry has embarked on an upward journey amid favourable global trade scenario. While airports are luring cargo operators to do business on their land, Japanese airlines are expanding global footprint. To maintain this upward trajectory after years of slump, the industry will have to climb the ladder extra cautiously.
Shreya Bhattacharya
Advanced robotics, pharmaceuticals, bullet trains, hybrid cars… Japan has experimented with all of these and over the years gained the reputation of a futuristic land from the East. While traditions are still a valued possession here, technology and innovation rules the archipelago. But there is a strange contradiction when it comes to the country's economy, with decades of lost growth and absent inflation. The country recently witnessed eight consecutive quarters of positive economic growth till 2017, its longest stretch in 28 years. The growth although reflected well in the country's international trading and accordingly in the air cargo industry.
According to an IATA report, Asia-Pacific airlines saw demand in freight volumes grow 7.7 percent in January 2018 and capacity increase by 2.2 percent, compared to the same period in 2017. The increase largely reflected the strong demand experienced by the region's major exporters, Japan and China which has been driven in part by a pick-up in economic activity in Europe, the report said.
"Due to the high demand in the international air cargo market world-wide, our international cargo revenue increased 125 percent between 2017 and 2018. The trend seems to continuing in the industry," shared a JAL Cargo spokesperson.
The spokesperson further informed that air cargo from Asia (including Japan) to North America and Europe was in demand in 2017. In addition, other routes such as Japan to Asia have shown strong results, in 2018. The cargo operator has launched nonstop services from Tokyo (Narita) to Melbourne and Tokyo (Narita) to Hawaii Island's Kona International Airport, in September 2017.
While it seemed that Japanese economy had finally escaped decades of stagnation, the first three months of 2018 have yet again put brakes on the trajectory due to weak private consumption and business investment. The world's third-largest economy shrank at an annualised pace of 0.6 percent in the January-March period, compared with revised 0.6 percent growth in the final quarter of 2017. The air cargo industry stakeholders however expect the decline to be temporary and look forward to a positive turnaround in the coming months.
"Cargo volume handled at Kansai International Airport has shown strong growth throughout 2017 and the first half of 2018; July this year saw growth for the 24 months in a row and 2017 achieved 814,704 tonnages (calendar year), marking the second highest. This positive trend is expected to continue through the end of 2018," said Ryota Tsuji, cargo development group aviation sales & marketing department, Kansai Airports.
Kansai Airport Cargo Facility

Major imports and exports
Japan is home to some of the most innovative brands around the world. The country's automotive sector, for instance, is counted among the top three manufacturers globally. Hence, automotive is a key commodity in Japan's air cargo market. Take the example of Nagoya. The huge automobile industry located in the region comprising major firms like Toyota, Honda, Suzuki, Mitsubishi and variety of its subsidiaries, makes it a key commodity transported from the Chubu Centrair International Airport in Nagoya.
Also, there is huge demand for transporting aircraft components. For example, parts of Boeing 787 such as main wings and fuselage manufactured in the factory in the region is transported to Nagoya Airport by sea and then transported by the Boeing 747LCF (Large Cargo Freighter) named 'Dreamlifter' to the Boeing's assembly factories in the United States.
"2018 business performance has remained strong underpinned by export demands from local auto industry to the world and growing aviation industry-related cargo," shared Takuya Nakatsu, head of route development & marketing, Chubu Centrair International Airport.
He further added that Centrair is setting its priority on five items i.e. automobiles, airplanes, perishable items, medical products and cross-border e-commerce to create and incorporate demands.
Speaking about Japan's air cargo industry trends in last five years, Nakatsu said, "Demand for auto industry, the key industry of Japan and Chubu area, remains strong. Most recently, export of semiconductor manufacturing equipment has increased in response to its worldwide demands. Following increase in export of agricultural and marine products that Japan set up as national strategy, perishable cargo attracts lots of attentions."
Meanwhile, the Kansai International Airport has seen a lot of pharmaceutical transportation, thanks to the various drug manufacturing companies located in the region. "As for specific imported commodities, pharmaceutical products make up the largest share in terms of the amount of trade. This is partly because there are many drug manufacturing companies in Kansai. A large volume of communications devices such as smart phones are also imported. Meanwhile, notable exported commodities that have shown strong growth lately include high-priced products like semiconductor manufacturing equipment and engines. As is the case nationwide, semiconductor and electronics parts are the major products in both import and export," shared Tsuji.
Japan was once the second biggest pharma market in the world behind the US, but now has been overtaken by China. Nevertheless, it remains one of the most important markets for new drug launches and the air cargo operators are constantly improving their cold chain capabilities to support the evolving pharma industry.
Last year ANA became the first airline in Japan to be awarded the IATA CEIV Pharma Certification at ANA's largest cargo operation, located at Narita International Airport (Tokyo).
"We have recognised a growing need for improved chain capabilities and have already responded to this demand. In November 2017, we were awarded the IATA CEIV Pharma Certification, a globally recognised pharmaceutical product handling accreditation. Our main target is the import business especially from Europe, North America, and some countries in Asia including India," said Hiroshi Sugiguchi, executive vice president, global marketing, ANA Cargo.
Meanwhile, JAL Cargo also has been enhancing its cool chain capabilities by experimenting with new type of containers.
"In the past year, we started offering a new type of container 'CC5', which could keep cargo at temperatures between 2 and 8 degrees for an extended period of time. Similar to the current type 'CC20', Vacuum Insulated Panel (VIP) is arranged on all 6 sides of the interior to achieve high performance temperature control, which is equipped with a temperature logger and GPS to monitor the condition of the cargo. For example, we recently transported cargo utilising the CC5 container and maintained a temperature between 2 and 8 degrees for 140 hours, when timed from the shipper to the consignee. We hope more customers would be interested in this new series of containers," JAL Cargo spokesperson said.
Tackling challenges
While growth of air cargo industry stands a good chance in the island nation, given its geography, Japan is still entangled in some domestic as well as international political complexities, which needs to be tackled for the industry's smooth sailing.
For instance, despite reporting higher revenues, Japanese carriers ANA and JAL have reported falling April-June profits due to high fuel prices. ANA's air cargo business benefited from higher freight rates amid a global rise in demand for transporting high-value-added goods as semiconductors and auto parts. But higher fuel costs squeezed profit. Jet kerosene averaged around $87 a barrel on the Singapore market, rising about 40 percent from a year earlier. ANA's operating profit fell 21.1 percent from a year earlier to ¥20.1 billion ($180.9 million) while revenue grew 7.3 percent to ¥484.9 billion ($4.4 billion).
Commenting on the same Sugiguchi said, "Although fuel price did impact our freighter business, revenue increased year-on-year due to the good performance of cargo from Japan to overseas destinations. We strongly believe this cargo demand will keep growing, because of the strong demand for shipments such as automotive parts and electronic components."
JAL meanwhile said its quarterly operating profit rose a marginal 0.7 percent to ¥24.9 billion ($224.1 million) with net profit dropping 10.3 percent to ¥17.5 billion ($157.5 million). It also saw higher operating expenses eat into profits. Revenue rose 8.7 percent to ¥342.1 billion ($3.1 billion).
Meanwhile, another leading cargo operator Nippon Cargo Airlines (NCA) had to ground its entire fleet of 11 aircraft in response to investigation over safety record concerns. The Japanese carrier received a business improvement order from Japan's ministry of Land, Infrastructure, Transport and Tourism (MLITT) following a government investigation into safety record maintenance as several incidents were incorrectly reported. NCA is now considering to permanently ground its three B747-400F aircraft in response to a business improvement order. Currently two of its aircraft have started operating.
Apart from this, the aviation industry is also rattled by the labor shortage that has affected many industries in the country. Many airlines are converting part-time workers into regular workers, in their bid to retain employees. In the past years, few airlines had to cut down their services due to pilot shortages. Also at airports the shortage of ground handling staff is a pressing concern, especially at a time when the country is gearing to host the 2020 Tokyo Olympics and the 2019 Rugby World Cup.
At a recent conference of Asian airport operators, Makoto Natsume, president and chief executive officer of Narita International Airport Corporation stressed on the issue and highlighted that the airport's cargo segment is also getting affected. The airport, he said, has taken several steps to address the high attrition rate, such as enlarging the child-care facility within the airport to persuade female workers to stay etc.
Meanwhile, complications due to the current trade war between neighbouring China and the USA could result in weaker trade flows and a further economic slowdown for Japan. Although a direct impact would be limited for now, it could have a long term repercussion if the tension escalates.
Finding opportunities
On a positive front, the signing of the Comprehensive and Progressive Agreement for Trans-Pacific Partnership (CPTPP) by Japan and 10 other nations is a step forward in favour of a world open to trade. With the reduction of trade tariffs and also the so-called non-tariff measures between the member countries, trade is likely to grow further, creating greater demand for air cargo and ocean shipping.
Amid this favourable environment, Japanese airports will have to take serious measures to attract more and more cargo operators, especially while air cargo volumes continue to stage a modest uptick globally.