Japan Airlines goes live on CHAMP's digitalisation platform
Japan Airlines has launched a digitalisation platform powered by CHAMP Cargosystems across its domestic network.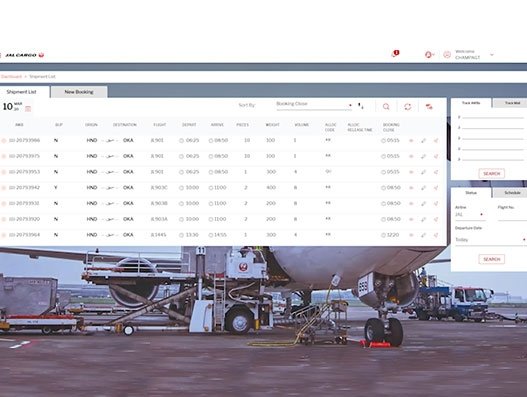 Japan Airlines (JAL) has successfully launched a digitalisation platform powered by CHAMP Cargosystems initially across the airline's domestic network.
Built on CHAMP's Open Cargo Platform (OCP), the solution, operated by CHAMP on behalf of JAL, consists of an ergonomically-designed, workflow-based portal that enables the airline's customers to transact business digitally, together with an advanced "smart" mobile app that fully automates the end-to-end processes within JAL's cargo warehouses. A unique combination of APIs and an advanced microservices architecture seamlessly integrates the OCP components with CHAMP's industry-dominant Cargospot solution – around which JAL's cargo sales, handling and revenue accounting activities are based.
The new digitalization platform enables completely paperless trading whilst transforming the entire JAL domestic cargo business from start to finish.
The introduction of the platform requires JAL's customers to book all outbound shipments through the intuitive and intelligent portal, featuring dynamic flight selection and pricing. The airline's customers gain additional benefits from full real-time shipment visibility, as well as access to tools such as allotment and invoice management. As booked shipments arrive at the JAL warehouse, the handling processes - from acceptance to flight build and departure - are streamlined through the airline's use of CHAMP's integrated mobile app.
Closing the circle, the mobile app additionally supports JAL's inbound flight and shipment processing – from check-in to shipment delivery. The portal becomes key to the inbound handling activities, by allowing JAL's customers to view incoming shipments and select them for pick-up. This fully automated process, featuring QR code generation and digital signatures, accelerates shipment collection, whilst reducing congestion at the warehouse.
"Today clearly marks another very special occasion in the long CHAMP-JAL partnership," says Arnaud Lambert, CEO at CHAMP Cargosystems. "It's been a true honour to work with JAL on this leading digitalization project. I am delighted that our technology and expertise are making a real difference to the Japanese air cargo community in embracing the next level of business digitalization and efficiency. CHAMP looks forward to continuing our strong partnership with JAL and to further enable the airline's business and industry transformational projects, even more in these times where air cargo saves lives."
"This end-to-end digitalization platform will not only transform our business, processes and operations, but also generate major efficiency gains and enhanced visibility to our valued clients," says Hiroo Iwakoshi, executive officer of cargo and mail at Japan Airlines. "Customer focus is at the heart of our organization and we thank CHAMP for their great collaboration and cargo expertise in bringing this project to life."