FROM MAGAZINE: Interview with Tim Strauss, VP Cargo, Air Canada
<p style="text-align: justify;"><strong style="font-weight: bold;"> Tim Strauss </strong>who has been recently appointed to the position of <strong>Vice President, Cargo</strong> for <strong>Air Canada</strong> is in the process of putting in new strategies for the cargo division. In an exclusive interview with <strong>Reji John</strong>, he shared the airline's cargo performance in 2016 and spoke on the expectations […]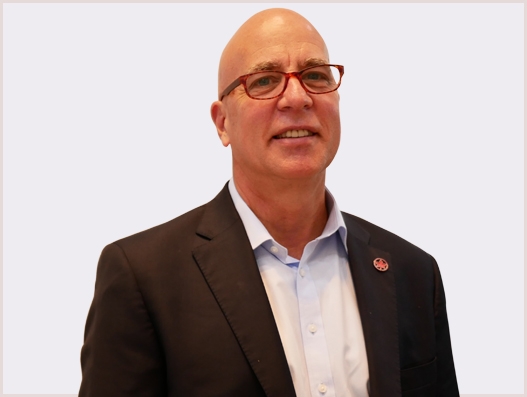 Tim Strauss who has been recently appointed to the position of Vice President, Cargo for Air Canada is in the process of putting in new strategies for the cargo division. In an exclusive interview with Reji John, he shared the airline's cargo performance in 2016 and spoke on the expectations for 2017 for Air Canada Cargo. He also shared his views on the problems faced by the airfreight industry and much more. Edited excerpts.
What kind of transition have you experienced as you moved from Hawaiian Airlines to Air Canada?
One of the reasons I Ichose Air Canada and I am happy that they chose me was because it has a very rich culture. Hawaiian Airlines had a fabulous service culture, and it's great in its market, and I find Air Canada to be the same, but a more expansive market covering most of the globe. The company has invested a billion dollar per year for 10 years straight, in the new aircraft, infrastructure and also heavily in the air cargo products. A lot of talent, good people and it's the culture of the company that works in our favour. So those are some of the reasons for the transition itself. It's been a month with Lise-Marie Turpin who was a great partner. We had a great time moving around meeting people, exchanging ideas. Our thought process is very similar, the way we approach business and treat people is very similar. It couldn't be a better transition. Now for last few weeks, we have been meeting customers and other employees in Asia and Europe. Great feedback from the customers on what they liked about Air Canada particularly with the sales groups and on the service piece. It gives me things to reflect on, ideas that we can build from and helps in understanding the people's perspective about the company which is very important.

How does 2017 look for Air Canada Cargo?
In the first quarter results, cargo was up above 16 percent year over year, and this started for us in the middle of 2016. So it didn't wait for the fourth quarter to get better, it began to trend higher, and that has continued in 2017. At this point, we believe it will continue throughout the year, and that gives us more confidence. It's at the highest level in 20 years both in North America and other regions of the world. It is a great start, and I think industry-wide a real growth scope is being experienced.
You must be seriously looking at numbers. Do the figures look good for Air Canada Cargo?
Air Canada Cargo has grown consistently. Air Canada, the overall airline, has grown very high in terms of statistical numbers like in passenger-carrying revenue. We look to replicate that on the cargo side. We look at making infrastructure investment to get an additional extension in premium areas like perishable goods, pharmaceutical areas and more and more investments in the e-commerce. There are no direct investments but through our business partners. I see all these good signs pointing towards a healthy future, feel that our market position will strengthen and see more opportunity for growth over the next few years. We went from 50 wide-body aircraft in 2010 to 100 wide-body by the end of this year. Their gauge level is also higher, so it is not just the 100 percent increase in the number of aircraft alone, but in reality, it is more than that. The percentage increase in capacity enhances our opportunity. It is also challenging, and we are strategising on how to take advantage of that lift in our system.

Is overcapacity a concern for you and how are you managing that?
Overcapacity is an opportunity. It's not a threat. It's on us how do we take advantage of it. It means different pricing mechanism potentially on some routes like heavy cargo routes. It also depends on how do we gather cargo, how do we optimise the existing storage facility to take more cargo. As a new person in Air Canada, the first priority is to meet all my staff together and discuss these problems, which will happen in the next two weeks.
What was the brief given to you when you were asked to lead Air Canada Cargo?
The focus is, this is a people's industry, relationship industry, product industry and service industry. The product segment is the most important. Probably most of the airlines offer very similar products. If Qatar comes out with a new product and tomorrow Lufthansa comes out with the same product and then Korean Air comes out with a new product, what happens is that everybody in the industry chooses to replicate that very quickly. So you are not going to win on the product offer. You have to have the products but can't win on product alone. It's the relationship with the customers, the employees and the services. Your service has to be good enough so that the customer says that is our preferred carrier. One of the nice things about Air Canada is that we are big enough to be meaningful, but we are small enough to be nimble. It's nice to be in it and our job as a leadership team here is to figure out how do we keep that service on the upswing with facilities, technology and people. And at the same time keep the relationships growing tighter, warmer and helpful for both parties. We want customers to do well because that helps us too.
What is the potential you see in the Indian market?
We have year-round operations to Delhi from Toronto and extra service from Vancouver in October. We are starting operations to Mumbai in July. In India, there are hi-tech products, perishables, clothing goods, and it's a magical market. We are very excited to get more deeply into that market and expand. A lot of Indian population just doesn't go in one way, it's a round trip. Both families and business people go back and forth. It is a critical market for cargo as well. We will be in India for a long time.
Is there any specific focus on special cargo commodities?
The perishables part of the market is huge, obviously in Canada as the climatic conditions remain cold through most months of the year. Perishables are critical not only in import segment but also in the transit part. Perishables are huge in our case, especially products like fish, lobsters followed by general perishable goods. So, there is a significant upswing there; we are investing a lot in the new perishable centre in Toronto, that will help us to meet the growth demand. E-commerce at this point is dealing with either integrator or with the coastal services around the globe as the distribution. We are not in the pick and pack business. Forwarders are beginning to touch on some of that, and we will see how that develops over time as it's a business that will double every couple of year. The other interesting aspect is that a company like Amazon is doing everything directly themselves, and I think that puts a different pressure on the industry. Now we will have to see how shippers react to this. On our part, we have to be faster and faster in everything we do. So we have to keep up with the pace of modernisation regarding latest systems, technology and flow through your preliminary hub. The key focus on our mind as an airline is cargo growth. Cargo is the primary source of revenue in a passenger airline. So we need to focus on how to increase the revenue.

What would you want to see changed when you complete one year in the current role?
Probably the most important thing for Air Canada Cargo is to complete a strategic plan for our hub in Toronto. We have the short-term planning that will be implemented. Currently, we have a three-year construction plan, and we hope in the said time frame we will be able to grow the business significantly through Toronto. That includes quicker track times, faster transit times, better distribution, the flow of communication, tracking, and packing more like an express hub. We are transforming our facility to accelerate the growth. We are dependent on skilled sales force in Asia, Europe, South America and the North America including Canada to grow over the next 12 months.