FROM MAGAZINE: Interview with Marcel de Nooijer of Air France KLM Cargo
In November last year the Franco-Dutch airline partners Air France-KLM singed an "enhanced cooperation agreement" with Jet Airways in Mumbai. The important part of this agreement was a separate Memorandum of Understanding (MoU) between the cargo heads of these airlines to further strengthen their existing cargo cooperation. Marcel de Nooijer, EVP Air France KLM Cargo, […]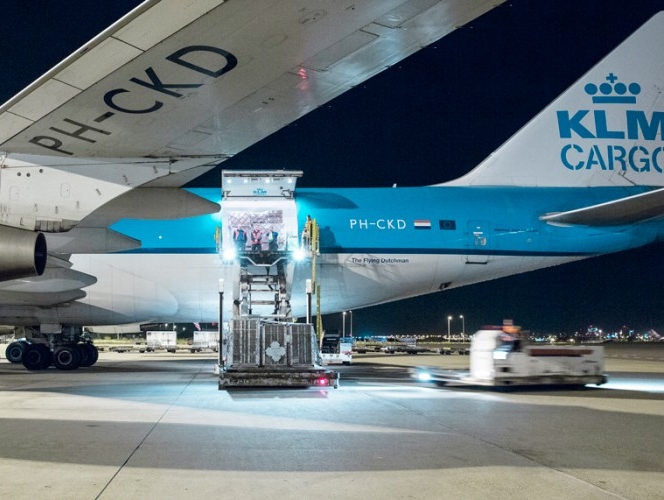 In November last year the Franco-Dutch airline partners Air France-KLM singed an "enhanced cooperation agreement" with Jet Airways in Mumbai. The important part of this agreement was a separate Memorandum of Understanding (MoU) between the cargo heads of these airlines to further strengthen their existing cargo cooperation. Marcel de Nooijer, EVP Air France KLM Cargo, details some aspects of the partnership in an exclusive interview to Reji John. Edited excerpts.
The MoU has the objective to shape and further strengthen the existing cargo cooperation with Jet Airways Cargo. What does this mean?
It concludes the fruitful discussion we have been having with one another for the last one year. Basically it means maximum benefits to our customers with respect to our complimentary network. On both sides we have been developing interline traffic significantly between India and Europe also via Middle East. We have strengthened our network on either side and we have more opportunities to offer to our customers. But it is also, in my view, what airfreight in future is all about. It is not the only driver to fly to each and every destination but offer widest possible destinations with your partners. The cargo MoU is also the follow-up on the good development done on the passenger division side, where a joint venture has been put in place. I think the end game should be that we also enter into some joint venture models. But time will tell of course.
What kind of cargo business you expect to have on Mumbai-Amsterdam, Mumbai-Paris routes? What are your priorities for the type of cargo?
Clearly, pharma, textile and also perishables. We are significantly interested in our pharma capabilities. We have got the IATA CEIV certification last year as the first certification in the world for the combined carrier, Air France and KLM together, both for the warehousing part and for the airline part. We have added more capacity in Schiphol with the starting of our new high tech sorter system, where we doubled our capability in terms of cool container handling. So clearly, that is a priority for AFKLM Cargo knowing that India has much to bring on pharma, not necessarily only cool, but also the 15°C to 25°C pharma products. Another area is e-commerce; with the tremendous development in e-commerce, where it involves cross border, which are growing at a very significant pace. Quite often, a lot of focus is on the Far East, particularly China. But India, for sure, is certainly going to play a key role in that segment. It is great if, with jet Airways Cargo, we can develop this and the network is complementary. There is a lot of opportunity over there.
What is the plan in place to take advantage of Jet Airways regional connectivity within the country to source cargo and consolidate them at key gateway airports?
We are already doing this via an attractive interline agreement. Clearly we are fine tuning all these handling process. And the type of capacity Jet Airways Cargo is offering with wide body capabilities in many destinations domestically clearly help us additional value to our customers and to our network. So the MoU stipulates the successful developments so far, where we are making it happen together. For me, the priority is to fine tune these processes and improve even further. And that is going to be the name of the game in the forthcoming period.
KLM CEO Pieter Elbers, during his visit to Mumbai, said a freighter operation out of India is a possibility. What do you think?
I would never disagree with my CEO of course. With the current freighter operations that we have with six freighters within AFKLM Cargo; we constantly review our current network based on its profitability and future potential. We will also asses, in the time to come, whether we have to start or restart freighter operations into India. In the past we did have freighter operation by Martinair Cargo. This is something we clearly do not rule out. We constantly review our opportunities. I think there is a clear potential from India, given the fact that the volume and dynamics of markets are strong. In the long run, it is absolutely possible that we operate profitable freighter operation out of India.
What is the biggest challenge for you to operate in India?
We have a smooth operation going on at the moment; there is not a particular challenge which I could identify. I think everything works smooth. For me, it is important that we, as combined, are able to capitalise on growth potential; how strongly the market is booming and how you can leverage your own product to such an extent. That will clearly be the driver and I am thinking more about the opportunities.
What is the kind of investment going into the further development of cargo and freighter business within Air France KLM?
Long term, cargo is a key activity of the AFKL group. As a cargo division we generate a very significant contribution, last year 2016, it was roughly around $810mn Euros on a total turnover of 2.1billion Euros, that stipulates again the importance of cargo to the global network of AKLM together. We will focus of course on two elements: one is the optimisation of our growing worldwide belly capacity, also into India; in line with that we also optimise our freighter fleet of 6. The combination of the two drives this very positive contribution that we are giving back to the AFKLM group. We also want to make better and mutual use of our partner capabilities, apart from our own network; we strengthen our network through clear cooperation with partners such as Jet Airways. We do believe that connectivity is not only about capacity. We are also significantly investing in IT and in people and to ensure that we have the best of both worlds - meaning a very strong local presence combined withw state of the art IT offering.
What are some of your top priorities for high yield cargo products - like pharma?
Pharma and express are clearly the top priority given the fact that we have invested heavily for these two segments. The industry globally has a much better balance between demand and supply; 2017 has been a strong cargo year. I do not think it will change in 2018; the global indicators are very positive. So my expectation for 2018 is positive meaning that our priority continues to be on these specific segments - pharma, express & parcels. Also fresh produce which is an important driver for the industry. They will support the industry by grabbing additional yield.