InstoneAir gets EASA nod for fully collapsible airstable
Feb 13, 2020: InstoneAir, a specialist in the air transportation of horses, has been awarded European Technical Standard Order (ETSO) authorisation by the European Aviation Safety Agency (EASA) for its new Fully Collapsible Airstable, which lowers container positioning or return costs by enabling empty units to be transported in the lower decks of freighter and […]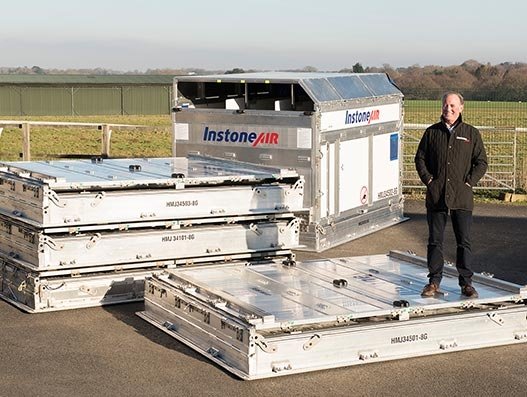 Feb 13, 2020: InstoneAir, a specialist in the air transportation of horses, has been awarded European Technical Standard Order (ETSO) authorisation by the European Aviation Safety Agency (EASA) for its new Fully Collapsible Airstable, which lowers container positioning or return costs by enabling empty units to be transported in the lower decks of freighter and passenger aircraft.
Designed to fit all wide-bodied freighters, including B747, B777, MD11, A310 and B767 aircraft, the airstable features an interchangeable and reversible solid roof, making it extremely versatile for the transportation of racehorses, showjumping and eventing horses, polo ponies and bloodstock for breeding programmes.
InstoneAir pioneers designing and building fully compliant EASA- certified airstables for horses and already includes rigid and droptop airstables as well as wide-bodied and narrow-bodied charter stalls in its equipment fleet of more than 450 units. It now plans to produce 50-100 Fully Collapsible Airstables a year at its UK manufacturing plant to meet growing demand from airlines and bloodstock shipping agents.
The new airstable is quick and easy to use and can be assembled or collapsed by two people in just 15 minutes. It will be available to InstoneAir customers for ad hoc or contract rentals as well as outright sale.
The company's managing director Jeremy Instone says the newly-authorised container will combine optimum comfort and safety for horses along with welcome cost-savings for customers. "We have been designing and manufacturing a full range of airstable models for over 35 years to fit any type of freighter aircraft. It is our commitment to investing in, and meeting, the leading aviation industry standards for design, manufacturing and maintenance which has earned us a global reputation for the quality of our equipment as well as longstanding customer relationships.
"The Fully Collapsible Airstable is a natural addition to our equipment fleet. In terms of positioning or repositioning units before or after each horse transportation, our new unit gives customers far greater flexibility and cost efficiency by enabling three or four collapsed airstables to be stacked on a lower deck pallet, depending on the model. This will significantly improve the economics of horse shipments for customers all over the world."
The rigid and robust airstable, constructed to minimise damage and repair costs, attaches to a conventional 125/96 pallet (PMC/P6P). Its entire design is geared to ensuring the comfort and wellbeing or horses during air transportation, with features including: Fully adjustable partitions to provide variable width for each horse; ramps at both ends for easy loading and unloading; completely solid roof system; sliding hatches for groom and vet access; a fixed, non-slip rubberised floor; an entirely leakproof design to prevent contamination of aircraft structure or other cargo; quick and easy cleaning; adjustable ventilation apertures to control light and airflow; interchangeable roof for 747 – non contour and interchangeable left or right contour roof for 777.