Innovations safeguarding pharma cold chain
As transportation of the Covid-19 vaccine becomes critical in light of the ongoing pandemic, companies are optimising their digital capabilities to meet the container demand on a real-time basis. With the world requiring the life-saving Covid-19 vaccine jabs, container solution providers for temperature-controlled phar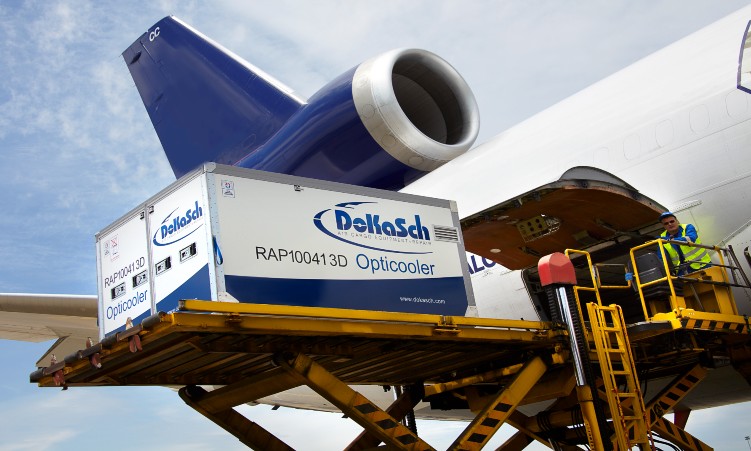 The pandemic has fast-tracked the need for innovation and the increased need for transformations in the healthcare sector, especially in the transportation, logistics and last mile delivery of the Covid-19 vaccine. As transportation of medicines and pharmaceuticals is increasing due to the delivery of the Covid-19 vaccine, container solution providers around the world who deliver and process temperature-controlled pharma products have been rising to the challenge posed by the pharma industry in several ways.
In line with this, va-Q-tec – a German tech firm that sells products for temperature controlling and insulation-vacuum, insulation panels and phase change materials has signed a deal with Turkish Cargo to deploy its thermal container va-Q-tainer on the airline's fleet.
The container has a special low-temperature service free of dry ice down to -50°C, which is best suited for carrying and transporting the Covid-19 vaccines. va-Q-tainers can maintain various temperature ranges between -70 °C upto +25 °C for several days inside the container. In addition, the underlying production processes have been certified as climate-neutral, according to the UN Greenhouse Gas Protocol since 2020.
Christopher J. Storch, the global head of sales, va-Q-tec Group spoke about further digitising the process and said, "Currently, we are developing a smart va-Q-tainer which will be launched soon. It will be equipped with various digital features, such as real-time devices that display various parameters such as the current position of the container, outside and inside temperature, humidity and information about shocks and tilt. This will enable va-Q-tec and all partners to further enhance the visibility and integrity of the temperature-controlled supply chain. Additionally, we are optimising the container utilisation rate by working with various tools like artificial intelligence and forecast tools which allow us to expand our TempChain network to be closer to the actual shippers and improve our logistics planning."
Meanwhile, the company's digital service solution va-Q-nection offers customers 100 percent transparency of the TempChain at its box rental programme. It consists of the intelligent networking of a smart box, an app and the advanced TempChain Service Software. All data along the audit trail is protected against falsification with the help of va-Q-tec's blockchain technology.
Incidentally, December 2020, CSafe Global had launched the first shipment visibility system for active containers. CSafe's CEO Patrick Schafer, explains, "We continue to retrofit our existing fleet with the integrated tracking device and every new container we manufacture has the tracking device built-in. While the device will not transmit data during the flight, it does immediately download all data monitored during flight once the plane is on the ground. During land transit, the device continuously delivers location and condition data to the cloud-based visibility platform which provides real-time alerts and monitoring to ensure end-to-end visibility. Customers can see route deviations, ambient and internal temperature data, when container doors are opened, shock and tilt events and more. This year we are expanding this offering into both our parcel and cell and gene product lines."
Active containers are already equipped with a variety of sensors and allow the user to gain insight into the temperature levels during transport. DoKaSch Opticooler RAP has a volume of 6.57 cubic metres with a maximum payload capacity of 4,893 kilogrammes. While Opticooler RKN is a smart solution developed for compact freight with a loading volume of 1.88 cubic metres and a payload of 918 kilogrammes. Both the containers maintain a temperature range of +2° to +8°C / +15° to +25°C.
Andreas Seitz, the managing director of DoKaSch, says, "Furthermore, our containers are under constant surveillance by the airlines. In turn, it is possible to scan the temperature development right after a flight, which already provides the users with high safety and reliability levels. Temperature-regulated packaging solutions are often not used for end-to-end transport; they are only a part of the cold chain and the actual tracking is more important for the transported cargo. Nonetheless, we are working on projects to provide seamless end-to-end capabilities for our Opticoolers to provide our customers with additional transparency and safety."
In May, global air transportation solutions leader Envirotainer, which had already facilitated the transportation of more than 450 million doses of Covid-19 vaccines, launched Releye RLP30000PC container for transporting pharmaceutical products, and was built on 5 pillars of control, monitoring, value, autonomy, and sustainability. The unit uses rechargeable batteries, with a single battery chargeable to power the system for over 170 hours and it can contain up to three Euro pallets stacked 132 cm high. The product was developed taking into account the opinions of several domain experts in the temperature-controlled air freight industry based on the challenges they need to solve.
"We provide our customers with the latest digital services via our Envirotainer customer portal. From any device and at any time, customers can monitor their shipments with live data and access all their data relating to their shipments in real-time so nothing will escape their attention. If their cargo is removed or the door is opened it will be visible in their data flow to track any temperature deviations. In addition to monitoring live shipments, customers can for example place or change an order, access their financial information and invoices, or access post-shipment reports, create and view support cases, manage their QEP Accredited stations. We also provide an application programming interface (API) so that the customer can integrate their data systems with ours for easier handling. All our customers have a single point of access to shipment data and a multitude of services at their disposal," stated Donald Harrison, head of global key accounts, airlines at Envirotainer.
In January, PLUSS Advanced Technology (PLUSS), an India-based material solutions company, received the European Patent for its Celsure box which is designed and manufactured using the proprietary phase change material (PCM) technology, to transport vaccines and perishable commodities at a specific temperature range. The company has also applied for the patent in the US, Singapore, Brazil and India and expects these patents to be granted soon as well.
Commenting on the company's digital capabilities, Samit Jain, MD and director, PLUSS, suggests, "The whole industry is changing and moving towards digitisation for ensuring track and trace. We believe digitisation is going to stay here and as a step in that direction we have created a 'Smart Celsure' to unlock the potential of AI in supply chain and temperature control space. We have partnered with companies like Tagbox for the same. This has also been implemented for Sputnik V at Dr. Reddy's. The monitoring is being done both at the asset level and packet level. The materials being used in our boxes are supposed to be frozen at specific temperatures."
Incidentally, DoKaSch posted a volume growth of 25 percent in H1 2021 compared to last year. The pandemic contributed to this development, but did not play a major role. Nonetheless, especially the limited air cargo capacities caused an increasing demand for active containers. They affected the reliability of logistical processes due to their impact on available routes and transport durations. In turn, some pharma producers started using temperature-controlled containers instead of passive solutions to avoid temperature excursions. Overall, uncertainties within the global supply chains are causing a global trend of a shift towards the stronger usage of active containers.
Speaking on the developments in 2021, Seitz cites, "We are continuously expanding our partner network and will soon sign two additional master rental agreements with major airlines. Furthermore, we are also about to open several depots for our Opticoolers at key export locations for vaccines and pharmaceutical products."
PLUSS recorded year-to-date (YTD) growth of over 200 percent in the pharma temperature control logistics space in this financial year. A large part of it can be attributed to Covid-19 vaccines and other Covid related products. There is still an overall growth of about 30 percent from the non-Covid movement in pharma.
"We are continuously expanding our partner network and will soon sign two additional master rental agreements with major airlines."
Andreas Seitz, DoKaSch
Jain added, "Recently, PLUSS developed a Celsure Freeze Free Vaccine carrier for freeze sensitive vaccines for a safe last-mile distribution of vaccines. The carrier is under trial and will be launched in about a month. Celsure Covid SURAKSHA is a brand extension done for solutions that have been specifically designed to aid Covid related temperature controlled movement. Not only at Dr. Reddy's, but the brand will also be continued with other manufacturers of Sputnik V in India. Russian Direct Investment (RDIF) has tied up with six companies for manufacturing 800 million doses of Sputnik V over the next year. We are in talks with the companies for existing Covid vaccine candidates and upcoming candidates from several other vaccine players."
As the ocean freight remains unstable, many companies are turning to air freight to get their logistic flow working which is adding pressure to the sector. In 2021, Envirotainer continued to see extremely high order volumes due to Covid-19 vaccine shipments as well as an increase in shipments of other temperature-sensitive medicines. Envirotainer is projecting its booking volumes to continue to exceed record levels during the next couple of months.
The shipments of the Covid-19 vaccine and any other temperature-sensitive pharma products have the same requirements when it comes to air transportation. va-Q-tec products can handle both types of shipment which can be loaded in any of the four standard va-Q-tainer sizes. They can be loaded on any flight which is operated with a widebody aircraft like the A350 or B777. The company's containers are usually loaded as belly freight in the lower deck area but can also be placed on the main deck of a freighter flight.
Storch observes, "We have a global comprehensive network of rental stations for containers and boxes. However, we intend to expand this even further in the future - in some cases also with additional TempChain Service Centers and new va-Q-tec branches. We are positioned excellently with already more than 70 airline and freight forwarding partners but will announce further partnerships with multi-national players. We also have a comprehensive range of products and services that will be further developed according to market requirements and a clear focus on product safety, cost efficiency and environmental sustainability."
CSafe uses active, deep-frozen transport container models for vaccine transportation. Schafer notes, "Transporting vaccines and the containers used is dependent entirely on the temperature profile for the individual vaccines being shipped. For the shipments of the Pfizer BioNTech vaccine manufactured in BioNTech's facilities, we designed a double-wall VIP passive shipper that will maintain the required -70°C for 10+ days. That timeframe can be extended if the boxes are loaded onto active containers. However, seasonal influenza vaccines are shipped at a much higher temperature (approximately 5°C) and can easily be shipped in our active containers with no additional coolants required."
The global distribution of vaccines is already happening but has not reached the levels which were predicted initially. As of now, many vaccines are still only produced and used on a regional level. In India's case there are restrictions on exports. In turn, the transported amounts are still rather low compared to other pharmaceutical products, especially due to the limited availability of vaccines. Now that the demand is decreasing in regions like the Europe and USA, more vaccines will be transported to other parts of the world.
Envirotainer's newly launched Releye RLP30000PC container
Seitz says, "Since most of the production capacities are located in few countries around the world, we are expecting an increase in the demand for temperature-controlled solutions. However, we are prepared for this development due to our capacity strategy. In general, we always plan to have more Opticoolers than currently needed, to accommodate additional demands in the coming months. Furthermore, since planning and production are completely done in-house, we are also able to react to short-term increases. This strategy enables us to cover every single inquiry and helps us to ensure sufficient capacities for the global vaccine campaign."
Opticoolers are designed for intercontinental flights in wide-bodied aircraft, such as A330/A340/A350/A380 and B747/777/787 flights. Commenting on making the containers available in real-time for the growing pharma transportation, Storch notes, "We have been involved in the fight against the pandemic from the very beginning. In the spring of 2020, more than 50 percent of all test kits worldwide were shipped in va-Q-tainers. As we were aware that the increased demand would continue, we significantly expanded the production capacity of our high-performance temperature-controlled containers but also that of our pallet shippers to keep up the proven availability for our customers. Since then, our production has been running at full speed in multi-shift operation."
PLUSS solutions can essentially be carried in all aircraft types namely the wide body and narrow body. These are currently quite small compared to container sizes that are mostly developed. However, the company is geared to change the container size space with its range of pallet shippers, which is next in line and ready to be launched soon.
Jain concludes, "We have made significant investments to ramp up our production facilities. The production capacity has been increased by 300-400 percent in a lesser time. What was significantly challenging was not only to increase our capacity but also to work closely with our partners and suppliers to help build their capacities. Earlier, we were completely operating out of Haryana. To meet the growing demand, we have also made investments in creating warehouses and service points out of cities most prominently involved in Covid vaccine production and distribution. Hyderabad is one such city. We are also eyeing the western belt of Maharashtra and Gujarat and have partnered with 3PL companies to be able to scale up in other geographies."
Incidentally, Releye RLP fits into most wide-body airplanes such as the A300, A310, A330, A340, A350, A380, B747, B767, B777, B787, DC10, IL86, MD11, and L1011. Expanding on this, Harrison cites, "The pandemic and the subsequent grounding of most airplanes meant a brutal reduction in available air freight cargo capacity. During 2020, we managed to meet every single customer order without delay. We have over the past years reinvested some 20 percent of our revenues annually into improving our service and station network, the maintenance of our container fleet and building more containers every month to meet the increasing demand. Thus, we were successful in meeting the demands of our customers over time."
In 2019, CSafe implemented an artificial intelligence-based lease forecasting system that allowed it to effectively manage demand throughout the pandemic using historical lease data, forecasts from customers, maintenance schedules and shipping schedules. It continues to build active containers every day and is currently increasing production based on predictions for the next two years.
Amid the pandemic-induced challenges, while it has been a good first half for the pharma container solution providers, it has also forced companies and countries to transform and overhaul their pharma supply chain to address the ongoing vaccine demand. With the pandemic fuelling the need for more innovation and digitisation to augment this sector and deliver critical medical cargo like Covid-19 vaccines and other temperature-sensitive pharma products, more partnerships and technological advancements are likely to follow in coming months.