Innovations buoy Middle Eastern air cargo amidst pandemic
In what could spell good news for the global air cargo industry, the air cargo market in Middle East & Africa (MEA) is expected to reach a whopping $27.82 billion by 2028 from $17.70 billion in 2021with an estimated CAGR growth of 6.7 percent from 2021 to 2028, according to an August 2021 Business Market Insights report. 
The Middle East is a vibrant economy and the interconnected nature of the countries within the region makes it one of the most dynamic regions for airfreight. Thanks to its geographic location and proximity to several of the world's largest manufacturing markets, the Middle East has carved a strategic niche for itself in the international logistics industry. 
On top of the global and macro-economic factors impacting the flow of goods from the region, there are also geopolitical factors that define to a certain extent how the flows are diverted or consolidated in certain hubs within the Middle East. 
Flight restrictions between the Middle Eastern countries related to the Covid-19 pandemic, governmental policies and political instabilities are dynamic factors that are pushing the carriers to continuously come up with innovative solutions and adapt their network to counter the adverse effects on air cargo.
The current growth posted by MEA's air cargo market gains significance in light of the fact that as per the IMF's July 2021 World Economic Outlook Update', the Middle Eastern and Central Asian economy is projected to grow 4 percent YoY in 2021 and 3.7 percent in 2022. However, factors like the global minimum corporate tax regime could be a blow to the region in the long term, which has traditionally had low tax ecosystems.    
Consistent demand growth
Middle Eastern air carriers posted a 17.1 percent rise in international cargo volumes in June 2021 compared to June 2019 figures, buoyed by strong performances on the Middle East to Asia and the Middle East to North America trade routes, according to International Air Transport Association (IATA). The international capacity in June however was down 9 percent compared to the same month in 2019.
While the export of perishables, personal effects and oil & gas shipments continued, the region also saw rising e-commerce, Covid-19 vaccine and large project cargo movements.  
Kirsten De Bruijn, SVP sales and network planning, Qatar Airways Cargo, said, "Cargo has been boosted by strong perishable movements followed by personal effects and project cargo since the start of 2021, targeting destinations within the Middle East and Europe. From January to June 2021 alone, 50 percent of our Middle East exports are to Qatar, mainly from Beirut, Amman, Dubai and Muscat out of which most cargoes were perishables."
Talking about the trends among the commodities transported, De Bruijn noted, "Given the notable shift from retail to online, we have seen a surge in e-commerce movements and we are also transporting large shipments of Covid-19 vaccines originating from regional hubs in the Middle East, such as UAE."
Meanwhile, Shiranka Leo, managing director of Globe Air Cargo UAE (a subsidiary of ECS Group), reported that in the UAE freight and logistics market, e-commerce combined with international trade has been steadily growing.
"Key routes include the Middle East to North America & Middle East to Asia with increased cargo volumes plying on these sectors. E-commerce and online shopping have become the primary force amongst smartphone users spending time browsing the net," he said.
Leo also observed that the manufacturing sector has not been impacted much by the spread of the Coronavirus in 2021 and continues to expand at a rapid pace.
"Companies are actively turning to air cargo to get their inventory and production lines on the move as quickly as possible to meet the increasing demand for export goods.  Commodities uplifted during the Covid-19 pandemic included medical syringes, PPE material, vaccines, oxygen cylinders," Leo added.
Latha Narayan, director commercial, Etihad Cargo, said, "In addition to prioritising transportation of Covid-19 vaccines and international aid, air freight volumes of e-commerce products, consumer goods and perishables continue to increase. Commodities that require temperature-controlled freighting have also seen notable increases along with automotive products, rubber goods, and other raw materials."
She reported having seen a high demand surge in Asia, Europe, the United States and the United Kingdom due to increased retail industry demand that was driven by a global lack of inventory. 
"As restrictions have begun easing, high-end fashion brands have needed to replenish inventory more regularly and the dependence has been on air freight due to disruptions in ocean freight," she added.  
Disruptions in ocean yields
The situation in global ocean freight remains a challenge with the continuing capacity crunch coupled with port congestion, production backlogs, container shortage and high freight rates. 
De Bruijn said, "We are seeing customers relying more on air freight to get their cargo delivered and fulfil their customers' transit times."
The ongoing pandemic has led to delays, closures, a lack of capacity and high demand for ocean freight from Asia to the USA routes. However, ocean rates are still quite high and transit times have been volatile during this period. 
Leo added, "Disruptions in the ocean freight sector had a massive advantage for air freight demand, paving the way for increased profits. Shortage of belly capacity created the need for charter operations to meet the increasing demand. Airlines were capitalizing on this situation by operating P2F & P2C services to cover the gap in demand."
Meanwhile, Narayan observed that the opportunity has added operational pressure in the air cargo sphere due to limited capacity in the global market.
Low capacity, high freight rates 
The impact of the Covid-19 pandemic has slashed the available capacity in the market to more than half, with passenger belly capacity suffering the most as aircraft were grounded and passenger numbers were scarce.
De Bruijn added that they are currently observing a steady recovery of the widebody belly operations with a return of passengers confidence and faster vaccine roll-out globally, even though the capacity is still below pre-pandemic levels in comparison to 2019 with the transatlantic air trade recording the most decrease.
"Even among the Qatar Airways network, we are now operating belly-hold flights to more than 140 destinations globally.  Due to the lack of capacity in the market coupled with the continuous fluctuations on the sea cargo side and airport/port congestion, rates will remain at high levels throughout the year, with rates currently already up over 18 percent on 2020 levels for the Middle East," she said.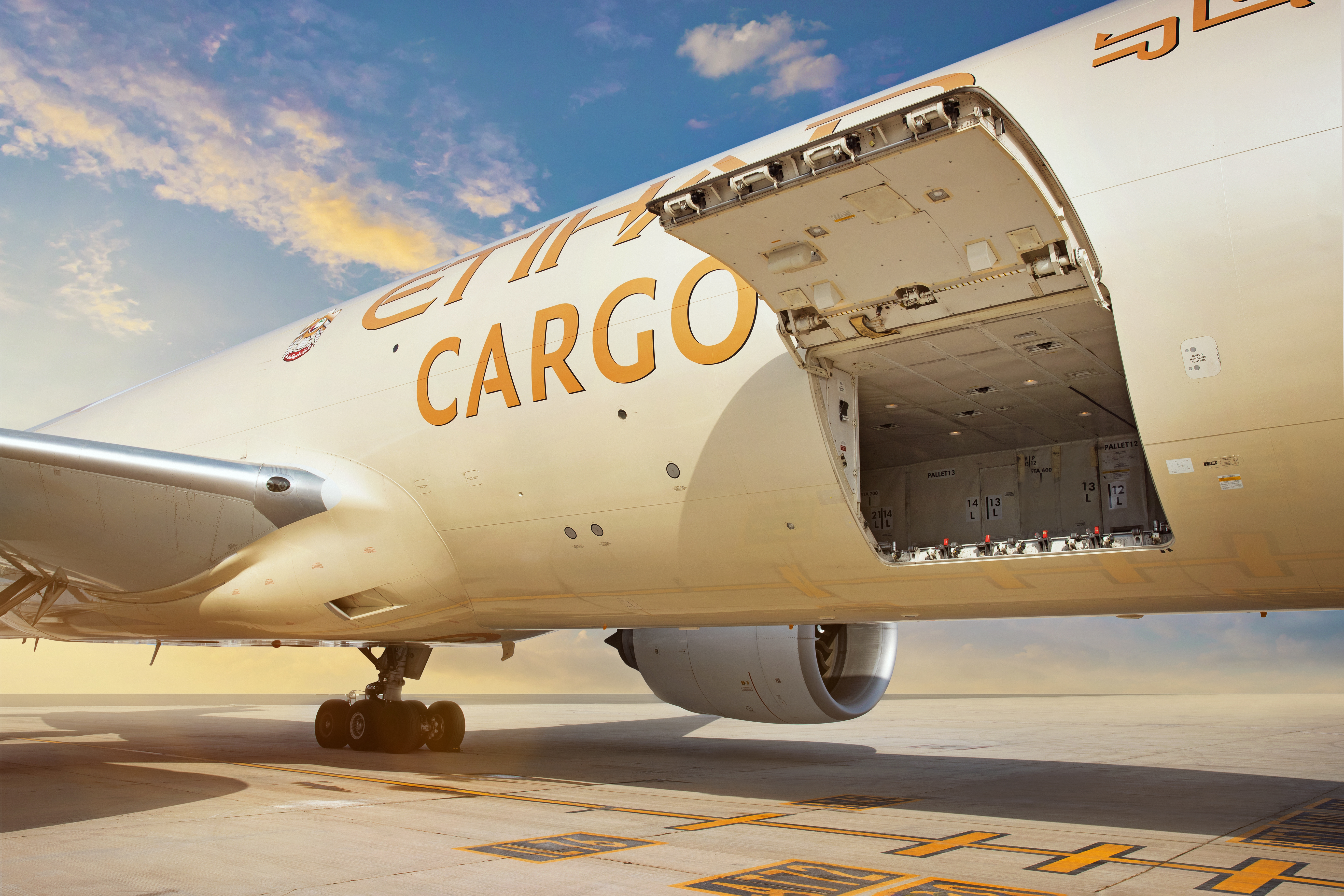 The pandemic has greatly impacted the type of aircraft and the schedule airlines from the Middle East region
Narayan noted that expanding networks, increased freight utilisation, converting passenger aircraft to cargo, and leveraging additional belly capacity on international passenger flights have contributed to maximising the air cargo capacity.
"However, current demand exceeds capacity – which is still below pre-Covid-19 levels. Consequently, air freight demand and rates remain robust and above pre-Covid-19 levels. We anticipate rates staying this way in the short-term due to the challenging demand-supply dynamic coupled with the ocean to air freight conversions staying high. Volumes into the USA from Asia and Europe have seen double-digit growth in pricing as a result of continued capacity constraints," she said.  
Demand for freighters 
The pandemic has greatly impacted the type of aircraft and the schedule they operate from in terms of the Middle East region. Given these restrictions, they had to adapt their schedule and deploy additional capacity to cater to the increased cargo demand seen in certain markets. 
For example, in 2019, Qatar Airways operated more than 107,000 flights (widebody and narrowbody), with 9,500 freighters while in 2020, the reduction in passenger demand led to a decrease in passenger flights where they operated 65,000 widebody and narrowbody flights. They made up for this reduction by increasing their freighter frequencies to 11,000 in 2020 and also adding in 12,000 passenger freighter flights during 2020.
De Bruijn said, "We are very proud of our golden triangle strategy which was made possible due to our revenue management, commercial network planning and cargo teams working together to create a successful model.  Due to this, we were able to have done the most flying during the pandemic and could efficiently utilise all our belly-hold planes and freighters (except the 10 A380s) and align the networks that are beneficial for both."
Narayan pointed out that the dearth of freighters is evident with many carriers converting existing passenger aircraft.
"The ability to sustain profitable routes in the long-term will determine whether airlines invest in more freighters. Pre-Covid-19, Etihad Cargo's aircraft included the B-777, B-787, A380 and A320; although it was not viable to operate A380s during the pandemic," she said. 
She also noted that to expand Etihad's portfolio in the post-Covid-19 period, they perceive A350s as an option, one of the most fuel-efficient widebody aircraft with lower seat-mile costs.