FROM MAGAZINE: Innovating to keep flying pharma safe
Pharmaceutical products transported through the air are more prone to temperature excursions compared to ocean freight and most of these excursions happen while handled by airports, airlines and forwarders. Due to which the air cargo was losing its pharma market share steadily. Let us take a look into how the air cargo community has fought […]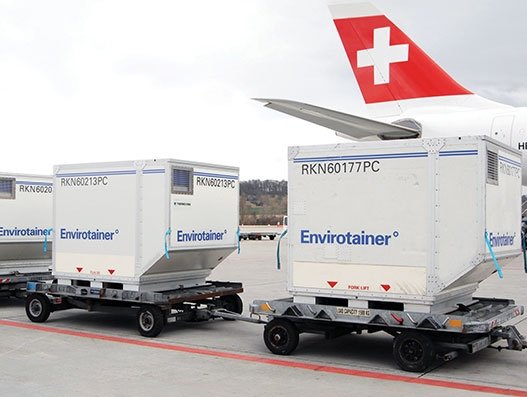 Pharmaceutical products transported through the air are more prone to temperature excursions compared to ocean freight and most of these excursions happen while handled by airports, airlines and forwarders. Due to which the air cargo was losing its pharma market share steadily. Let us take a look into how the air cargo community has fought with the declining market share in pharma and challenges pertaining to the development of biologics and cell & gene therapies.
While transporting pharmaceutical products we are not just handling few chemicals but the lives of many people across nations. "When transporting a radioactive material used in the manufacturing of a cancer medicine from Italy to New York, we also have patient fighting for his life in the United States,"said Andres L Perez, senior director and head of business development, Swiss World Cargo.
"We have a time constraint because the patient is dying, the temperature needed to be steady because the material is heavily temperature sensitive and the real-time changes of the material has to be communicated because the patient can't wait till it reaches the lab only to find that the material lost its radioactive medicinal property," he added.
Global Pharmaceutical Market
The global pharmaceutical market is worth $1.2 trillion (as of 2018) and is expected to be 1.5 trillion by 2023 with an expected compound annual growth rate of 4-6 percent compared to 2.3 percent between 2010 and 2018. But the market share of air cargo compared to ocean freight has been on a steady decline, from the year 2000, due to its pathetic record in maintaining the temperature of pharma products.
According to the International Air Transport Organisation (IATA), air cargo share of global pharma transport declined from 17 percent in 2000 to 11 percent in 2013. In 2018, 0.5 million tonnes of pharmaceutical goods were flown while 3.5 million tonnes were moved through the sea.
Andreas Seitz, managing director, DoKaSch Temperature Solutions said, "Due to new developments, especially in the area of biotech pharmaceutical products, the market is developing positively and is very stable. Since these products do not only need temperature-regulated transport solutions but also have to be delivered just-in-time, air cargo is still the most important transport method. Even while ocean cargo volumes in pharma logistics increased recently, air cargo will stay indispensable due to its speed and reliability."
Jimmy Nares, section chief, Aviation Marketing, Miami-Dade Aviation, Miami International Airport(MIA) said, "For year-to-date November 2019, MIA had a volume of 14,412 metric tonnes of pharma imports and exports. Compared to YTD November 2018, this represents a decline in the volume of 5.5 percent. While pharma data for the month of December is pending, we expect to end up with a small percentage decline for the year, similar to our 1.54 percent decline for overall cargo in the year of 2019. Therefore, our pharma market if performing similarly with respect to our overall air cargo for 2019. This overall decline in cargo volume is also in line with global air freight, which as IATA reported, experienced thirteen consecutive months of year-on-year declines in freight volume through November 2019."
IATA CEIV Pharma and Pharma.Aero
After the sharp decline till 2013, the air cargo community around the globe pioneered two crucial initiatives: the IATA Center of Excellence for Independent Validators (CEIV) for Pharmaceutical Logistics and Pharma.Aero. While IATA CEIVPharma is a certification gifted to airports, airlines and shippers to standardise the good handling practices, Pharma.Aero, an initiative from Brussels Airport and Miami Airport, is the global community of CEIV Pharma-certified players collaborating to improve the quality of pharma handling.
Collaboration
Jimmy said, "Since we kicked off our MIA Pharma Hub initiative in 2015, in which we started developing a community of IATA CEIV Pharma certified companies, we have been positioning ourselves for growth in the air pharma transport industry. We clearly saw this growth begin in 2018, following the completion of CEIV Pharma certifications by six companies of their stations in Miami in 2017 and 2018. Between 2014 and 2017 our pharma volumes were fairly flat – varying only in the range of 13.6 – 13.77 million kilos.
"But, in 2018, there was a significant jump to 16.617 million kilos which was a record year for us (increasing 20.6 percent from the prior year of 2017). With one month of data remaining for 2019, we expect to surpass the 15 (and maybe even the 16) million-kilo mark once again, clearly surpassing the years between 2014 and 2017 in which we did not break the 14 million kilo mark. Coming off these strong two years (2018 and 2019), we expect that our CEIV Pharma community will continue to attract more pharma transport activities at MIA for years to come," he added.
Investments
Scott Garchar, senior director, Life Sciences-Asia, CSafe Global said, "With the advancing technology efforts and platforms, the pharma market and air cargo transportation providers are growing collectively at a tremendous pace. Airlines, airports, forwarders and suppliers such as CSafe Global are all investing heavily in the secure and stable transportation of life-saving drugs and biologic products. At CSafe Global, we have packaging solutions and transportation products in both a passive and active cooling environment that satisfy the most stringent temperature tolerances and specific time durations."
Etihad Cargo's TempCheck is the most recent to enter Pharma.Aero after IATA certified it with CEIV Pharma in January 2020
Geographic expansion
Andreas said, "DoKaSch Temperature Solutions definitely profits from the strong pharma market because we are focusing on active transport solutions. These are the more flexible option for pharma transports due to their ability to keep a very steady preset temperature over a long period of time. We have established a global network with more than 20 of the most important cargo carriers which allow us to provide our containers to clients around the world. In the last few years, we further expanded to the US, which is home to the most important pharma market in the world. Now, we have established three hubs there and can provide our products and services nation-wide. Due to the recent approval of our Opticooler RAP by the FAA, our network of airlines and destinations will continue to grow."
Transporting the most expensive medicine
In July 2019, United Cargo and Savsu Technologies published a whitepaper titled, 'Transforming The Future of Medical Shipments', focusing on the air transport of precious cell and gene therapies. This includes Zolgensma, buy tramadol no prescription which is involved in a single therapy treatment for Spinal Muscular Atrophy and costs $2.1 million, which makes it the most expensive therapy in the world.
'Evo Smart Shippers' of 'Cold Chain 2.0' system by Savsu can give thermal stability and real-time data of Zolgensma, using the integrated sensor and the cold chain cloud application avo.is. Avexis, the pharmaceutical company that made Zolgensma and now owned by Novartis, adopted Savsu's cold chain technology to transport the medicine.And now continued by the approval of Novartis.
"In the past, critical medical shipments could only be transported on wide-body aircraft, visibility throughout the journey was limited and mass transport was only available between major markets. Today, with SAVSU's units featuring smart technology to monitor the shipments and provide flexibility during transport it's easier than ever to bring cell and gene therapies. SAVSU units are hand-carried and able to accommodate some tilting, they can be bulk loaded onto smaller regional aircraft that can't support palletized cargo, allowing for greater flexibility," says the white paper.
Beijing to New York
In December 2019, a pharmaceutical company in Beijing was planning to ship a large amount of Active Pharmaceutical Ingredient (API)to New York which was needed to develop a batch of anti-infection medicine. The API has to be kept within a strict 2-8 degrees Celsius during the entire shipment. But then the original shipment plans fell through and it became critical to quickly find a secure alternative of moving the large volume of temperature-sensitive API.
'evo Smart Shipper' models under the 'Cold Chain 2.0' system of Savsu Technologies.
China is the biggest API exporter in the world and plays a key role in providing high-quality APIs to the global pharmaceutical supply chain. Many of these API products are high-value and temperature-sensitive.
With a short lead-time of five days, the active temperature-controlled containers provider Envirotainer provided their 22 'RKN e1' containers. Cathay Pacific and Air China came through and helped to ship these 22 RKN e1s within 2-3 days from Hong Kong and Shanghai to Beijing to load the API and then onwards to JFK airport in the US.
If they would have tried to ship the same volume of medicines in a passive solution, it would have required more space because of all the insulation.
"All API arrived safely into the hands of the Contract Manufacturing Organization in the New York area, on time and in the right condition. The process of manufacturing the anti-infection medicine can now proceed as originally planned," said Envirotainer in a statement.
Pre-clear pharma from Miami to Brazil
Jimmy said, "Another solution for driving growth in Pharma is our MIA Cargo Pre-Clearance Program with Brazil. We implemented this program last year, and while it was originally designed to benefit e-commerce shipments, it also has applications for pharma products. This program makes it possible to expedite shipping from anywhere in the world to be Pre-cleared in Miami and arrive in Brazil as domestic shipments. MIA is the only airport in the United States able to pre-clear shipments/parcels to Brazil."
What to expect in the near future?
"The biggest challenge that we foresee is the general decline of global air freight. We strive to offset this decline for Pharma (and for cargo as a whole) be continuing to be well-diversified with air routes serving all regions of the world. While we have 102 airlines operating at MIA (more than any other US airport), with non-stop service to 108 international markets and 59 domestic markets, we are constantly working on adding additional air service through our air service development program," said Jimmy.
India
"One trend that we are very pleased to report is the growth of pharmaceutical imports from the major global producer of generic pharmaceuticals – the country of India.Pharma imports from India, which has been our top country for pharmaceutical imports over that past few years, grew immensely year over year in 2019 – 92.11% (from 872 metric tons YTD Nov 2018 to 1,675 metric tons YTD Nov 2019). This is a result of our establishing direct air routes with markets in the Middle East and Gulf Region which feed into the Indian market. We continue to pursue new routes in this region of the world and with India in order to create even greater opportunities for pharma shipments," he added.
The 22 RKN e1 containers of Envirotainer that transported APIs from Beijing to New York.
Sharing Data
Scott said, "The single largest trend we see is the need to share information and data. CSafe is the only temperature-controlled manufacturer to offer free temperature recording downloads to all customers, which can be obtained through a simple USB port. CSafe chose to do this to speed up quality efforts and validating the journey of the precious cargo."
"We are taking this now a step further by integrating tracking devices with live data uploads and GPS location information. Our plan is to not only integrate a device into the hardware of our container but also to integrate with an online interface to allow customers visibility into part of the journey in near real-time parameters. This disintermediation will bring together conversations from airlines, forwarders and CSafe Global directly to the shippers and consignees. This is a game-changer and unlike anything in the market today," he added.
Passive vs Active
Andreas said, "We are observing more market participants in the field of cooling solutions, which are focusing especially on passive containers. However, while these can keep a given temperature reliably, they have a fixed limited runtime, the line assessment is more complex and the risk of temperature excursions is higher if the actual climate/weather conditions deviate from the planned scenario. Active temperature-regulated containers like our Opticooler are much more flexible and reliable for global supply chains, which is why they will continue to be the first choice for highly valuable and very temperature-sensitive pharmaceuticals."
"Furthermore, our products have an almost unlimited runtime when they are plugged in and can even be used as temporary warehouses at the destination. While passive solutions are quite useful and competitive for less sensitive pharmaceuticals, less complex lanes and smaller shipments up to one pallet, the risk of temperature excursions is in general higher with these. Accordingly, DoKaSch TS will keep its focus on active transport solutions to provide clients with high-quality solutions for highly valuable products," he added.
This feature was originally published in February 2020 issue of STAT Trade Times.