FROM MAGAZINE: Industry rises against dangers of rogue lithium shipments
As the threat of mis-declared or ill-packaged shipments carrying lithium batteries looms large, the aviation industry is joining forces to fight the menace. As e-commerce and demand for cleaner technology grows, the demand for lithium batteries is also seeing an upward trend. It's time this industry affair got more attention to make aviation safer. The […]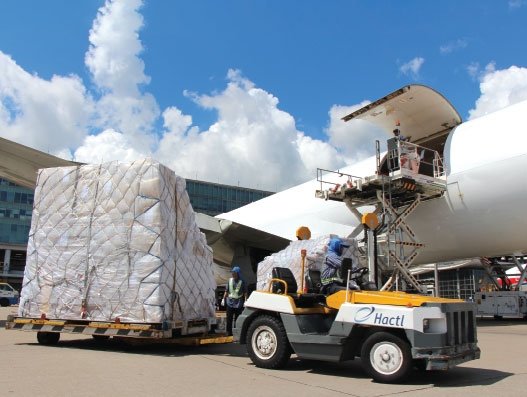 As the threat of mis-declared or ill-packaged shipments carrying lithium batteries looms large, the aviation industry is joining forces to fight the menace. As e-commerce and demand for cleaner technology grows, the demand for lithium batteries is also seeing an upward trend. It's time this industry affair got more attention to make aviation safer.
The difference between the words compliant and complaint is not just the placement of two alphabets. When compliance is compromised, complaints over security become inevitable. That safety is aviation's top priority is stating an obvious fact. What is not obvious though is the threat to this safety brought about by the rising of rogue shipping incidents.
Surge of e-commerce and China
As the e-commerce surge continues, off late, these rogue shipping incidents have been caused by mis-declared and undeclared shipments involving lithium-ion batteries.
According to business data platform Statista, in 2018, the shipment volume of lithium-ion batteries in China amounted to approximately 65 gigawatt hours, an increase from around 44.5 gigawatt hours in the previous year. It is forecasted that by 2024, the market size of lithium-ion batteries in China will reach approximately 150 billion yuan. While according to market research institute eMarketer, by 2023, retail ecommerce sales would represent 63.9 percent of total retail sales in China.
According to the International Air Transport Association (IATA), the market for lithium-ion battery is expected to register a compound annual growth rate (CAGR) of approximately 22 percent annually during the forecast period 2019-2024. This growth is propelled due to the increasing sale of consumer electronics and declining lithium-ion battery prices.
According to market research and strategy consulting firm Global Market Insights, the lithium ion battery market was valued over US$ 33 billion in 2018 and is anticipated to expand over 11 percent to US$ 73 billion by 2025.
As countries are increasingly working towards curbing carbon emissions and adopting clean energy technologies, the demand for and penetration of lithium-ion batteries is expected to be on the upward curve. This inevitably also increases the chances of incidents involving mis-declared or undeclared lithium batteries transported via air.
Incidents and accidents on the rise
According to the Federal Aviation Administration (FAA), as of December 1, 2019, 261 air/airport incidents involving lithium batteries carried as cargo or baggage that have been recorded since January 1, 2006. For 2019 alone, the number of "events with smoke, fire, extreme heat or explosion involving lithium batteries" is 42. The latest incident was as recent as November 28, 2019 on a Delta Airlines passenger flight 1932 from Las Vegas, NV (LAS) to Detroit, MI (DTW) that witnessed a fire from a battery used for an electronic cigarette. The fire containment bag was utilised to extinguish the fire.
This year, Qatar Airways Cargo has had two near misses – on July 15 and October 8, as it transported more than 1,00,000 tonnes throughout its network. The airline serves more than 60 freighter destinations worldwide. In the first near miss, the fraudulent declaration (said to be baby clothes and toy card) was not detected, while in the October incident, faulty packaging and screening requirements could turn catastrophic.
Swift action with respect to screening is the need of the hour, stressed Guillaume Halleux, chief cargo officer, Qatar Airways Cargo speaking at the 16th China Air Cargo Summit in Hangzhou in November 2019.
"Following the lithium batteries incident in New York, we terminated our contract with the existing ground handling agent and switched operations to a new ground handling agent. An open letter was issued to the regulators and local civil aviation authorities highlighting the current problems with lithium batteries in the industry. In addition, presentations were delivered at various IATA forums and workshops highlighting the challenges and risks with transportation of lithium batteries and what Qatar Airways Cargo is doing to ensure safe and secure transport of lithium batteries. We also appointed an experienced and dedicated staff to look into all such issues," he elaborates.
Hong Kong Air Cargo Terminals Limited (Hactl), which handles up to 3.5 million tonnes (per annum) has a dedicated 166 square metres Dangerous Goods Store. While the neutral air cargo terminal operator at Hong Kong International Airport did not specify the numbers, Wilson Kwong, chief executive of Hactl admitted that "there have been some instances that could have been caused by poor packaging or inaccurate declaration in the past."
"Cargo terminal operators, shippers, freight forwarders and airlines must comply with the IATA DGR standard when handling lithium battery shipments. The standard covers both physical handling (e.g. packaging, marking and labelling) and documentation handling (e.g. proper declaration in AWB documents). Hactl follows this standard, along with any specific requirements of airlines throughout the handling process, from acceptance to ULD build-up. It is mandatory for all Hactl staff who handle DGR cargo and documents to attend the IATA DGR course during induction, and undertake refresher training every two years. Hactl also actively participates in IATA's DG Working Group to ensure the latest information and updates are disseminated and implemented throughout our operation in a timely manner. Besides this, Hactl proactively organises regular workshops to share the latest DG updates with the air cargo community including airlines and freight forwarders," said Kwong.
IATA on high alert
In December 2019, IATA, in partnership with the Global Shippers Forum (GSF), the International Federation of Freight Forwarders Associations (FIATA) and the International Air Cargo Association (TIACA) launched a campaign to tackle the safety menace of shipping lithium batteries. The organisations are urging governments to crack down on counterfeit batteries and of mis-labeled and non-compliant shipments introduced into the supply chain, by issuing and enforcing criminal sanctions on those responsible.
"Dangerous goods, including lithium batteries, are safe to transport if managed according to international regulations and standards. But we are seeing an increase in the number of incidents in which rogue shippers are not complying. The industry is uniting to raise awareness of the need to comply. This includes the launching of an incident reporting tool so that information on rogue shippers is shared. And we are asking governments to get much tougher with fines and penalties," said Nick Careen, senior vice president, airport, passenger, cargo and security, IATA, in a statement.
David Brennan, Assistant Director Cargo Safety & Standards, APCS-CARGO-Safety & Standards, IATA rightly insists that enforcement of the regulations on the transport of lithium batteries is the role and responsibility of the national civil aviation authorities (CAA).
"The airlines implement policies and procedures to ensure that declared dangerous goods, including lithium batteries, are in conformance with the regulatory requirements and are then handled and loaded as required. In addition, the airlines will implement additional checks and controls to prevent dangerous goods that are not in compliance or that have been improperly declared from being accepted for air transport. Where there are issues identified, the airlines will report these to their CAA and to the CAA in the country where the issue is identified. It is expected that the CAA will act where it is found that the shipper failed to follow the regulations," adds Brenann, explaining how the IATA guidelines are enforced.
The campaign launched by IATA for safer skies includes three specific initiatives: new incident reporting and alert system for airlines; industry awareness campaign on the dangers of shipping undeclared and mis-declared lithium batteries; and facilitation of a joined-up industry approach.
"We work with our member airlines through the IATA Dangerous Goods Board to identify improvements that will help to improve safety or compliance. Where appropriate we raise through the International Civil Aviation Organization (ICAO) Dangerous Goods Panel. We develop guidance material to help the industry better understand the regulations and therefore better comply, see attached 2020 Lithium Battery Guidance document. In addition, we conduct an annual 2-day Lithium Battery Workshop as well as 1-day dangerous goods workshops in Africa and Asia. Over 2019 we conducted eight, one-day dangerous goods workshops, two in Africa and six in Asia," informs Brenann.
Despite these clear guidelines incidents risking safety and lives are still prevalent. Is IATA falling short in enforcing them?
Halleux thinks the problem lies in some rogue shippers. "The guidelines are clear, the problem is that certain shippers do not understand the regulations and mis-declare lithium batteries by mistake. In other instances, they may intentionally mis-declare the items to try and avoid the regulations set by the regulators or airlines," he says.
Steps to address the issue
According to Kwong, apart from following the IATA DGR standards, airlines should conduct regular checks upstream at agents' warehouses to assess staff capabilities in lithium battery handling. "Other than this, advanced electronic cargo information (e.g. e-AWB) and a reduction in last minute submission of documents and physical cargo would greatly help to minimise such risk," adds Kwong.
"Cathay Pacific Cargo believes that the entire supply chain is responsible for ensuring safety during lithium-ion battery transportations. We put in a lot of effort into raising awareness among our shippers, freight forwarders, ground handlers and staff members about the correct handling of lithium battery shipments so that they are in line with IATA requirements. We work closely with shippers and cargo agents to ensure they make the appropriate declarations for their shipments. It is the primary responsibility of the shippers to properly identify, classify, declare, mark, label and pack their consignments for air transportation. We follow stringent acceptance procedures and we continue to work with the authorities and industry practitioners to strengthen the enforcement of proper declaration," says Rajesh Menon - regional head of cargo for South Asia, Middle East and Africa, Cathay Pacific Airways.
Qatar Airways Cargo suggests a "know your shipper" programme will help raise awareness about the dangers and challenges involved. "For shippers or freight forwarders who fail to comply with the regulations, the regulators need to ensure the local civil aviation authorities follow up and hold the shippers accountable for their actions. The current process for implementing change is a very long and tedious task taking up to 3 years for approval of submitted papers for change to be agreed and published. Has the industry got 3 years before we see another catastrophic accident?" questions Halleux. challenges involved.
Conclusion
As the aviation industry collaborates to ensure safer skies and workplaces for their employees, the voices demanding better handling of lithium batteries are rising.
"Safety is aviation's top priority. Airlines, shippers and manufacturers have worked hard to establish rules that ensure lithium batteries can be carried safely. But the rules are only effective if they are enforced and backed-up by significant penalties. Government authorities must step up and take responsibility for stopping rogue producers and exporters. Abuses of dangerous goods shipping regulations, which place aircraft and passenger safety at risk, must be criminalised," said Glyn Hughes, IATA's Global head of Cargo in a statement.
Criminalising rogue elements could be the surest way of making shippers compliant. What better way to start the New Year than without complaint or concern of basic safety?
Qatar Airways Cargo takes the lead
Please give figures of declared lithium shipments handled by Qatar Airways Cargo in the past three years.
In 2017, we transported more than 73 million kg of lithium batteries while in 2018, we moved more than 94 million kg of lithium batteries. These numbers include both, ELI and ELM batteries. This year, we have transported more than 100 million kg throughout our network.
How can an airline insist on safety measures and compliance with regard to transport of lithium?
As an airline, we follow all rules and regulations set by IATA and ICAO with additional restrictions above and beyond the regulations.
We have adopted a four-pronged approach: Promote, Protect, Mitigate and Learn. The approach will help in the continuous improvement and awareness of lithium batteries.
What steps can be taken by the supply chain to avoid accidents related to lithium shipments?
The aviation industry requires the regulators to become more proactive rather than reactive in defining the regulations and standards for safer transportation of lithium batteries. The current standards of packing requirements for example are open to interpretation which leads to incorrect packing of the batteries.
Defining industry standards for fire containment solutions is also a hot topic as many airlines are investing millions of dollars in mitigating the risk. However, with no industry standard for lithium battery fire containment this could all be deemed ineffective if and when a standard is agreed.
For shippers or freight forwarders who fail to comply with the regulations, the regulators need to ensure the local civil aviation authorities follow up and hold the shippers accountable for their actions.
The current process for implementing change is a very long and tedious task taking up to 3 years for approval of submitted papers for change to be agreed and published. Has the industry got 3 years before we see another catastrophic accident?
Raising awareness about the dangers and challenges, auditing and certifying the shippers, freight forwarders and establishing a "know your shipper" programme will help raise awareness.
Many local civil aviation authorities are working with airlines and promoting the risks to the industry by workshops.
How can freight forwarders be made responsible in case of untoward accidents caused by lithium shipments?
Implementation of stricter consequences and penalties issued from the local CAA's to the freight forwarders and shippers breaking the regulations will help greatly.
Airlines must raise the incidents they have centrally to protect the industry as a whole. If one customer is blacklisted they will simply move to another airline, thus moving the problem to another carrier and not eradicating it.
This feature was originally published in STAT Trade Times' January 2020 issue.