FROM MAGAZINE: Indian air cargo stretching wings even in times of trouble
There is no doubt about the fact that slowdown is disturbing the air cargo industry in India. However, what is interesting is how the stakeholders are responding to it. It seems like everybody wants a bit of the Indian market and are taking a plunge into it even if it seems to be in trouble. […]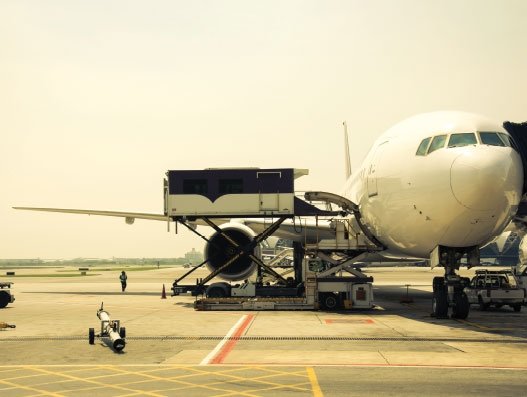 There is no doubt about the fact that slowdown is disturbing the air cargo industry in India. However, what is interesting is how the stakeholders are responding to it. It seems like everybody wants a bit of the Indian market and are taking a plunge into it even if it seems to be in trouble.
The Directorate General of Civil Aviation (DGCA) of India showed a 5.3 percent decline in the domestic air cargo volume in August 2019 while World Air Cargo Data (WorldACD) for the same period reported a decline of 8.2 percent in the export volume from India. IndiGo, the largest domestic airline in India, that uses her huge belly spaces to move cargo, has reported record losses of Rs 10,620 million in the second quarter, while SpiceJet registered an
Rs 462 crore widened loss and Blue Dart had its profits declined 35 percent.
"The domestic aviation sector, which has seen a consistent double-digit growth, is now witnessing subdued air travel demand resulting in low margins and losses. One of the reasons is the discontinuation of Jet Airways operations impacting overall sentiments in air cargo movements. In the last few months, a decline in air freight has seen companies shifting to ocean transport while there are companies that are focusing on inbound cargo business from global markets to increase air freight growth," said Manoj Singh, senior vice president and head cargo, Mumbai International Airport Limited (MIAL).

Official launch of SF Airlines' B747-400F to its Shenzhen - Delhi route
Keku Bomi Gazder, chief executive officer, AAI Cargo Logistics and Allied Services, said "Jet Airways used to be a distinctive airline in the Indian aviation market and with its demise from the Indian aerospace a sizeable share of highest growing domestic aviation from India to the world is lost. There is a year on year fall of 0.5 percent in Indian air traffic, reflecting the impact of the shut-down of Jet Airways down from a 15 percent pace year on year. The annual growth of air traffic for past five years, was close to 20 percent and the sizeable supply side interruption has not yet been offset by other carriers".
Girish Kunder, country manager India, ECS Group, an airline GSA which handles 4000 plus tonnes export from India every week, said "From the last 9-10 months, economic slowdown and softening of global trade continues to affect air cargo market. Followed with tariff increase in the ongoing US-China trade dispute together and disruption at Hong Kong airport operations increased the chances of a weaker data count in August. Export orders are falling, payments are not timely remitted such factors tend to affect air cargo business. Although the government has come up with various schemes to overcome the current situation we foresee the current trend will continue to remain stagnant for another few months to come."

Welcoming China Airlines Cargo's B747-400F and its crew at Mumbai International Airport
Indian air cargo market in numbers
According to the Airwaybill-level data reported to WorldACD, the year-on-year (YoY) international volume growth outbound India for the Year-to-Date (Jan-Oct) decreased 3.9 percent. However, yields from India were up by 3.3 percent, resulting in a small decrease in revenues for the same period by 0.8 percent.
WorldACD in a response to STAT Trade Times said "Special products from India performed better than general cargo, with YoY volume growth of respectively -6 percent and -1 percent (Year-to-Date Oct 2019). Special products with double-digit growth includes pharma/temp (+16 percent) and dangerous goods (+12 percent). Yield for general cargo was stable, but for special products, the yield went up with +9 percent. So far in 2019, the top growth markets from India have been the USA, Spain and Nigeria. The last two destinations experienced double-digit growth. Sub-regions that did not do well are Western Europe and the Gulf Area."
Be it the record losses of Indigo or the liquidity crunch in SpiceJet or the numbers of DGCA and WorldACD or the complaints of forwarders about dwell time or customs complications, a bleak picture of Indian air cargo market is more clear. However, that is not the whole scenario; Indian air cargo is, in fact, stretching its wings now. The actions of all stakeholders from airports to GSAs and from carriers to aircraft manufacturers seem to be more optimistic about India than ever before.
Foreign cargo airlines make their way to Indian soil
Even though the slowdown is gripping the Indian market, within two months of October and November in 2019, five international cargo airlines introduced new freighter services to Indian destinations. While Delhi got UPS, SF Airlines and Sichuan Airlines flying to Indira Gandhi International Airport, Mumbai had China Airlines Cargo and Ahmedabad had Turkish Airlines flying into its cargo facilities.
Along with its Mumbai service launched in October and the second daily service to Delhi starting from March 2020, Virgin Atlantic Cargo is steadily increasing the freighter capacity to India. In October, Ethiopian Airlines started a non-stop four-weekly service from the Ethiopian capital Addis Ababa and KLM Royal Dutch Airlines started three weekly service from Amsterdam both to Bengaluru Airport.
Both aircraft manufacturing giants Airbus and Boeing visited India in November 2019 to attract more buyers by conducting roadshows and released official speculations on Indian aircraft market.
The statement released by Boeing during the visit of the deputy vice president of commercial marketing Darren Hulst to India said "India will need 2,380 new commercial airplanes, valued at Rs 2.3 lakh crore over the next 20 years. Operators are expected to spend Rs 3.1 lakh crore on aviation services, including ground, station and cargo operations, along with maintenance and engineering".

Welcoming UPS's B747-8F and its crew at Delhi International Airport
Domestic air cargo
The latest DGCA numbers showed SpiceJet overtaking Blue Dart to become the second-largest freight carrier in India with 17.9 percent market share while IndiGo still leads the domestic market with a 32.8 percent share. IndiGo has announced a codeshare agreement with Qatar Airways, while SpiceJet signed its first-ever codeshare agreement with Emirates and signed an MoU with GulfAir for the same.
In the January 2019 Air Cargo Policy released by the Indian Government, it hadmade it clear that they will be encouraging Indian airlines to have more code sharing, inter-line and other agreements with foreign carriers and freighters.
Infrastructure
Zurich airport is all set to build the Noida International Airport at Jewar with a total investment of 29,560 crore, which in four phases plans to become the largest airport in India and a big cargo hub. Meanwhile, MIAL is presently enhancing its export pharma handling capacity to be the country's largest facility with 450000MT and Hyderabad Cargo Charter Circle (HC3) was recently introduced by GMR Hyderabad Airport Cargo, a strategic step towards making it air charter hub of South India.
"MIAL has exclusive terminals for cargo operations and is in the process of increasing its pharma handling capacity at Mumbai to 4,50,000 tonnes. GVK MIAL is the first airport in India and third in Asia to obtain "IATA CEIV Pharma" accreditation. MIAL has further commissioned India's largest Export Argo terminal in April 2019, with an annual capacity of 1,60,000 tonnes strengthening the export business of Indian stakeholders. MIAL will also be soon launching its "Cooltainer" operations that will have a temperature-controlled transportation facility for managing the movements of pharmaceuticals between terminal and tarmac with no downtime or loss in temperature; this service goes live from December 2019," said Singh of MIAL.
Keku Gazder of AAICLAS, said "Besides making its presence at 19 International and 23 Domestic Airports managed by AAI, AAICLAS plans to create additional International/Domestic Air Cargo handling capacity in the airports in Agartala, Patna, Srinagar, Pune, Trichy, Vijayawada, Port Blair, Jaipur, Mangalore, Dehradun, Jabalpur, Goa, Leh, Calicut, Imphal, Varanasi and Bhubaneswar, with a sizeable investment."
"The developments of decentralized storage facilities near the airports are also gaining momentum. Developing air freight stations at airport locations – similar to that of container freight stations (CFS) in the sea freight is the need of the hour for air freight. With UDAN/RCS scheme taking wings, it is estimated that the cargo lift from the regional airports also will pick up in the coming years," added Gazder.
Government initiatives
Stakeholders point to the initiatives taken from the government of India as the reason for the Indian market attracting new players and existing players to increase their capacity.
Kunder of ECS group said "With various initiatives like "Make in India" & "Digital India", the Indian government is focusing on to attract more investors and making them easy to do business in India will also accelerate growth in the air cargo market".
India had a jump of 14 places to 63 when the new ease of doing business survey of World Bank was released in October. India has consistently jumped from 130 in 2016 to 100 in 2017 to 77 in 2018 and 63 now.
The yet to be introduced initiatives like automated blockchain facility and ICEDASH are expected to influence the market in a big way but stakeholders are still expecting more proactive moves from the government in removing customs complications and a 72 hours prior departure acceptance of goods by carriers that could reduce the dwell time.
"Blockchain will help in supporting existing IT systems to address significant challenges & issues due to its decentralised digital ledger record concept. This technology has numerous benefits to offer such as accurate tracking of consignments, end-end visibility, reduction of transport time, cost savings, real-time &precise information, accountability, ownership, security & transparency of data and secured financial transactions," said Singh of MIAL.
This feature was originally published in STAT Trade Times' December 2019 issue.