Increasing demand for freighters to reduce air cargo's dependency on bellies
Volga-Dnepr Group is set to produce the freighter version of the MC-21-300, the new generation Russian passenger plane, with its manufacturer Irkut Corporation.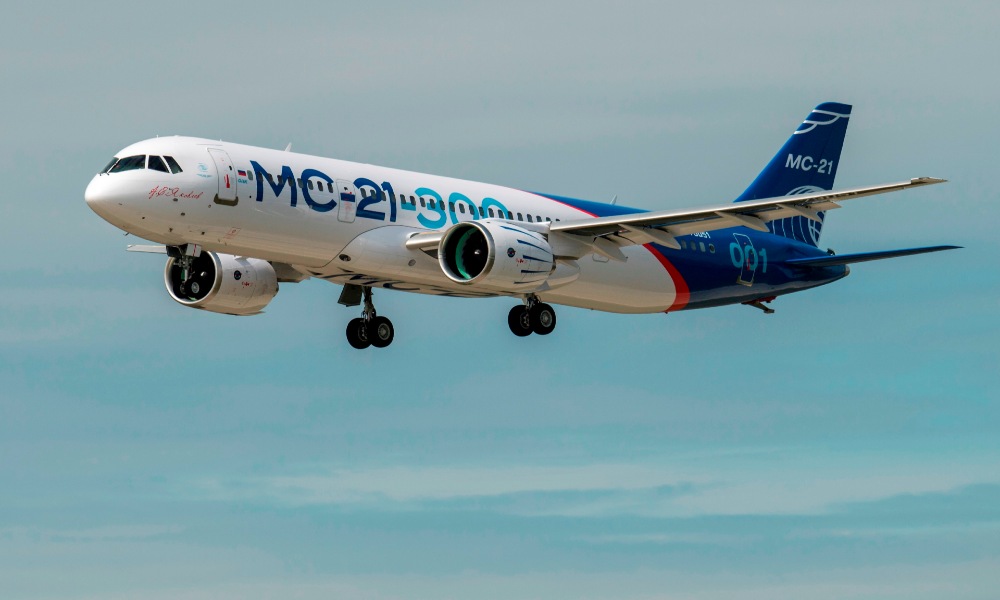 Volga-Dnepr Group, headed by the chairman of the board Alexey Isaykin, discussed the possibility to produce the freighter version of the MC-21-300, the new generation Russian passenger plane, with its manufacturer Irkut Corporation, during the international aviation and space salon MAKS 2021 held in Zhukovsky, Russia, last week.
"Volga-Dnepr might become the possible launch customer of the MC-21-200 freighter version," announced the group.
Gearing up for mass production, the narrowbody medium-haul MC-21 aircraft is a Russian attempt to challenge Boeing's 737 MAX 8 and Airbus' A320neo in the passenger aircraft market. With two versions, MC-21-200 is designed for 132 to 165 passengers while MC-21-300 is for 163 to 211.
The MC-21-300 passenger aircraft has a payload capacity of 22,600 kilograms, 6,000-kilometre range and 49 m3 cargo compartments. Irkut website notes that it has a backlog count of 175 firm orders and soft orders exceed 100 aircraft, mostly from Russian airlines including Aeroflot, Red Wing Airlines and Utair.
The Volga-Dnepr Group explained the rationale behind this initiative as the current global shortage in capacity for airfreight. "Amid the capacity constraints, emerging demand for freighters and increase of cargo volumes worldwide Irkut Corporation is in a favourable position to commence the freighter program," said Volga-Dnepr.
Alexey Isaikin, chairman of the board of directors (centre) and Konstantin Vekshin, chief commercial officer (right) of Volga-Dnepr Group with MC-21-300 passenger aircraft at MAKS 2021, Zhukovsky, Russia.
The International Air Transport Association's (IATA) report for global air cargo markets for June noted that the overall capacity, measured in available cargo tonne-kilometres (ACTKs), remained constrained at 10.8 percent below pre-Covid-19 levels (June 2019) due to the ongoing grounding of passenger aircraft. Belly capacity was down 38.9 percent on June 2019 levels, partially offset by a 29.7 percent increase in dedicated freighter capacity.
Even in the long run, it is becoming more evident that air cargo will have very little space in bellies as airlines opt for long-range smaller aircraft. So even when the passenger levels get back to pre-Covid standard, cargo capacity will not be thus increasing the demand for freighters.
For example, in June 2021, United Airlines announced the purchase of 200 B737 MAXs and 70 A321neos, both narrowbody aircraft, scheduled to join the fleet in early 2023.
Citing the same development, American Shipper argued that international networks are likely to be smaller in the future. "Some cities may lose service as airlines rely more on hub-to-hub flying and on alliance partners to take passengers the last mile. And airlines will have fewer frequencies and operate smaller aircraft," it reads.
Neel Jones Shah, executive vice president and global head of airfreight, Flexport and Michael Steen, chief commercial officer of Atlas Air Worldwide were particularly vocal during the recent Cargo Masterminds interviews about the importance of freighter flights and capacity moving forward.
Shah noted, "There is a shift going on right now. The overall belly capacity available for cargo on international flying is going to reduce over what it was pre-pandemic. Freighters will continue to be a very core part of capacity going forward. Freighters will have a very important role to play because they go where the cargo originates and they fly to where the cargo is destined to end up. They are not constrained by passenger flows. So we have invested very heavily in the freighter, main deck capacity."
Meanwhile, Steen noted that the demand recovered much more quickly than capacity after the initial shock of the pandemic and the global air cargo industry is still short of capacity. "That, of course, points at the incredible importance of the global freighter fleet. Freighters are extremely important not only for our industry but also for the world economy," he said.
During the recent announcement of its half-year results, Airbus announced that its board of directors approved the freighter derivative production of their successful A350 platform and that it will start service by 2025.
With the consistent growth of cross border e-commerce and shift in consumer behaviour as factors accelerating the growth in demand for air cargo, the possible entry of Irkut into this market, along with Volga-Dnepr Group as a launch customer, will give global trade more freighter options to move cargo and the dependency on belly capacity will be reduced.