Imperial Logistics acquires new vehicles for major steel contract
Nov 19, 2018: Imperial Logistics International has acquired 3 new heavy-duty tractor units and 7 heavy-duty trailers to support its on-site logistics contract for a major steel producer at its Bochum (Germany) plant. The contract involves moving 3 million tonnes of steel coil per annum. The vehicles carry up to 5 steel coils at a […]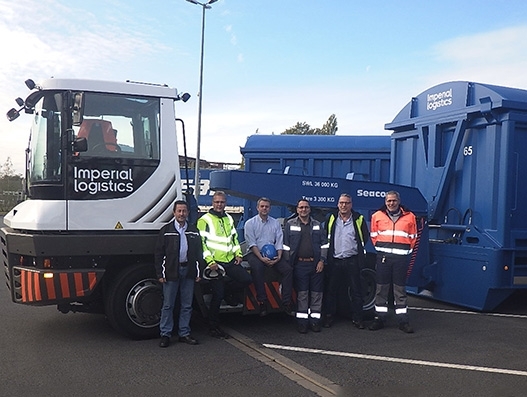 Nov 19, 2018: Imperial Logistics International has acquired 3 new heavy-duty tractor units and 7 heavy-duty trailers to support its on-site logistics contract for a major steel producer at its Bochum (Germany) plant. The contract involves moving 3 million tonnes of steel coil per annum.
The vehicles carry up to 5 steel coils at a time, individually weighing up to 31 tonnes, within the giant plant which occupies an area of approximately 1.3 square kilometers. The vehicles' maximum operating speed when fully loaded is just 12km/h.
The new tractors – Terberg RT223 models, on lease from the manufacturer and powered by 6-cylinder 160 kW Volvo engines - are a mass-produced replacement for the previous, custom-built units, which have come to the end of their life cycle. Two of the current vehicles will be retained as back-up units. Replacement of the tractors normally takes place every 4-5 years due to their intensive use.
The 4-wheel-drive tractors feature 9-speed gearboxes (6 forward, 3 reverse), revolving driver's seats and controls, power-elevating saddles and the latest-standard safety cabs. With the service agent for the new tractor units located just 4km away, repairs and servicing – which caused downtime of up to 10 weeks with the old units - will now be effected much more quickly.
The 9.5 metre-long, 80-tonne payload trailers – custom-built for Imperial Logistics by Seacom Trailer Systems – are replacements for the current eighteen-year-old units, three of which will now be retained as back-up-systems.
The new trailers have been extensively re-designed from the previous units, now featuring their own separate hydraulic systems for opening their roofs; as a result, contaminated oil can no longer enter other systems in the event of damage, potentially necessitating expensive repairs. The axle location of the trailers has also been changed to achieve better weight distribution, so avoiding overloading of the tractors' saddles.
Holger Hausmann, Project Leader, Imperial Logistics said: "The new vehicle fleet is the result of lessons learned from our operations since 2000. The choice of standard production tractors over custom-built vehicles will dramatically reduce future downtime and improve customer service. Meanwhile our new trailer design will also cut downtime and repair costs, and is expected to extend the lives of both tractors and trailers."
The Imperial Logistics Bochum contract, which has run since 2000, involves storing, loading and shipping steel coil by road and rail. The company employs 40 staff on site.