IAG Cargo finds warehouse solution using FlytBase drone technology
Dec 6, 2019: IAG Cargo has identified a viable solution to increase accuracy within its Madrid warehouse by succesfully conducting trials of autonomous drone technology. The trials were conducted using technology developed by drone software start-up FlytBase. The drone technology, designed around the automation of freight checks, will help improve efficiency and reliability of its […]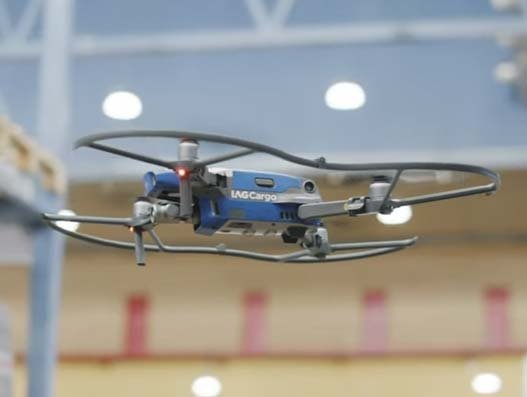 Dec 6, 2019: IAG Cargo has identified a viable solution to increase accuracy within its Madrid warehouse by succesfully conducting trials of autonomous drone technology. The trials were conducted using technology developed by drone software start-up FlytBase.
The drone technology, designed around the automation of freight checks, will help improve efficiency and reliability of its operations.
IAG Cargo conducted the trials after finding that it was spending an average of 6,500 hours each year recording the barcodes and location data of freight across their individual warehouses. The company was able to identify a viable solution to increase accuracy within the warehouse due to the drones' use of the 3D space, degree of autonomy, and continuous advancement in intelligent automation software.
Carly Morris, head of innovation, IAG Cargo said, "We are continuously looking for solutions to increase the efficiency and accuracy of our logistical operations, so we are delighted that the trials with FlytBase have been successful so far. Watching our autonomous drone take off, navigate our warehouse, collect valuable location and barcode data, and then return itself to an origin point for self-charging is an incredible sight, and shows the huge potential drones have in the aviation and logistics sectors.
Among the functions realised through the trials are: The drone autonomously navigates across multiple racks by flying over-the-top; the drone accurately detects and reads AWBs and identifies empty slot locations; and the drone automatically returns itself to charging doc for self-charging.
IAG Cargo will conduct further drone trials of certain elements early next year to improve on the technology's efficiency.
FlytBase is an enterprise drone software company whose mission is to help businesses automate and scale drone operations. With a hardware-agnostic platform that features edge intelligence, cloud connectivity and APIs, FlytBase is uniquely positioned to leverage cost-effective drones, at scale, for indoor applications.