Humanitarian logistics: Flying for greater good
The logistical gauntlet of navigating through different bureaucratic hurdles and aviation departments to finally reach hard-to-reach corners of the world has been a tough task up the sleeve of humanitarian logistics providers.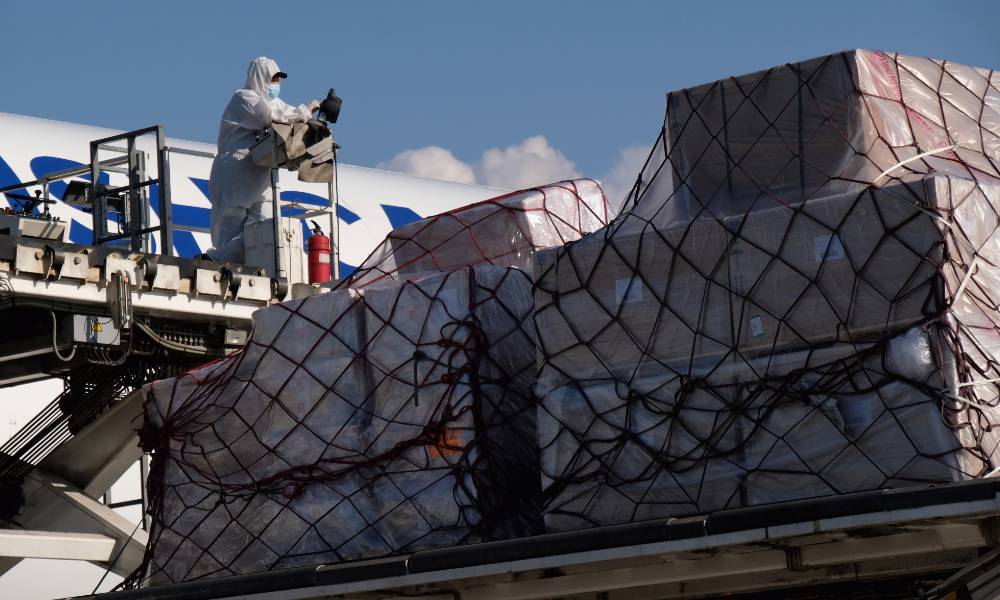 2020 has been a devastating year with the world having to deal with its worst humanitarian catastrophe – the Covid-19 pandemic. Add to that, tragedies like the Beirut bomb blasts, military conflicts and several such crises, the air cargo sector has been the first point of call to ensure support. The logistical gauntlet of navigating through different bureaucratic hurdles and aviation departments to finally reach hard-to-reach corners of the world has been a tough task up the sleeve of humanitarian logistics providers. The next important hurdle lies in the mass transportation of Covid-19 vaccines.
When the United Nations' World Food Programme (WFP) was awarded the Nobel Peace Prize this year for its contribution to society in bringing food and assistance to millions of people torn apart by instability, insecurity and conflict, the organisation, on its part, acknowledged the role of different actors that made this feat achievable. "The Nobel Peace Prize is not WFP's alone. We work closely with government, organizations and private sector partners whose passion for helping the hungry and vulnerable equals ours. We could not possibly help anyone without them. We are an operational agency and the daily work of our staff each day is driven by our core values of integrity, humanity and inclusion," it said.
Undoubtedly, the air cargo and logistics sector has played an instrumental role in keeping WFP's global supply chain going. WFP's logistics services used a network of hubs, passenger and cargo air bridges, and medical evacuation services to enable a steady flow of cargo and workers to the frontlines of the pandemic.
When the Covid-19 virus first began to take raise its ugly head globally, airlines and allied logistics players began ramping up their humanitarian operations. Soon enough, the pandemic situation began to get more complicated as international travel restrictions squeezed cargo capacity. Millions of face masks, PPE kits and other critical supplies needed to reach different corners of the globe for which non-profit organisations and the entire air cargo community stepped up its efforts in some of the most challenging situations imaginable to make deliveries possible.
Aid waiting to be loaded onto an Ethiopian 787 delivery flight Photo: Boeing
In July 2020, Qatar Airways Cargo (QR) pledged to carry 1 million kilos of humanitarian aid and medical supplies across the world free of charge for charities till the end of this year. This initiative named 'We Qare' was the first chapter of a much larger sustainability project which hinged on four fundamental pillars: economy, environment, society and culture, to create a positive impact on the air cargo industry and the world in general. Guillaume Halleux, chief officer cargo at Qatar Airways, said, "We Qare is a project that is close to every employee's heart at Qatar Airways and I believe such projects unite and bring together the industry especially during times of crisis. During the past months, we have also been working with various stakeholders to prepare our readiness plan that will enable seamless, quick and safe logistics of the vaccine to support the global response."
Recently, global freight forwarders Kuehne Nagel, DSV, Jas WorldWide among others have partnered with Qatar Airways, as part of the 'We Qare' initiative, to donate their air freight services to aid agencies like UNICEF, Danish Red Cross and WFP respectively.
In the midst of the pandemic, came the devastating explosion in the port of Beirut, Lebanon, on August 4, which left 250,000-300,000 people homeless. In the wake of the explosion and in response to the emergencies, Emirates SkyCargo quickly ramped up its freighter operations to Lebanon by dedicating over 50 flights to deliver much needed airlift to the country. Emirates opened its doors to people wanting to donate cash or pledge their Skywards Miles, through a dedicated and secure portal via the Emirates Airline Foundation. The airline used these donations to directly coordinate shipments of urgent food, medical supplies and other much needed items with a range of NGO partners to ensure donations directly help those affected on the ground in a swift and transparent manner. "For every donation, cargo capacity will be provided for humanitarian organisations to transport critical medical equipment and supplies, food and other emergency relief goods directly to Beirut through Emirates SkyCargo. Additionally, Emirates SkyCargo will further contribute by providing a 20 percent reduction on air freight transportation charges for approved shipments, underscoring its commitment to expedite emergency relief efforts to Beirut," the airline stated in a release.
Separately, Emirates SkyCargo, and International Humanitarian City (IHC), the world's largest hub for humanitarian aid, have inked a Memorandum of Understanding (MoU) to cooperate on humanitarian logistics and crisis relief solutions. The partnership between the two entities underlines Dubai's position as an international gateway for the rapid deployment of aid and relief efforts directed at humanitarian crises.
Under the terms of the MoU, Emirates SkyCargo and IHC will develop innovative logistics solutions for effective crisis relief operations. IHC will also approach Emirates SkyCargo as the air cargo carrier of first resort for transportation or urgently required aid materials to affected destinations. In addition, the two organisations will work together to share know-how and develop best practices around the transportation of specialised cargo for relief efforts.
"We are a carrier with a strong sense of social responsibility. Over the years, Emirates SkyCargo has operated a number of flights and transported relief cargo on behalf of International Humanitarian City in response to humanitarian disasters and crises around the world, including most recently in the aftermath of the explosions at Beirut. We are delighted to consolidate our partnership and develop a platform which will enable a more coherent and rapid response for aid delivery, and facilitate the development of robust and innovative solutions for humanitarian emergency response," said Nabil Sultan, Emirates divisional senior vice president, cargo in a media statement.
Meanwhile, Qatar Airways, in partnership with Qatar Charity (QC) and Monoprix Qatar, launched an aid programme that allowed Qatari citizens to donate food and other essential supplies to Lebanon. These donated boxes of essential supplies were shipped free of charge on a special freighter flight by the carrier.
Nairobi-based Astral Aviation has been a key freighter operator for emergency relief charters and humanitarian operations in different parts of Africa. In July 2020, the carrier, in association with the European Union, operated a B727F carrying relief supplies from Nairobi to Sanaa International Airport and Aden International Airport in Yemen. More than 200 tonnes of humanitarian aid was transported to support the people most affected in the region due to the current crisis.
Sanjeev Gadhia, CEO of Astral Aviation said, "We have done over 50 flights during the pandemic for 1000 tonnes of medical cargoes into Sanaa and Aden, and have done 300 flights since the conflict began in Yemen." The carrier has operated in excess of 180 humanitarian charters into Yemen in the past three years for various organisations. It has also transported in excess of 15,000 tonnes of personal protective equipment (PPE), testing kits and ventilators during the Covid-19 pandemic to over 40 countries in Africa.
Last month, Ethiopian Airlines took delivery of a Boeing 787-9 Dreamliner and the delivery flight was used as humanitarian flight by Boeing and the airline. More than 20,000 pounds of humanitarian supplies were carried on board. Speaking about the delivery, Cheri Carter, vice president of Boeing Global Engagement said, "We are honored that Boeing is able to assist customers like Ethiopian Airlines as they transport critical medical supplies and support their local communities through the Humanitarian Delivery Fight program, especially during a challenge as significant as the COVID-19 pandemic." The Resolute Health Outreach (RHO), the Ethiopian National COVID-19 Response Task Force of Seattle and Embuaa Family were the three main partners involved in the delivery flight. They contributed supplies like wipes, sterile gloves, face masks, bassinets, medicine and more.
While a major part of this year focussed on delivering PPE kits and other critical supplies, what lies ahead is the mass distribution of vaccines for Covid-19. To prep up for this massive demand, IATA has been collaborating with a wide range of governing bodies and global humanitarian organizations, including the World Health Organization, UNICEF and the World Bank, in preparation for what will be a sudden and massive increase in the air transport capacity required to address Covid-19 distribution. Advanced levels of preparations are underway for airlines, airports and logistics players to combat this massive task.
"Governments, supply chain partners, humanitarian organizations and pharmaceutical manufacturers must collaboratively prepare themselves for a widespread global coordinated response to distribute vaccines to where they are needed in a timely, safe and secure manner," reads a distribution guidance document by IATA.
Food insecurity, famine, armed conflict and terrorist threats, natural disasters or a pandemic, the air cargo industry, involving actors from the humanitarian, logistics, aviation and governing organizations, has always been up in arms to convert humanitarian response bottlenecks to a seamless supply chain. At the moment, various programs and actions are being undertaken to fortify all stakeholders especially when the entire world is battling its biggest crisis. Compassion, cooperation and collaboration are all it takes to build on these initiatives and strengthen the existing framework, procedures and policies.