How va-Q-tec's thermal containers are helping in Covid-19 vaccine distribution
The company is now active in well over 100 projects in different scales for the distribution of Covid-19 vaccines. These include both international distribution and last mile logistics within Germany.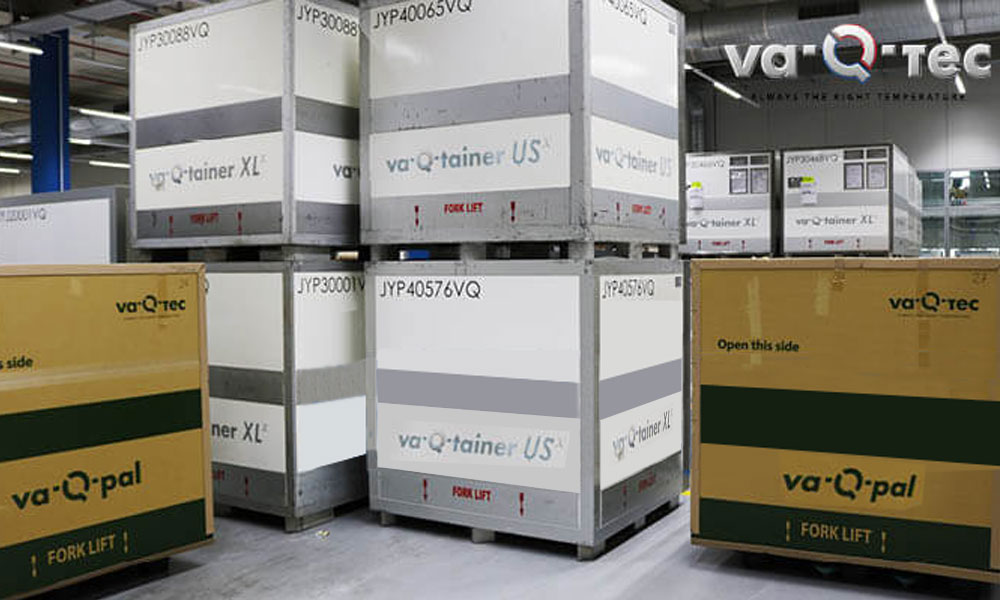 va-Q-tec, pioneer of highly efficient products and solutions in the area of high-tech thermal insulation and temperature-controlled (TempChain) logistics, has said that it is now active in well over 100 projects in different scales for the distribution of Covid-19 vaccines. These include both international distribution and last mile logistics within Germany.
After va-Q-tec had agreed in principle on the large-volume global distribution of its vaccines with one of the world's largest vaccine manufacturers in a heads of terms agreement in November 2020, the final contract has now been signed for the multi-year provision of high-performance transport containers for several 1,000 pallet deliveries per year. These are handled both in thermal containers, which move within a global rental network, and with the help of a very light and sustainable container variant available for purchase. This also ensures reliable availability in the event of higher global demand, or transport to countries with challenging logistics infrastructures. The production of the containers has already started, and distribution of the vaccine is expected to commence during Q1 2021. Further talks between va-Q-tec and other vaccine manufacturers are being held on an ongoing basis.
In light of the large number of expected vaccine shipments worldwide, va-Q-tec already further expanded the technical infrastructure of the Group's own global TempChain network in 2020. Two new TempChain Service Centers were opened in Kansas and Glasgow in the second half of the year. Four further stations on three continents will follow in the first quarter of 2021. Through its current 40 international stations, va-Q-tec gives pharmaceutical companies access to a fleet of several thousand passively temperature-controlled high-tech rental containers. In total, the German company operates the world's largest fleet of such thermal containers, which can keep even low temperature ranges as low as -70°C constant in their interiors for several days – and do so completely self-sufficiently without the supply of external energy or the use of refrigerated trucks or cold storage rooms.
va-Q-tec already has many years of experience with transports both in Germany and internationally in many different temperature ranges, from +20°C to -70°C. In 2020 alone, several hundred containers were added to the rental fleet, and the company is also expanding to an even greater extent in 2021.
Especially for the novel mRNA vaccines, very little data is available to date on stability during transport and storage. For this reason, not only constant temperatures are very important, but also a wide variety of temperature ranges is offered. For example, the same coronavirus vaccines are sometimes transported on an intercontinental basis at -70°C via pallet in va-Q-tec containers, whereas local fine distribution is realised later in small va-Q-tec boxes at +2°C to +8°C. Due to the company's broad and unique product portfolio, the different temperature and size requirements can be met based on the same key technology throughout.
In addition to expanding its global container fleet, the company is also expanding its fleet of transport boxes for last mile logistics. Besides large-volume international transports, all types of transport can be carried out utilising the same proven and easy-to-use solution, including on the last mile to the end customer or patient. In Germany, for example, various well-known logistics companies trust va-Q-tec's transport boxes for national vaccine distribution. They handle the transportation of vaccines in various states. These include four of the five most populous federal states in Germany: North Rhine-Westphalia, Baden-Württemberg, Lower Saxony and Hesse. As a consequence, more than half of the German population is supplied with the urgently needed vaccine with the help of its thermoboxes. In Lower Saxony alone, around 2.2 million vaccine doses are stored at two certified locations and transported from there to vaccination centers and hospitals. va-Q-tec has already concluded similar agreements with logistics companies abroad, including for the transport of vaccines in Spain and Singapore. The US military also supplies its troops worldwide with the necessary vaccines using the innovative transport boxes and containers.
Dr. Joachim Kuhn, CEO and founder of va-Q-tec, comments, "Consistent temperature stability and logging of an assured temperature chain are absolutely crucial to successful and rapid vaccine distribution. Internationally, vaccines have already been transported in our containers since the end of the third quarter of 2020, and now also nationally in Germany since the end of December 2020. We have not recorded any temperature deviations since then, and distribution in our thermal containers and boxes is running smoothly. We guarantee this by offering our customers a high-tech Made in Germany product. Our innovative thermal containers keep the vaccines at stable temperatures for up to 200 hours, including in extreme and fluctuating outside temperatures – completely self-sufficiently without costly and often insecure external energy supply. Problems, such as those that apparently existed in Bavaria at the start of delivery, can consequently be practically ruled out with our technology."