How to increase quality in your perishables supply chain
Kuehne+Nagel's air logistics perishables operations around the world and the teamwork and dedication that led to the establishment of their unique service in the realm of perishables logistics.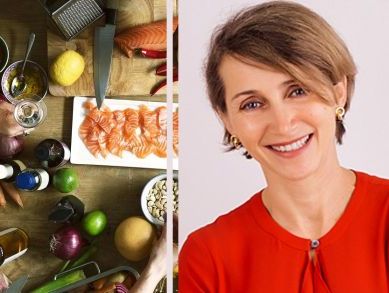 Introducing the art of standardisation for Kuehne+Nagel's logistics arm for perishables and refrigerated products — KN FreshChain, Natasha Solano, global perishables development director air logistics at Kuehne+Nagel, talks about Kuehne+Nagel's air logistics perishables operations around the world and the awe-inspiring teamwork and dedication that led to the establishment of their unique service in the realm of perishables logistics.
Air logistics global network and standards

The idea for KN FreshChain was born about three years ago, out of the realisation that there was no industry standard to ensure the visibility of product safety – despite a demand from the customer for this. Natasha, who has been involved in the project since the very start, explains how their mission to provide this visibility quickly turned into a bigger purpose. Namely, to establish a uniform certification process for the handling of perishables. "There are many different sets of rules for handling perishables on global, continental and national levels. Our dedicated KN FreshChain certification is meant to both cover all of these existing rules and to standardise the handling of perishables within our own international network of air logistics stations."
The result is what modestly can be regarded as the highest quality standard for perishables handling among freight forwarders worldwide. For the ambitious project, the air logistics team works in tandem with Kuehne+Nagel's Quality, Safety, Health & Environment specialists (QSHE) organisation. "Our QSHE specialists play a major role in the process as their expertise on quality, safety and health standards are the foundation of the certification," Natasha explains. "They help us to comply with all existing norms and assist with an elaborate implementation plan to get KN FreshChain certified. Not to mention their support in continuously training our staff - what should not to be undervalued! And, as with all quality certifications, regular audits will be held to keep the standards high once in place. Also there QSHE is in the driver's seat."
One of these QSHE specialists is Phillip Seaman who works at Heathrow London, the first station that was certified back in December 2018. "Prior to certification, we already worked hard to reach some of the highest possible perishables handling standards", Phillip explains. "For us this meant that the process was a matter of documentation enhancements. I can imagine that for some stations in our network it can be a greater challenge to establish new processes, enhance training for colleagues, document contractual arrangements with service providers and so on in order to meet the audit criteria. However, with each new certified station the value of our shared resources and our KN FreshChain service offering grows from the strength of a unified quality offering which can differentiate us from other forwarders."
Freshness and food waste prevention

The meticulous certification process demands a lot of discipline, according to Natasha, "One key benefit is a more agile and efficient supply chain as the standard on the export and the import side are the same, which also shortens the transit time and reduces the risk of mistakes and claims. For big multi-lane customers it is a clear advantage as they can expect the same high-quality service throughout our network. When dealing with perishables, this is all the more important as service quality affects shelf life and thus end-consumer satisfaction."
However, Natasha points out that there is more to freshness than happy end-consumers. The prevention of food loss and waste, an objective that the United Nations (UN) has included in its Sustainable Development Goals (SDGs), plays a major role too. "Our KN FreshChain processes are designed to keep the cold chain as closed as possible. By handling, storing and transporting perishables according to our strict procedures, we reduce the chance of premature spoilage of fruit and vegetables, thus contributing in the fight against food loss and waste, which is an issue that affects the not only customers and consumers, but eventually is a question of caring about our environment."
KN FreshChain is an ongoing effort. Kuehne+Nagel Kenya's certification is currently pending, but Natasha explains that once they are certified close to 70 percent of Kuehne+Nagel's entire perishables business in air logistics will be handled with the same high quality standard. The remaining 30 percent will surely follow suit. "We always have in the back of our minds that we're dealing with sensitive cargo that requires our undivided attention. The focus on quality underlying our KN FreshChain processes ensures that we never forget that", Natasha concludes.
(This Interview was originally published on the Kuehne+Nagel website: home.kuehne-nagel.com)