FROM MAGAZINE: How Qatar Airways Cargo helped a nation fly amidst turbulence
Despite the economic and diplomatic embargo by some of its neighbouring Arab countries, Qatar has been defiant. The cargo division of the national carrier played a key role in Qatar's journey from dependency to self-sufficiency. The recent Qatar Airways order for five brand new Boeing 777 freighters and three new freighter-only routes across transpacific, amid […]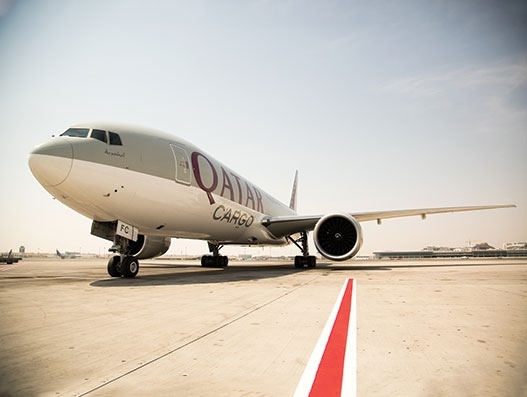 Despite the economic and diplomatic embargo by some of its neighbouring Arab countries, Qatar has been defiant. The cargo division of the national carrier played a key role in Qatar's journey from dependency to self-sufficiency. The recent Qatar Airways order for five brand new Boeing 777 freighters and three new freighter-only routes across transpacific, amid extremely challenging market conditions, are indications of its desire to succeed and never to give up.
Blessy Chettiar & Reji John
As the Qatar crisis, an air, land and sea blockade imposed by some of its Arab neighbouring countries, entered its third year in June this year, Qatar Airways Group chief executive Akbar Al Baker signed a significant new order for five Boeing 777 freighters in a packed press conference on June 19 at the Paris Air Show. Standing in firm support at the ceremony was Jassim bin Saif Ahmed Al-Sulaiti, the minister of transport and communications for the State of Qatar. On the same day, Qatar Airways Cargo, the freight division of Doha-based Qatar Airways, revealed three new freighter routes across transpacific — Hanoi to Dallas, Singapore to Chicago and Singapore-Los Angeles-Mexico City.
Since the blockade from June 5, 2017, Qatar was quick to respond, making tough decisions like starting new industries to cushion the impact of the blockade. Qatar Airways Cargo played a crucial role in making Qatar stand up against what the country called an "unfair and illegal" action by neighbours. The aim of the blockade was a political attempt to bring the wealthiest peninsula on the planet to its knees. However, going by the turn of events in the two years of the blockade it is evident that the result has been just the opposite and there is no indication that it will be resolved anytime soon.
Far from destabilising Qatar, the nation sprung up with creative solutions to deal with a national emergency of rapidly declining supply of essential commodities. Iran and Turkey rushed to Qatar's assistance by offering to establish new trade links and delivering a variety of consumer goods by ships and planes. Iran opened its airspace to commercial planes for flights to Qatar that were no longer allowed to enter the airspaces of UAE, Saudi Arabia, Bahrain, and Egypt. Freighter planes of Qatar Airways did multiple charters from around the world to bring supplies to support the small national population. The Qatari government used its massive financial reserves to pay for the higher transport costs of imports and to support the domestic industries that suffered huge losses as a result of the blockade. Very soon, Qatar stood the test of time and demonstrated to the world its ability to remain defiant and resist the blockade.
Two years into the blockade, Qatar today has surplus dairy production and exports milk products to Afghanistan and other countries. Qatar's economic statistics for 2017 and 2018 indicate that the negative impact of the blockade on investment and economic activity was moderate. The annual economic growth rate remained positive but declined from 2.1 percent in 2016 to 1.58 percent in 2017 and recovered to an estimated 2.2 percent in 2018. Interestingly, Saudi Arabia and the UAE experienced -0.7 percent and 0.7 percent annual economic growth rates in 2017.
In Qatar Airways' annual report for 2018, calling the blockade a "low point" for the airline, Al Baker said: "At Qatar Airways our initial stance was measured and considered. We acted quickly and calmly to prevent major disruption to our operations and passengers, and we took a strategic decision not to get involved in the politics surrounding this illegal activity."
Eighteen air corridors were immediately reduced to just two corridors, demanding elaborate measures to assure safe operations in to and out of Qatar.
"In the middle of the holy month of Ramadan, the normal flow of goods and basic supplies such as medicine, food and water, was dangerously interrupted," Qatar Airways had said in a May 15, 2018 release when Al Baker personally addressed the European Parliament's Committee on Transport and Tourism (TRAN).
The path to self-sufficiency
In July 2017 soon after the blockade was imposed, Qatar Airways Cargo transported the country's first two shipments of 330 Holstein cows from Europe on a Boeing 777 freighter. The shipment was part of a 4,000-head herd that marked the launch of a completely new industry for Qatar. The cattle were carefully and efficiently transferred to Baladna Farm, a huge livestock farm in Qatar. Baladna is a subsidiary of Power International Holding, a Qatari company. Special cowsheds with a temperature control system to ensure a comfortable environment for the cattle was built at Baladna. Before the blockade, milk supplies had to be transported by road before Saudi Arabia closed the border.
In less than two years, Baladna Food Industries announced its first export of dairy products to Afghanistan, as reported by Al Jazeera. Currently, Baladna has over 20,000 cows, producing 320 tonnes of milk daily. It ventured into the fruit juices business in March 2019.
The nation that produced only about 20 percent and 10 percent of its needs in dairy and fresh poultry before 2017 respectively, is now self-sufficient. According to Sheikh Faleh Bin Naser Al Thani, an agriculture official at the ministry of municipality and environment, vegetable output is up about 20 percent since mid-2017 to around 66,000 tonnes per year and is expected to increase by 20,000-40,000 tonnes next year as new farms come online.
That Qatar is thriving is not an understatement and much of the initial credit goes to Qatar Airways Cargo's "measured and considered" call to action.
"I am very pleased that Qatar Airways has signed this landmark order for five new Boeing 777 freighters to add to our cargo fleet," said Al Baker at the Paris event. "It will increase our 777 freighter fleet by a full 20 percent, enabling us to further develop our business and offer new customers the chance to experience a truly first-class logistics service. This is an order that will propel our growth and, I firmly believe, confirm us as the leading cargo operator in the world," he added.
It was these Boeing 777 freighters that helped the nation sow the seeds of a dairy industry that is now flourishing. The airline also undertook a massive airlift of food and grocery items which lasted several weeks and used its own fleet, as well as other leased aircraft. Qatar Airways currently operates 23 freighters, including sixteen 777 freighters, and serves more than 60 global cargo destinations.

Moving on
Speaking exclusively to The STAT Trade Times on the side-lines of the Paris event, Guillaume Halleux, Chief Officer Cargo for Qatar Airways said: "Before the end of the summer, we will start Hanoi-Dallas and Singapore-Los Angeles-Mexico City. We begin the Singapore-Chicago direct flight starting July 4."
These flights will be non-stop, without having to make a stop at Qatar Airways' home hub in Doha.
The airline will exercise its Fifth Freedom of air right, which allows the right to fly between two foreign countries on a flight originating or ending in one's own country. The right is intended to make long haul routes economically viable.
Emphasising on Qatar Airways Cargo's march towards the transpacific line, Halleux said, "By doing this we are reinforcing our presence on the transpacific line. This is despite what everybody says that the tariff and the trade war between the US and China may go against the growth of volumes. But, these stations are not originating in China; they are in Southeast Asia, and in Vietnam — rapidly growing manufacturing markets. That's our way to navigate the trade war situation and identify new markets for air cargo. Even though the market is not acting as it was a year ago, I would like to remind everybody that we are still above the 2016 and 2017 levels. So let's put things in perspective, it's not a recession."
The three new transpacific freighter routes are in addition to the existing and immensely successful Macau-Los Angeles service launched in October 2018.
Halleux outlined that the demand from customers had led Qatar Airways Cargo's decision to launch three freighter-only routes. "The reason why we are doing this is because our customers are asking for it. Customers came with their requirement, we looked into it, we looked into the portfolio we have and we came up with that, and they took it. We have enough commitments to make us feel very comfortable that it will be very successful."
Qatar Airways decision to order five more B777 freighters at the Paris Air Show only reiterates the carrier's desire to be a customer-centric business obsessed with perfection. The five new Boeing 777 freighters will propel the airline's growth and give a huge boost to its capacity, enabling it to add new freighter routes while also increasing capacity on key trade lanes.
"The addition of the five Boeing 777 freighters will be beneficial for our customers' business as we can offer them greater capacity and increased frequencies on high demand routes. The three new routes add to our expanding global network operated by one of the youngest and most modern fleets in the industry," Halleux said.
The carrier added belly-hold cargo capacity to several key destinations in its network and also received two brand new Boeing 777 freighters in 2018. It introduced freighters to two new destinations in January 2019; Guadalajara in Mexico and Almaty in Kazakhstan.
From three Airbus 300-600 freighters in 2003, today it is one of the top cargo carriers globally with a fleet of 23 freighters and over 250 belly-hold cargo aircraft. Cargo is a very important, profitable division of the Qatar Airways Group and makes an essential and paramount contribution to the group.
It is only a matter of time that Qatar Airways Cargo becomes the number one global carrier in both fleet and network.
This story was originally published in STAT Trade Times' July 2019 issue.
Read also: How Qatar Airways Cargo is giving back to the communities through WeQare