How critical logistics is to WFP's mission to fight hunger
Logistics is central to the World Food Programme's mission to combat hunger and WFP winning the Nobel Peace Prize is the best recognition to come by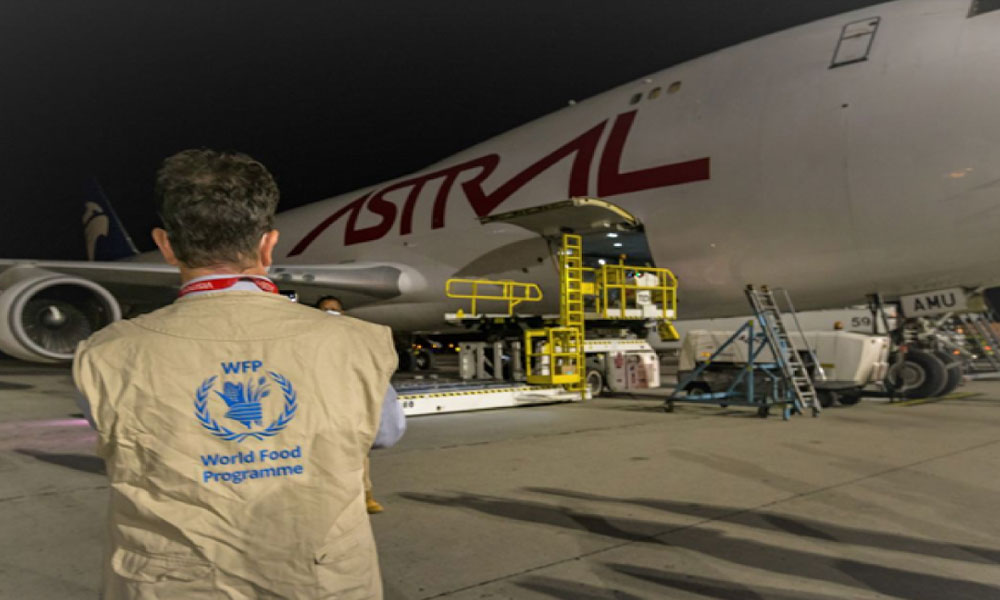 While announcing the Nobel Peace Prize for 2020 to the World Food Programme (WFP) last Friday, the Norwegian Nobel Committee in its award citation said, for its efforts to combat hunger, for its contribution to bettering conditions for peace in conflict-affected areas and for acting as a driving force in efforts to prevent the use of hunger as a weapon of war and conflict. The need for international solidarity and multilateral cooperation is more conspicuous than ever, the committee said this among many reasons to pick the United Nations' agency and the world's largest humanitarian organisation focused on hunger and food security for the honour.
The global recognition for WFP is also an acknowledgement of the critical role logistics plays in its mission of combating hunger. The award recognises thousands of WFP staff engaged in the movement of critical supplies using all modes of transport, including unmanned aerial vehicles or simply drones, in some of the most difficult regions and terrains of the world. It is the logistics sector that keeps the WFP's global supply chain machinery well-oiled.
The award also evoked the memories of the tragic plane crash on 10 March, 2019 when an Ethiopian Airlines' Boeing 737 Max 8 crashed shortly after take-off from Addis Ababa en route to Nairobi. Among the 157 people killed in the accident include eight WFP staff. Christine Ryan, mother of Micheal Ryan, who was one of the eight WFP staff killed in the tragedy, said the awarding of the Nobel Prize to the WFP was a very suitable memorial to Micheál and his colleagues who had given so much and still had so much potential in their lives. Ryan, the 39-year-old Irishman, was an engineer with WFP based in Rome.

Liege Airport is among the nine airports selected to be part of a network of UN global logistics hubs
Stephen Cahill, director of logistics and global logistics cluster coordinator for WFP, in a LinkedIn post said: This one is for you Mick. Cahill worked with Micheal for three years in Ethiopia.
The WFP, which was established in 1961 at the behest of the US president Dwight Eisenhower, has over 17,000 staff worldwide. In any given day there are 5,600 trucks, 20 ships and 92 planes that move around the world carrying food and other essential goods for the most needy around the world. In 2019, WFP provided assistance to close to 100 million people spread across 88 countries by supplying them with over 4.2 million tonnes of food and $1.2 billion in cash and vouchers.
Air logistics is a significant part of WFP's mission to eradicate hunger. In some of the poorest landlocked African countries, the only way to reach food to people is by air. In the aftermath of natural calamities like earthquake and hurricanes, airdrop is the only solution to respond to people who are stranded. In fact, in 1989, WFP staged the largest humanitarian airdrop in history involving 20 cargo aircraft when it launched Operation Lifeline Sudan to provide assistance to millions of people affected by the civil war that played out in the southern part of the country.

Astral Aviation's Antonov-12 aircraft made several flights for WFP starting in 1999 from Nairobi to Gode, Ethiopia
In WFP's air logistics supply chain there are several partners that work closely to ensure the smooth flow of cargo from place to place. Nairobi-based and Africa's only all cargo carrier Astral Aviation is one such partner that began carrying cargo for WFP missions from 1999, the year the airline was founded by Sanjeev Gadhia, who continues to run the airline as its chief executive officer from Jomo Kenyatta International Airport at the Kenyan capital city.
Belgium's Liege Airport, which describes itself as Flexport or the most flexible cargo airport at the heart of Europe, has been an airport hub for humanitarian logistics for several years working with various global nongovernmental and charity organisations. When Covid was declared a pandemic and the United Nations was planning its global mission with its affiliated agencies, particularly WFP, to address the long term humanitarian crisis, Liege Airport was selected to be part of a network of UN global logistics hubs that will deliver medical and humanitarian material. It is the only European airport among nine airports selected to be part of this network. The first shipment left Liege on April 30 and deliveries are now being ramped up. The first cargo flight carried almost 16 metric tonnes of medical cargo and personal protective equipment, including masks and gloves, on behalf of UNICEF and the International Committee of the Red Cross. The cargo was destined for Burkina Faso, Ghana and the Republic of Congo. WFP is the coordinator of these deliveries for the UN and for other UN agencies.
As part of its initial response to the Covid crisis WFP had planned to transport the equivalent of 37 Boeing 747 cargo planeloads in the months of May and June from China and Malaysia to 130 countries around the world. This will eventually be scaled up to as many as 350 cargo and 350 passenger flights every month.

In 2002 Astral was chosen to be part of Operation Lifeline Sudan to perform multiple air-drops of food
In its first mission for WFP in 1999, Astral Aviation, according to Gadhia, carried out humanitarian flights on its Antonov-12s from Nairobi to Gode, Ethiopia, following the famine in Ethiopia which affected 10 million people in the country. In 2002, Astral was subcontracted to perform air-drop flights in South Sudan as a part of 'Operation Lifeline Sudan' which was based out of Lokichoggio in Kenya. 'Operation Lifeline Sudan', the largest humanitarian operation in the world, ran from 1989-2005 with the mandate to distribute food in South Sudan. Astral operated a fleet of 5 x Antonov-12s with 50 crew and support staff for over 2 years and performed multiple air-drops of food and non-food items, said Gadhia.
Astral has been flying into some of the most difficult and unsecure airports in the world that include airports in conflict zones and into countries under serious civil unrest. They include over 200 flights from Juba to Malakal and Palouch in South Sudan in 2014 on the B727F. Over 300 flights from Nairobi and Djibouti to Sanaa and Aden in Yemen from 2016-2020 using DC9F & B727F.
We will have operated in excess of 1000 flights for WFP in the last 20 years directly and indirectly using a combination of freighter aircraft notably the Antonov-12 (which was de-commissioned in 2008) and thereafter on F27, DC9F, B727F, and B747F, said Gadhia.
During the Covid pandemic, Astral made several cargo flights on behalf of WFP mainly into Yemen from Sharjah, Salalah, Muscat, Djibouti and Nairobi. In September, Astral uplifted over 100 tonnes of PPEs from Guangzhou to Nairobi on a B747F for onward distribution from Nairobi to Juba on 5 x B727 flights.
Talking about Liege's partnership with WFP for cargo operations, Steven Verhasselt, vice president, commercial, for the airport said that the speed and the efficiency with which WFP has stepped in to react to an immediate and urgent demand during the early stages of the pandemic is very impressive. In a matter of days, decisions are made and operations are set up. The WFP is in control and monitors. But gives the experts in the industry to do what they do best, set up operations and move the cargo. The cooperation between all stakeholders in these complicated operations is very direct, and decisions are taken when needed. It is clear that the knowhow that has been build up over all the years is been put to great use when needed the most, said Verhasselt.
Verhasselt's impressions amplify how thoroughly focused WFP is when it comes to optimising the use of existing capacity. The existing capacity into Africa, combined with inbound capacity to bring the goods to Liege by air, rail and truck, has been the focal point of the setup. Decisions are based on capacity and efficient logistics, and that is how it should be always, he added.
Gadhia considers WFP among the best humanitarian organisations Astral has ever worked with. WFP co-ordinates the procurement and logistics of food and non-food aid very efficiently which is required in a number of regions in the world. Their work never stops. What is unique about WFP is their emphasis on safety and organises a yearly aviation safety seminar and workshop in Nairobi for African airlines, said Gadhia.
In 2017, WFP signed a letter of intent with Astral Aviation to cooperate on the use of large cargo drones such as the FlyOx to improve humanitarian aid delivery in remote and inaccessible regions in Africa.
Watch: Steven Verhasselt, Vice President - Commercial Liege Airport
Verhasselt is happy that WFP is awarded the Nobel Peace Prize. It recognises the value of WFP. It also shows appreciation for all those working in logistics, especially now when logistics is needed to keep the front line supplied with the tools they need. I would like to show my appreciation to each and every member of the workforce to keep going out there and do their job, he said.
Watch: Sanjeev Gadhia, Founder and CEO, Astral Aviation, elaborates his plans to operate cargo drone
The Norwegian Nobel Committee chairwoman Berit Reiss-Andersen said that with this year's award, the committee wanted to turn the eyes of the world to the millions of people who suffer from or face the threat of hunger. The World Food Programme plays a key role in multilateral co-operation in making food security an instrument of peace, she told a news conference in Oslo immediately after the announcement.
For a moment turn your eyes to the men and women who are at the front line when it comes to reaching food to the hungry, medicines to the sick and shelter to the homeless. Logistics is for life and for peace.