How Chapman Freeborn's global teams helped deliver time-critical cargo to Vietnam
They had to mobilise energy equipment from Cagliari, Sardinia to Rome, Italy, for onward transport to Vietnam.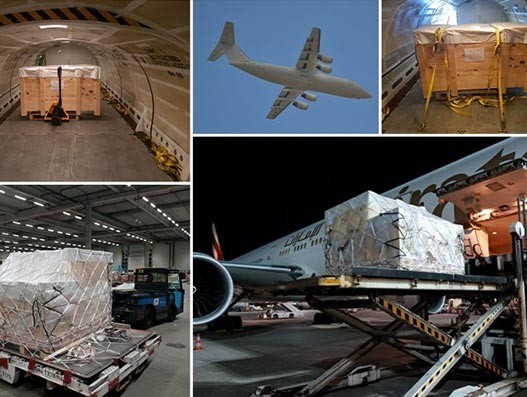 Air charter broker Chapman Freeborn managed to mobilise time-critical energy equipment from Cagliari, Sardinia to Rome, Italy, for onward transport to Vietnam. The operation was successful after the Singapore office received an urgent enquiry on September 14 morning and it was time critical due to the nature of the cargo. Bearing that in mind, the Singapore cargo team urgently contacted the UK cargo team to source the right aircraft for the job.
Earlier on Sunday afternoon in the UK, the cargo team received the request, and delivered a solution within the hour. The flight, from Cagliari CAG to Rome FCO using a BAE146 charter with Jota Aviation was approved by the client and contracts were prepared that evening.
In an effort to better the connecting flight from the EU to Vietnam, the client had requested several route changes. The Chapman Freeborn cargo team explored multiple options to make this work and finally decided to adjust the routing to terminate at Frankfurt FRA. From there, the energy client had arranged space on a passenger flight as it was the fastest connection to Saigon, Vietnam. However, this only left a two hour transfer window, which made the possibility of connection near on impossible at this point.
On Monday morning, the BAE146 G-JOTD positioned to Cagliari as the cargo teams based in the UK and Singapore monitored the timings and worked alongside Jota Operations to ensure everything ran smoothly. From the moment the aircraft started ferrying from London's Southend Airport, to the arrival and collection of the cargo in Sardinia, and then the critical onward live flight from Sardinia to Germany's Frankfurt International, everything went to plan.
The Chapman Freeborn teams liaised with the export agent in Cagliari and airport authorities to ensure the cargo was waiting at the correct bay for collection. With the cargo safely loaded, the BAE146 was airborne exactly 52 minutes after landing, and on its way to Frankfurt.
With such a tight timeframe in place, Chapman Freeborn took absolute control of the second part of the operation to ensure the client would make their onward connection. The cargo teams in the UK and Singapore needed local assistance in Frankfurt to oversee this part of operation, and the Chapman Freeborn Frankfurt cargo team, stepped into action.
The teams pre-arranged everything with the cargo and ramp agents at Frankfurt airport prior to arrival. When the aircraft landed, the connection looked ever more impossible, however, the teams remained positive and focussed. Everything was in place and the cargo was successfully loaded onto the connecting flight headed for Vietnam with minutes to spare.