How American Airlines, American's Honor Team helped return remains of native inhabitants
After being removed from burial grounds in southwest Colorado more than a century ago — eventually ending up in the National Museum of Finland in Helsinki — the remains and other funerary artifacts of Native American inhabitants have been returned to Colorado's Mesa Verde National Park. Part of a global effort to bring remains and artifacts back to indigenous people, this move took close coordination between American, the Administration — including the U.S. Embassy in Finland, the Department of Homeland Security and the Department of Interior — and a coalition of tribes to complete the leg of the journey from London to Durango, Colorado.
Safely moving historical and sacred items like these is part of American's ongoing commitment to honor repatriated individuals on their final journey home for a proper re-burial. The transport of Native American remains and funerary objects that were removed from their graves in Colorado in the 1890s took years to plan. When the day came, American's Honor Team members were in close coordination with federal officials and a number of teams s across the airline — from flight and dispatch to cargo and customer operations — to assist delegates from the. US Embassy in Finland and representatives from the Finnish government escorting the remains from Helsinki to Durango.
"It was an honor and privilege for American team members to participate in and support the repatriation of these remains is an honor," said American's chief operating officer David Seymour. "It takes a lot of coordination from our teams and partners to ensure special transports like these happen safely and respectfully. I'm incredibly proud of our team members who helped make this journey home such a success. And a special thanks to the Allied Pilots Association leadership for the critical role it played."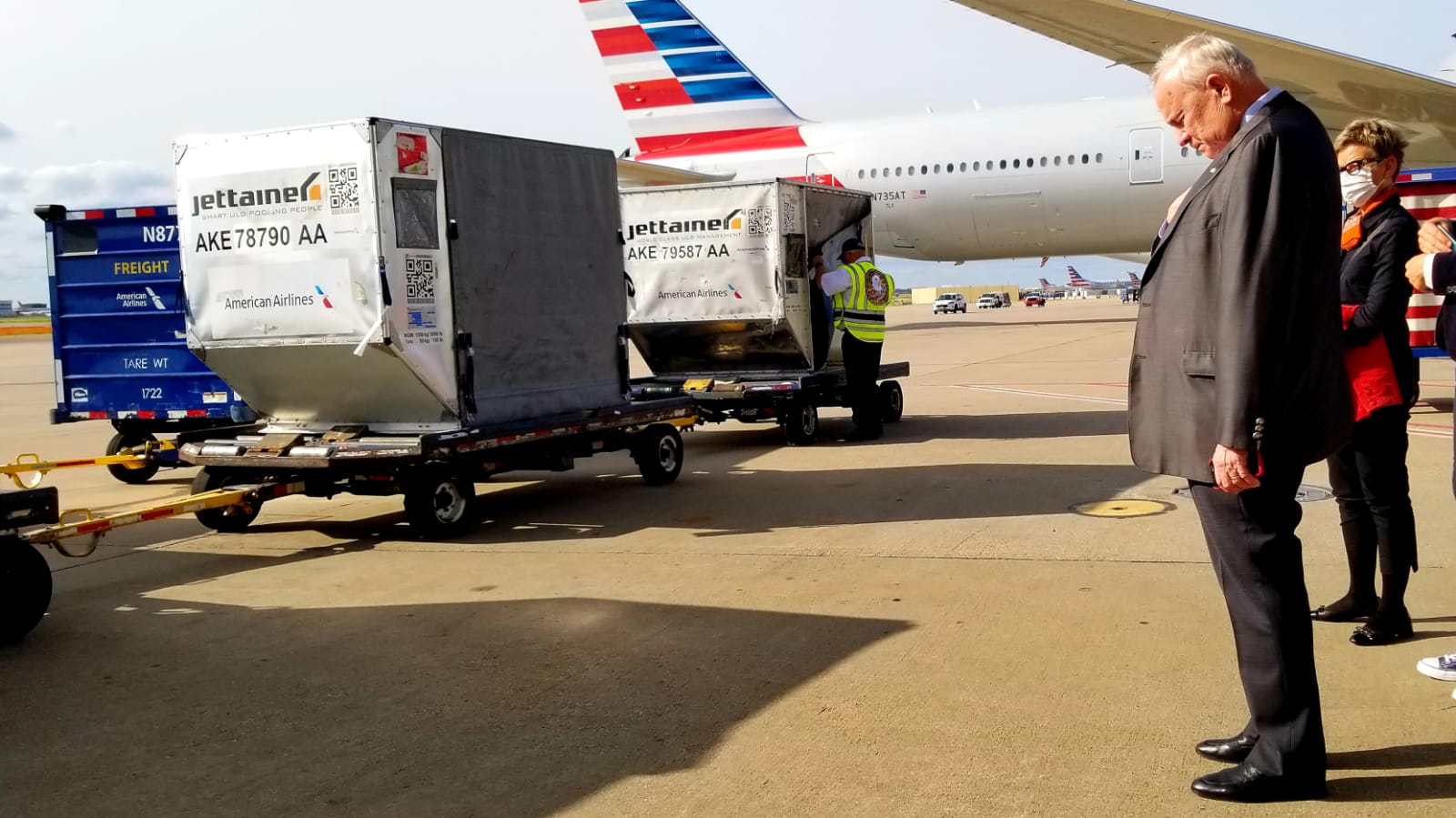 Ambassador Pence pays his respects to the connecting remains at DFW
Seven of American's Honor Team members at DFW personally met the incoming flight. "This was a historical event," said Autumn Hedberg, customer service agent and Honor Team coordinator at DFW. "It took more than two years to coordinate the return of these remains and artifacts to their native tribe in the US. It was an emotional journey for the team from Finland — and we were honored to support and assist them on this long journey, and humbled to witness the repatriation of these remains." The remains were reinterred Sunday, September 13, in the Mesa Verde National Park in Colorado, with tribal leaders in attendance.