Horses reach Dubai onboard Emirates SkyCargo
<p style="text-align: justify;">Mar 21, 2017: Emirates SkyCargo has been transporting some of the world's best racehorses to Dubai for one of the most prestigious global racing events, the Dubai World Cup, which will take place on <span data-term="goog_582549285">March 25</span> at the Meydan racecourse.</p> <p style="text-align: justify;">Champion thoroughbred horses have been arriving from all parts of […]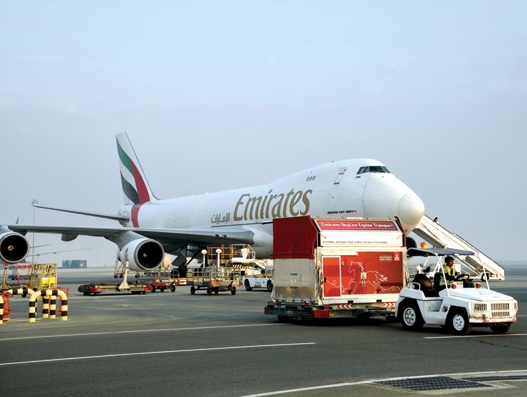 Mar 21, 2017: Emirates SkyCargo has been transporting some of the world's best racehorses to Dubai for one of the most prestigious global racing events, the Dubai World Cup, which will take place on March 25 at the Meydan racecourse.
Champion thoroughbred horses have been arriving from all parts of the world into Dubai on Emirates SkyCargo freighters over the last few weeks.
One of the most recent arrivals for the Dubai World Cup on Emirates SkyCargo was Arrogate, currently the world's highest rated racehorse. Arrogate won the Pegasus World Cup earlier this year in Florida and is one of the prime contenders for the US $10 million Dubai World Cup prize. Arrogate was joined by stable companion Hoppertunity, another contender for the Dubai World Cup, for the journey from United States to Dubai. The carrier worked with the international equine transport specialist Janah Management Company, who also provided highly specialised grooms to accompany the horses, to ensure successful and safe transportation.
Arrogate and Hoppertunity were not the only American horses to have travelled to Dubai on Emirates SkyCargo. Stallwalkin Dude and Imperial Hint, also part of the American contingent at the Dubai World Cup night races, arrived on Emirates SkyCargo freighters at Dubai World Central airport. Earlier in 2016, Emirates SkyCargo transported the 2016 Dubai World Cup winner and one of North America's highest earning racehorses, California Chrome, from Dubai to Chicago.
Emirates SkyCargo also operated a special charter flight from Japan to transport some of the leading contenders for the top prize on race night. Apollo Kentucky, Awardee and Gold Dream were amongst the horses that arrived at the Emirates SkyCentral freighter hub earlier last week to take part in the races.
A few of the other leading horses flying in from different parts of the world included Move Up from the Godolphin stables in Newmarket, UK and Dundonnell, Amazing Kids and Not Listenin'Tome from Hong Kong.
Every year the carrier transports horses through scheduled freighter flights and through special charters for premier racing and equestrian events across the world.
The freight division of Emirates airline provides a calm and comfortable transportation environment that ensures maximum comfort and safety of the horses at the same time complying with all the regulations set out by national and international authorities on live animal transport including IATA Live Animals regulations (LAR). Emirates SkyCargo's freighter hub at Dubai World Central airport includes dedicated areas for handling and airside ramps for horses.
The carrier also provides custom designed horse stalls and trained and experienced expert personnel to ensure proper handling and welfare of the horses. Inside the cargo hold of the aircraft, the temperature is set to ensure maximum comfort and minimum stress for the horses. Premium horses can also travel with professional grooms and certified veterinarians onboard Emirates SkyCargo freighters.