Honeywell's new smart wearables to help supply chain workers improve accuracy
March 22, 2018: Honeywell recently launched its high-performance Bluetooth-wearable scanning solution, 8680i Smart Wearable, which is expected to help supply chain workers to complete high-volume tasks, efficiently and ergonomically. The 8680i smart wearable is a high-performance Bluetooth-wearable hands-free cordless scanning device that improves efficiency and productivity of scan-intensive tasks in warehouses. By eliminating the need […]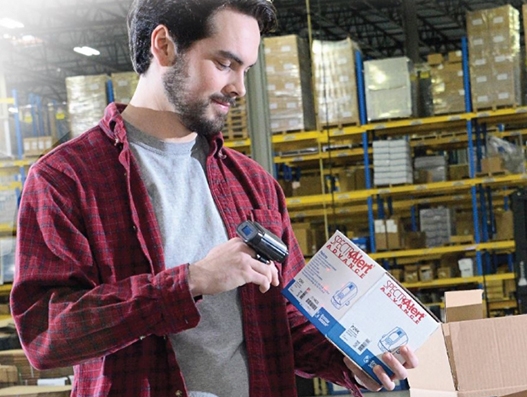 March 22, 2018: Honeywell recently launched its high-performance Bluetooth-wearable scanning solution, 8680i Smart Wearable, which is expected to help supply chain workers to complete high-volume tasks, efficiently and ergonomically.
The 8680i smart wearable is a high-performance Bluetooth-wearable hands-free cordless scanning device that improves efficiency and productivity of scan-intensive tasks in warehouses.
By eliminating the need to pick up a handheld scanner, the new wearable device has the ability to improve workers' scanning times by approximately five seconds per typical transaction.
"To keep up with the increasing pressure for fast and accurate order fulfillment, distribution centers need to streamline high-volume workflows, and provide their workers with ergonomic data-capture solutions," said Stan Zywicki, general manager of scanning and printing, Honeywell's productivity products business.
"8680i is an always-on, connected mini-mobile device that allows hands-free operation in areas where workers need to complete tasks without having to hold a separate device," said Zywicki.
The lightweight, Wi-Fi-enabled device can be worn on one hand, which offers a two-button interface and a clear display of information, such as battery status and scan results. Through the API and Wi-Fi connectivity, customisable workflow instructions available on the user-facing display. It enables streamlined workflows with a single, ergonomic device, and eliminates the need for a scanner and mobile computer combination.
The 8680i will help warehouses and distribution centers to increase speed and accuracy, by streamlining high-volume workflows, such as picking, sorting, put-away and packing.
"Ergonomics and comfort are extremely important to the distribution center workers," said Zywicki.
"To keep workers safe and healthy, we have designed this scanner, which is about 17 percent lighter than other competing wearable solutions," said Zywicki.
Designed for a rugged industrial work environment, 8680i can withstand 2,000 half-meter tumbles. Customers can choose from two different wearable factors — a two-finger ring or a cut-resistant glove.
Meanwhile, a Bluetooth-only version of the device is also available, which pairs with another device to support more complex workflows.