Holland Flower Alliance: Information sharing, packaging key to sustainable air transport of flowers
Nov 5, 2019: Royal FloraHolland, KLM Cargo and Schiphol Cargo, part of the Holland Flower Alliance, have listed two main priorities, information sharing and packaging, for sustainable air transport of flowers. A more effective exchange of supply chain information helps improve the process and reduce waste. Integrated, real-time supply chain data allows users to check […]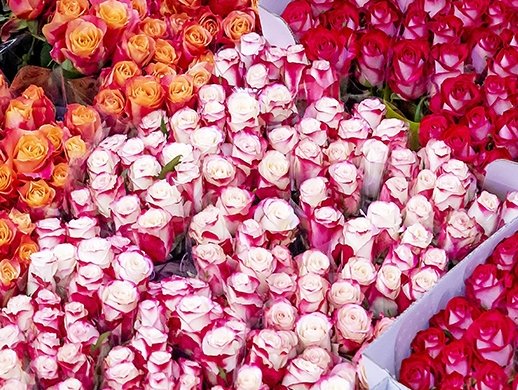 Nov 5, 2019: Royal FloraHolland, KLM Cargo and Schiphol Cargo, part of the Holland Flower Alliance, have listed two main priorities, information sharing and packaging, for sustainable air transport of flowers.
A more effective exchange of supply chain information helps improve the process and reduce waste. Integrated, real-time supply chain data allows users to check on the flowers' location and condition at all times. This helps to address any weak links in the supply chain and schedule flights more effectively.
Firstly, Holland Flower Alliance informed that they are working on facilitating information exchange between the various supply chain partners.
As a solution, one supplier is currently setting up a new data platform that links product information and shipment details.
"It's certainly challenging, but we've already proved it's technically feasible," said Holland Flower Alliance.
To achieve the goal of sustainable transport, the partners will focus on the packaging as well.
According to the alliance, "There are over three hundred types of air cargo boxes in use, which is obviously very inefficient. Boxes come in all shapes and sizes. Some are made of substandard material, so there's always a risk the flowers will arrive in damaged condition. This is a good case for strength through unity."
The companies set up a workshop to find out which boxes are currently in use and determine how the various links in the supply chain handle packaging materials.
Loading process becomes difficult due to the many types of packaging. Furthermore, it causes damage to flowers throughout the supply chain, resulting in considerable financial losses.
The companies, along with the pilot group have realized that standard boxes is not the only solution.
According to them, standardised packaging concept is the right solution. This has already been developed.
The tests have shown that the new packing concept improves aircraft loading efficiency by 15 percent. In addition to being cheaper, more efficient and more sustainable, this also helps reduce quality losses.
"We will be facilitating supply chain innovations to strengthen the Netherlands' position as a hub for the international flower trade. As a first step, we will assess the high-volume traffic between Nairobi and Amsterdam. Royal FloraHolland has a lot of members in Kenya," said the company through an official statement.
The Holland Flower Alliance is an enterprising group of floricultural industry professionals dedicated to logistics innovation and sustainability.
FLA 2019: Digital transformation key to visibility in the flower industry
Recently, Nairobi hosted a one-day conference for the stakeholders involved in the flower trade. The discussions at Flower Logistics Africa 2019 delved into flower trade sustainable practices in the changing economy, Kenya's preparedness for big exports & new markets, and packaging innovations in flower transport.
The theme for the event was "Making Flower Trade Sustainable: Economically, Environmentally and Digitally".