FROM MAGAZINE: High-flying Amazon on a roll for speed deliveries
Amazon is getting ready for a slow but sure disruption of the logistics industry as it pumps in millions of dollars as investment in freighters, ground operations and corresponding technology to make its one-day delivery dream a reality. We look at how Amazon is leaving no stone unturned to gradually get things moving. Shalini Nair […]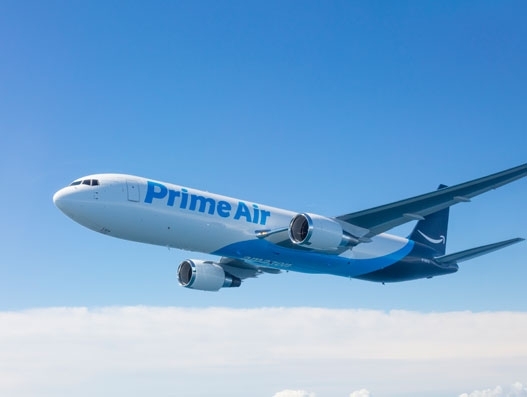 Amazon is getting ready for a slow but sure disruption of the logistics industry as it pumps in millions of dollars as investment in freighters, ground operations and corresponding technology to make its one-day delivery dream a reality. We look at how Amazon is leaving no stone unturned to gradually get things moving.
Shalini Nair & Blessy Chettiar
E-commerce giant Amazon's juggernaut is unstoppable. Its ambitious plans for one-day delivery are very much on track and the company is clinically investing millions of dollars to realise a target never-seen or heard before that will change the e-commerce and logistics game forever.
Through Amazon Air, formerly known as Amazon Prime Air, the company plans to spread its wings in the air cargo sector as it prepares to keep its promise of one-day deliveries in the future. It currently operates aircraft at 21 US airports and will soon open regional hubs in Fort Worth, Ohio and expand the one in Rockford, Illinois.
In two recent developments, Amazon is looking to make an investment of more than $100 million in Lakeland, while chief executive Jeff Bezos recently got on an earthmover to break ground for the construction of a $1.5 billion air hub at Cincinnati/Northern Kentucky International Airport (CVG). The CVG air hub, with parking space for 100 aircraft, will open in 2021 as part of the e-commerce giant's commitment to ensure fast, free shipping for customers.
Photo caption: In November 2018 Jeff Bezos unveiled Amazon Air's 40th Boeing 767 freighter, christened Valor in honor of the US military veterans. He is joined by Ardine Williams, left, VP of Worldwide People Operations, and Sarah Rhoads, director of Amazon Air.
Readying for the skies
Amazon leases planes from Atlas Air Worldwide Holdings (AAWW) and Air Transport Services Group (ATSG) and operates them through AAWW subsidiaries Atlas Air and Southern Air and ATSG subsidiaries ABX Air and ATI or Air Transport International.
As part of the agreement, both AAWW and ATSG have granted Amazon warrants that would allow it to acquire up to 40 percent of the common shares. When the original lease deals were signed in 2016, the e-commerce giant already had warrants to purchase up to 19.9 percent of each company, if exercised prior to the expiry date in March 2021.
As per the US Securities and Exchange Commission (SEC) Schedule 14A filing by ATSG recently, Amazon will be issued warrants to expand its potential ownership stake in ATSGs equity to 33.2 percent. If Amazon purchases more aircraft, or switches its 767-200s to 767-300s, ATSG will issue more warrants, which will rise to 39.9 percent equity of the company. The e-commerce platform will also have an option to lease a further 17 cargo aircraft by January 2026, if it increases its shareholding in ATSG. This does not include the ten 767 lease commitments for the year 2019-2020 and the currently operated aircraft.
In the filing, both the operators mentioned about the Seattle-based e-commerce company's decision to add 737-800 and 767 freighters to the fleet.
Cargo Aircraft Management (CAM), subsidiary of ATSG, will lease ten more 767-300Fs to Amazon, five each this year and in 2020. The initial leasing of 767-200Fs and 767-300Fs will be extended by two and three years, respectively. All of the leases will be for 10 years, with the possibility to extend them for up to three more years.
Photo caption: Rendering of the 3-million-square-foot Prime Air hub at CVG airport
What the filings say
According to a filing with the SEC, AAWW will provide crew, maintenance and insurance (CMI) services to Amazon using Boeing 737-800 series aircraft. The Boeing 737-800 aircraft will be leased by Amazon from GE Capital Aviation Services (GECAS) and subleased to Southern Air.
"The B737-800 CMI operations will be for a term of seven years, with an extension option by Amazon for a total term of 10 years. Five aircraft are scheduled to be placed into service in this fiscal year. Amazon may, in its sole discretion, place up to 15 additional Boeing 737-800 aircraft into service with Southern Air by May 31, 2021, subject to Amazon's confirmation that it will exercise such options no less than 240 days in advance of the scheduled delivery date for each aircraft."
GECAS placed an order for 35 Boeing 737-800 converted freighters (BCFs) during the Farnborough Airshow in July 2018. GECAS is the largest commercial airline leasing and financing company in the world by the number of aircraft. The Irish-American company is a subsidiary of GE Capital, the finance arm of the conglomerate General Electric.
Amazon was also given the opportunity to buy up to an additional 10 percent of Atlas Air's common shares. The first tranche of warrants that Amazon can exercise through May 4, 2021, has already been vested and second tranche can be exercised through May 4, 2023.
In December 2018 ATSG announced amendments to the Air Transportation Services Agreement (ATSA) it has with Amazon. The companies entered into the ATSA in March 2016. Late in 2015, ATSG began offering air cargo service to Amazon on a trial basis, currently provides the company 20 dedicated leased B767Fs, which fly domestically.
Under the revised agreement ATSG will lease and operate ten additional Boeing 767-300 aircraft for Amazon; extend the term of the 12 Boeing 767-200 aircraft currently leased to Amazon by two years to 2023, with an option for three additional years; extend the term of the eight Boeing 767-300 aircraft currently leased to Amazon by three years to 2026 and 2027, with an option for three additional years and extend the ATSA for five years through March 2026, with an option to extend for an additional three years. We plan to deliver five of the 767-300 aircraft in 2019 and the remainder in 2020, each under a ten-year lease.
When all the aircraft are delivered in two years, Amazon Air's fleet will be expanded from the current size of 40 (one of the planes operated by Atlas Air crashed last year) to 55 aircraft, from which 30 will be leased from ATSG and operated by its subsidiaries and 25 planes from AAWW and operated by Atlas and Southern.
Covering ground
Apart from readying for the skies, Amazon is getting ready to meet demands on the ground too. Morgan Stanley's North American transportation analyst Ravi Shanker recently analysed how Amazon "is looking to become a logistics company in their own right."
"We think that Amazon will be a top logistics provider, whether it's in trucking or in air, in the coming years. I think the question is just how quickly they will ramp that operation," he said.
Shanker is not far off the mark.
Amazon is looking at ways and means to handle the tougher and more expensive last mile operations. The key selling point is speed of delivery. It has been using high-end algorithms, robotics, machine learning and other technological innovations in its fulfillment centres to increase delivery speeds for customers. Therefore, it has launched several initiatives for its customers, including its Delivery Service Partner programme and Amazon Flex – an app that allows individuals to sign-up, be vetted and begin delivering for Amazon.
Last year, it ordered 20,000 vans and is also testing Amazon Scout sidewalk robots, an advanced delivery method in Washington. It has six wheels and is powered by an electric battery.
That's not enough. In an effort to cut its delivery window by half, last year Amazon introduced an attractive employment scheme for its employees in various departments.
According to the programme, Amazon is encouraging its employees to quit their job to start their own business of delivering Amazon packages. The company covers $10,000 in startup costs and leases its blue vans with the Amazon smile logo to the employees accepted into the programme.
In another programmer called 'Amazon Shipping', also started in 2018 in Los Angeles, Amazon offered promotional prices, which some US sellers have claimed, are nearly 50 percent less than what FedEx and UPS offer. It advertised the low rates and quick pick up and deliveries to its facilities as the highlights of the programme.
Photo caption: Jeff Bezos speaks before he drove a front loader in Kentucky to break ground on a new $1.5 billion Prime Air hub
These programmes help Amazon give its merchants profitable deals, while resting more control and visibility in its own hands.
Undeniably, Amazon has devised a unique way to grow its network of vehicles and workers.
Not leaving Europe far behind
While Amazon is aggressively building out its air network in the US, it's not ignoring Europe. The giant is, reportedly, secretly operating freighters in Europe for nearly a year.
Recent reports have suggested that Amazon Air is already looking at Europe, where DHL airline European Air Transport (EAT) and Ireland-based ASL Aviation Group are said to be operating pan-European flights on a scheduled basis for the e-commerce giant.
According to German publication Deutsche Verkehrs Zeitung (DVZ), EAT services Amazon through its B757 freighters during the day. In the night, it returns to duty on behalf of DHL Express for intra-European operations. The converted Boeing 757 freighters are serving East Midlands (UK), Paris and Madrid quietly for Amazon.
In March 2018, Ireland-based ASL Aviation Group's CEO Hugh Flynn said the group hoped it would fly 10 aircraft on a regular basis for the US giant. At the time, ASL Aviation was providing Amazon airlifts out of Poland to the UK and Italy to Germany.
Not all is hunky dory
The e-commerce giant may be on a spending spree, but problems with some of its contractors could put the brakes on its ambitious plans.
On February 23, an Amazon Air cargo plane called CustomAir Obsession (a play on customer obsession), operated by Atlas Air, crashed near Houston's George Bush Intercontinental Airport, killing all three people onboard.
The pilots, who fly for Amazon Air at contracted carriers including Atlas Air, Southern Air and ABX Air, have alleged poor working conditions for months. They protested outside the Seattle venue of the Amazon annual shareholder meeting in May, holding picket signs and a mobile billboard saying 'Amazon Air pushing pilots to limit risks safety daily'.
In a press release, the group's union, the Airline Professionals Association, alleged "operational problems that are exacerbated by labor contracts far below industry standards."
"In order to fill customers' needs, the companies ask pilots to fly last-minute flights around the globe; a recent survey conducted by the pilots' union found that more than 65 percent of respondents have been asked to fly on their days off in the last year," the statement said.
Directly speaking, this may not look like Amazon's problem, but the company still responded to the seemingly unnecessary and unexpected spanner in its works.
Bill Flynn, president and chief executive officer, Atlas Air Worldwide said in a statement: "We are proud of our strong and growing workforce of more than 2,000 pilots, and we are eager to pay them more and reach a new contract. These protest efforts are common tactics that are often used by unions to spread misinformation and gain leverage in contract negotiations."
While Atlas Air debunked the protesting pilots' claims as "myth", an Amazon spokesperson told a media organisation, "We are disappointed with the current state of relations between Atlas and their pilot union. Neither side seems willing to work towards a reasonable compromise. This is contrary to the interests of Atlas, the pilots, and the customers they both serve. We repeatedly hear claims by the union regarding Atlas' service for Amazon that when investigated are factually incorrect."
The spokesperson also issued a threat saying that the continued inability of Atlas to resolve its issues with its pilots "could result in a change to the allocation of our current and future aircraft."
Wrapping up
Given Amazon's aggressive expansion strategy, it could well follow up on the threat if conditions don't improve. All said and done, it cannot be denied that Amazon is on its way to becoming a self-sufficient logistics company by doing all it takes to make the ambitious one-day delivery promise a reality soon. The slow and steady disruption of the logistics industry is inevitable.