FROM MAGAZINE: High tech industry urges for an agile supply chain with faster clearances
India has jumped up 30 notches into the top 100 rankings on the World Bank's 'ease of doing business' index. While this is being celebrated, our country still has a long way to go to match up with its global peers in terms of faster processing time for customs clearance for imports/exports. This was the […]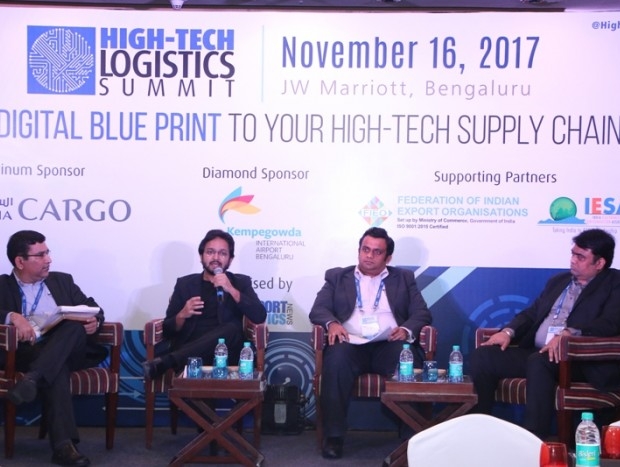 India has jumped up 30 notches into the top 100 rankings on the World Bank's 'ease of doing business' index. While this is being celebrated, our country still has a long way to go to match up with its global peers in terms of faster processing time for customs clearance for imports/exports. This was the common voice among high-tech shippers present at the High Tech Logistics Summit held on November 16 in Bengaluru.
The summit, organized by Indian Transport & Logistics News witnessed over 80 delegates comprising mostly high-tech shippers, apart from logistics service providers. The participants and speakers deliberate over the issues plaguing high tech logistics and the enablers for a digital supply chain.
The summit began with a keynote address by Dr Suresh DN, Chief Operating Officer, Supply Chain Management Centre, Indian Institute of Management, Bangalore who highlighted the key trends and challenges in high tech supply chains.
In his opening remarks, P Anjani Kumar, Commissioner of Customs, Airport & Air cargo informed that Bengaluru Airport has the country's lowest lead time with just three days for customs clearance. Keeping an open door policy, Kumar extended his support to the shippers by offering them to reach out to him directly for any issues and welcomed any suggestion or feedback from their end.
Wide-ranging topics from implementation of GST and its impact on the sector, readiness of export infrastructure and logistics and infrastructure at gateway sea and air ports were discussed at length.
Digital supply chains and how blockchain and other innovative technologies could revolutionise the supply chain framework were also important points of discussion.
The last panel discussion on 'The future of logistics and supply chain for the high-tech industry' had speakers agree on a common point - with unpredictable markets and short product life-cycles, the logistics industry serving the high tech industry needs to continuously innovate to keep pace with the increasing supply chain complexities.
Saudia Cargo, the cargo arm of Saudia Airlines, and Kempegowda Bengaluru International Airport (BIAL) were the key sponsors for the summit. Industry associations namely Indian Electronics & Semiconductor Association (IESA) and Federation of Indian Export Organisations (FIEO) also extended their support to the event.