FROM MAGAZINE: Hi-Tech tools are engineering logistics recovery
World's supply chain is in a shock! The novel coronavirus pandemic remains profoundly violent and with disciplines like social-distancing and stay-home in place, the pandemic has shattered the logistics workforce at the heart of 'world's factory'—China, and most part of Europe, Americas, Asia and Africa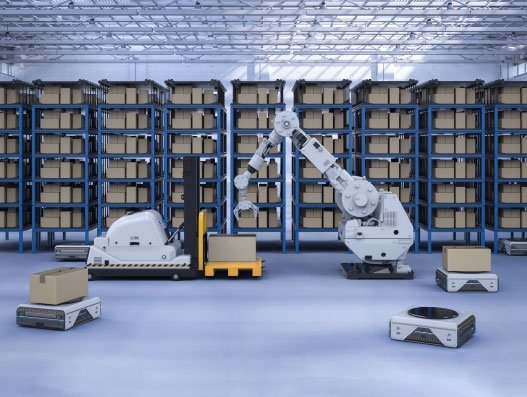 World's supply chain is in a shock! The novel coronavirus pandemic remains profoundly violent and with disciplines like social-distancing and stay-home in place, the pandemic has shattered the logistics workforce at the heart of 'world's factory'—China, and most part of Europe, Americas, Asia and Africa. All this, while the world is running short of essential goods and life saving supplies like testing kits, masks, ventilators etc. Mitigating the limited human resource, technological forces like machine learning, analytics, robotics, and cargo drones have just-in-time taken the baton to plan, sort, and deliver goods, and are creating a logistics response that is trying to breath life back into the world's supply chain.
The current Hi-Tech logistics tools that are aiming to fulfil interests of pandemic relief enterprises are very much the objects of the present but were never looked upon as models to serve at the frontline so soon. The future of logistics has rushed to the now and it is not just smart and flexible but also lifesaving.
Mobile robots and drones take the blue collar
Mobile robot technology, in this crisis situation, sees itself effectively positioned in logistics. Especially in case of China, which saw the first outbreak of coronavirus and is seemingly bouncing back and realigning its share of the global output. China, before the crises, was (still is) deemed as the world's largest market for industrial robotics and the fastest-growing market at it, globally, surging 21 percent to $5.4 billion in 2019, while global sales touching $16.5 billion, according to the International Federation of Robotics in Frankfurt.
While the efforts of exempting logistics operations from tough regulations and restrictions are being made worldwide, the reduced workforce and the health of the ones on field remain a concern. This development has put a greater reliance on driverless transport systems that can be navigated in real time autonomously, and mobile robots positioned in storage facilities, which with sensors that record ultra wide-band tags, LiDAR (Light detecting and ranging) contour mapping, line guidance sensors, infrastructure sensors keep track of their own position and meticulously reach out to reach out to the needed ojects and goods.

Drone Delivery Canada's (DDV) Sparrow Drone DC1002 with payload capacity of 10 pounds
Combing data form these autonomous vehicles on the field and inside storage facilities, analytics tools are mapping solutions that are streaming and monitoring these assets and their operations round the clock, filling in for the shrunken workforce and reducing the costs of operations. "One robot that can work a 24-hour shift can replace three workers and cost in the range of $43,000 to $72,000." said Emil Hauch Jensen, vice president of sales at Mobile Industrial Robots in Shanghai.
Rosemary Coates, executive director of the Reshoring Institute in Silicon Valley, opined "China bought more robots last year than any country, and now is the time to put them to work."
Quantitative analysis on the implementation of robotics as reported by Oxford Economics suggests that one industrial robot can fill in an average of 1.3 workers in the first year after installation and, as companies get better at deploying robots more effectively, the rate grows to 1.6 workers in following years. Cainiao, launched by Alibaba Group, jointly with 8 other companies, is a Chinese logistics company that opened China's largest automated warehouse in Wuxi in 2018, and uses 700 robots to streamline and expedite fulfilment. The company, putting its highly automated operational power to use, has created a channel that is delivering medical aid donations to areas in China with massive Covid-19 cases. These include Wuhan and neighbouring cities in Hubei province.
Many Hi-tech logistics solutions are apparently products of well nurtured hobbies. They are spectacularly novel and effectively innovative, and are now being rapidly pushed to the fore. These addling circumstances surrounding the lockdowns imposed due to the coronavirus pandemic are witnessing anecdotal and casual demonstrations of next generation logistics.

In Wuhan, JD Logistics is using a fleet of autonomous robots to deliver essential goods to residents stuck at home due to the coronavirus
Taking an interesting case from an exchange that took place between two friends from San Francisco, US: one Ian Chan, while abiding the stay-home rule, ran out of toilet paper and requested his friend, who is the head of R&D at Skycatch, a roll. In a matter of minutes, Ian had a drone coming to his house carrying a toilet paper roll.
In an another recent event, Canada is observing use of Sparrow drone that offers a payload of up to 4.5kgs and has a range of about 30 kms, which is readily available for business use by Drone Delivery Canada, and is approved by Transport Canada.
Analytics take the white collar
As autonomous vehicles and systems are increasingly taking charge of the essential processes, otherwise handled by humans, like streamlining logistics operations and maintaining fluid supply chain, tracking and tracing these assets are imperative in order to optimise processes across value chain. To map these assets through space-time coordinates and their functions using localisation solutions, also known as indoor GPS, are helping continuously in making more informed decisions using the recorded and stored data.
The current food supply chain is gravely under strain in many countries, and to record demand and keep tap on distribution are increasingly becoming tedious as the Covid-19 cases escalate, especially in Europe and the US. This is putting technologies that can effectively forecast these supplies under a spotlight. Companies are simulating how the demands are increasing and how they may look like in the future and comparing them with the production and warehousing capacities.
Many corporations are resorting to supply chain planning tools that are driven by copious amount of data, which when combined with artificial intelligence (AI) and cognitive intelligence (CI), forecast demands and enable formation of efficient logistics network to serve the demands and inform the supply chain. The amount of uncertainty caused around the Covid-19 emergency is overwhelming and goods distribution under the purview of machine learning and AI is making the flow of goods transparent, which may not sufficiently fulfil the demand but may help in making more accurate forecasts going ahead.