"He always keeps in mind the bigger picture," James Leach of ACS
Father's Day, celebrated on June 21, is perfect time to measure and reminisce shared adventures with fathers and plan more. James Leach of ACS has a memory lane loaded with thrilling adventures that he shares with his father Chris Leach.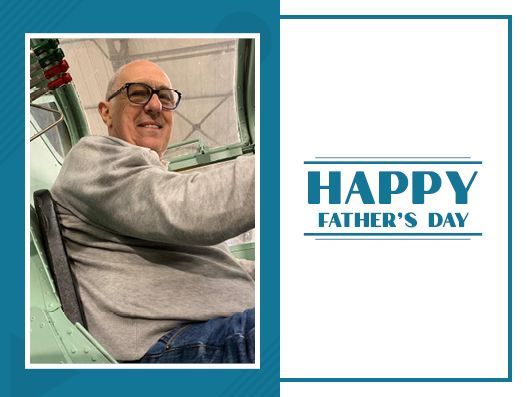 Father's Day, celebrated on June 21, is a perfect time to measure and reminisce adventures shared with one's father and plan more. James Leach of ACS has a memory lane loaded with thrilling adventures that he shares with his father Chris Leach.
Speaking to The STAT Trade Times, James reminisces about times when his grandfather was a pilot and how his father, Chris, was born into 'aviation'. James recollects stories of his extended family, which is ACS, and how driven his dad has been in making the company a success that it is today.
How did your father bring the company together and made it what it is today. What drove him, and what qualities you think helped him get here?
The recession of the early 90's hit our family hard. My father was out of work and needed to pay the mortgage. The early drive was really to look after his family. In the process of doing this though, he hired more people, who he saw as part of the family, and as a result that drive to pay the mortgage became a drive to keep everyone he employed in a job which became a drive to make the wider ACS family succeed.
This really stems from his childhood I think. My grandfather was a pilot who was away a lot and my father had two younger brothers who he was in charge of a lot from an early age, so he was conditioned to be a leader. My grandfather came from a poor background, but was extremely intelligent and worked his way up through the ranks of the R.A.F during the war and after he returned and started a family he built himself a career as a commercial pilot. I have no doubt that this drive also rubbed off on my father. He is also persistent. If he believes in a strategy, he will just drive it through not worrying about the details or failures along the way. ACS is a business model built on replicating a core philosophy and driving it forward over all obstacles and he has been at the heart of it.

When Chris and James met Neil Armstrong
What are some of the qualities, picked from your father, that really help you in making better decisions or handling tough situations?

The most important phrase used in ACS is that "Numbers talk 'BS' walks". Decisions based purely on excitement at a new idea, or fear of not doing something that a competitor does are rarely good ones. In business you always need to bring things back to the numbers. There are plenty of people who 'talk a good game' and can sell the theory of an idea, or that they are good at their job, but you need to break it all down to numbers.
It is difficult not to get caught up in emotion in business when making decisions especially in tough situations. I wont say we always manage it by any extent, but on the whole numbers drive the business and certainly in my job I try to ignore opinion that is based on gut feeling and focus on numbers. The other quality he has is to always be thinking of the bigger picture. It is difficult to do in day to day life when we deal with tactical situations, but he always keeps in mind the bigger picture and that is something I try and do as much as possible.

Share an occasion when you and your father worked together and delivered on a project. An occasion that has stayed with you.
Boxing day 2004. Over Christmas that year, the calls for our cargo business were forwarded to my fathers phone, whilst the passenger calls were forwarded to mine. I was staying at his house in Southwest London, for Christmas and I remember sitting with the family when initial reports of the Tsunami that hit the Indian ocean. Shortly after, his phone rang, then my phone rang. I remember us walking up and down outside in the cold on the phone which didn't stop ringing.
A few days later, I was on an MD11 to Kuala Lumpur, then a Malaysian Military Hercules to Banda Aceh in Sumatra, the worst hit city where 80,000 people had died, then a French military helicopter to an Island north of Aceh where we were going to base some helicopters for the British Government. The helicopter had its doors open and we were flying over a devastated city, and I thought back to those moments before we turned on the news sitting at my parents house eating cold Turkey and pickle sandwiches, and wondered how I ended up there.
Whilst I didn't wish to see some of the things I saw there, I always remember thinking about the fact that most other families were still watching the horror unfold on TV at home unable to do anything to help, and I was proud to be part of one which had the privilege of being able to play a small part in providing help to people who were affected.

As you lead ACS together with your father, what do you have to say to the younger generation?
Work harder than the next person and do not stop learning even if you see early success. I have seen some people have great success early in their careers only to see it go down hill because they thought they knew it all, took their foot off the gas and stopped learning.
Many will not have seen a recession before let alone what is coming in the next few years. The experience that you gain from working through them cannot be learned in a book as it can be an emotional time, and over the last few cycles I have come to really appreciate the insight people like my father, with experience of so many different economic environments over the years, can give. So now will the time to learn.