Halifax Stanfield builds cargo pad to meet lobster exports demand
Dec 19, 2016: Halifax Stanfield has built a new 17,000 square metre cargo pad for freighters that will be transporting millions of dollars worth Nova Scotia seafood this holiday season. A new cargo pad is now complete to accommodate parking these large cargo freighters while lobster is loaded on to the aircraft. "This time of […]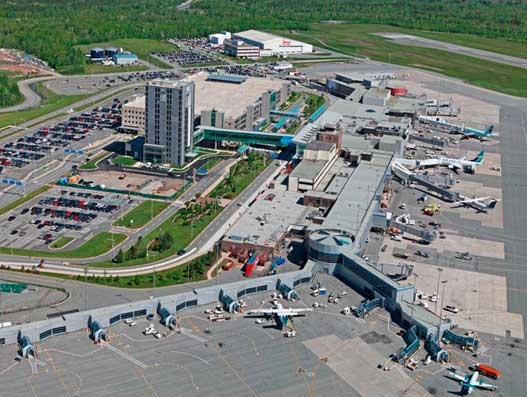 Dec 19, 2016: Halifax Stanfield has built a new 17,000 square metre cargo pad for freighters that will be transporting millions of dollars worth Nova Scotia seafood this holiday season.
A new cargo pad is now complete to accommodate parking these large cargo freighters while lobster is loaded on to the aircraft.
"This time of the year is the busiest for our cargo business," says Bert van der Stege, HIAA vice president, Business Development & chief commercial officer.
"Each cargo flight that leaves Halifax Stanfield generates approximately $1.0 million in new exports for the province. The cargo freighters have already started their holiday schedules and once the month of December is complete we estimate more the $15 million in lobster will have been sent from Halifax Stanfield."
In 2015, the overall value of exports from Halifax Stanfield was $447 million, up approximately $75 million over 2014. The majority of that growth came in the live lobster and seafood category, up by $57 million over 2014. Lobster and seafood exports totaled $149 million in 2015.
"The addition of our new cargo pad makes Halifax Stanfield more attractive to cargo operators who are interested in doing business in Nova Scotia," says van der Stege.
"This new parking and loading area not only supports our seafood industry, it will provide a positive impact to our provincial economy."
During December, lobster will be sent to all parts of the world through the connections provided by Halifax Stanfield.
Several carriers will be transporting seafood this season including: Air Canada, CAL Cargo Airlines, CargoJet, FedEx, Korean Air Cargo and Qatar Airways Cargo.
The shipments will be made using a variety of dedicated cargo aircraft, including the Boeing 777 and Boeing 747 freighters.