Hainan Airlines expands nonstop service to US West Coast
Dec 22, 2015: Hainan Airlines announced it will launch the only nonstop service from LAX (Los Angeles International Airport) to inland China on January 21, 2016. Hainan will connect passengers to Changsha, capital of Hunan Province. The new route is part of Hainan's large-scale expansion in North America. On the west coast, Hainan already operates […]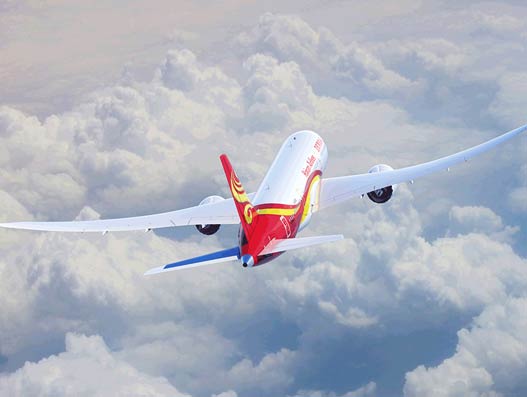 Dec 22, 2015: Hainan Airlines announced it will launch the only nonstop service from LAX (Los Angeles International Airport) to inland China on January 21, 2016. Hainan will connect passengers to Changsha, capital of Hunan Province.
The new route is part of Hainan's large-scale expansion in North America. On the west coast, Hainan already operates nonstop service between Silicon Valley (SJC) and Beijing, and from Seattle-Tacoma International Airport to Beijing and Shanghai. This complements the airlines direct routes between Beijing and Chicago, Boston and Toronto, and between Shanghai and Boston.
All North American routes, including the new service between LAX and Changsha are flown by Boeing 787 Dreamliners, making Hainan the airline with the most nonstop 787 Dreamliner routes between China and North America.
As a mileage partner with Alaska Airlines, passengers can earn miles on Alaska and connect between Hainan's west coast gateways and numerous destinations throughout North America. Second only to Seattle, LAX is a major hub for Alaska, with more than 20 direct routes to destinations in the US, Canada, Mexico and Costa Rica. Connections can also be made with American, JetBlue and Virgin America.
"Hainan is proud to bring our award-winning service and elite experience to Los Angeles," said Hou Wei, vice president ,Hainan. "Since we began our Beijing-Seattle route in June 2008, hundreds of thousands of people have enjoyed the premier quality Hainan Airlines provides our travelers. With expanding trade, stronger bilateral ties, and now reciprocal ten-year visas between China and the United States, this market is continuing to grow, and Hainan is making a long-term commitment to our customers in China and the US."
Hainan Airlines is Mainland China's largest independent airline, and is the only Mainland Chinese airline with a perfect five-star rating from Skytrax, the international airline ratings agency, five years in a row.
Beginning January 21, the newest route departs LAX Terminal 2 on Mondays and Thursdays at 12:35 pm and arrives Changsha at 7:20 pm the following day. Return flights depart Changsha at 1:00pm and arrive LAX at 10:35am the same day. LAX times are one hour later after March 12 due to Daylight Savings Time.
Premium passengers can also reserve complimentary private chauffeured car service between home, the airport and their destination in both the U.S. and China.
Hainan Airlines was founded in 1993 and has grown to be China's largest independent airline, with a fleet of over 150 aircraft, including wide body Boeing 787 Dreamliner and Airbus A330 jetliners. The airline is a subsidiary of the HNA Group, one of China's largest conglomerates, which has interests in logistics, tourism, hotels, financial services, as well as air transportation.