FROM MAGAZINE: GSSAs forge opportunities in air cargo
<p style="text-align: justify;"><strong style="font-weight: bold;">Recognising the growing demand for air cargo, airlines are looking at cargo General Sales and Service Agents (GSSAs) to help them capture as much of a market share as possible. Accordingly, it's time for GSSAs to improve their value proposition by integrating more and more technology into its operations and enhancing […]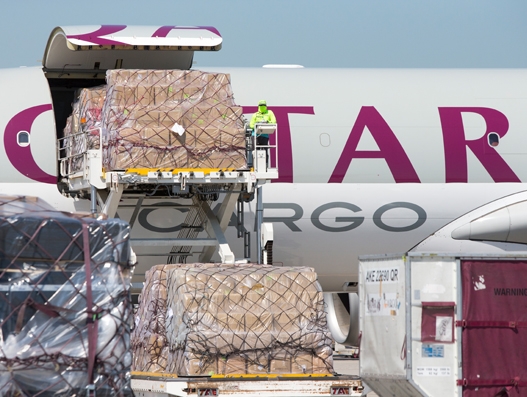 Recognising the growing demand for air cargo, airlines are looking at cargo General Sales and Service Agents (GSSAs) to help them capture as much of a market share as possible. Accordingly, it's time for GSSAs to improve their value proposition by integrating more and more technology into its operations and enhancing customer-centricity.

Twinkle Sahita
Cargo is a very special product that needs human intervention to move it around the globe. It is not possible for the airline to be present in every part of the world. Ergo, they rely on the agents to manage the logistics of air cargo – General Sales and Service Agents (GSSAs). They provide local market knowledge and market contacts to the airlines. They bring down the airlines costs for cargo activities.

Given the current scenario of growing demand for air cargo, it is becoming increasingly important for airlines to capture as much of a market share as possible in order to increase revenue and maximise profitability. Accordingly, recognising the revenue generating potential of an efficient cargo department, experienced airlines have transformed this sideline operation into a vital component of their business strategy. The success of an air cargo operation can be impacted by a number of factors – better definition of products and pricing, adequate, accurate, and timely data, and better understanding of capacities, demand, and customer behaviour. GSSAs are assisting the airlines to meet all these factors and keep their cargo business profitable.

Analysing evolving needs of airline partners, Stephen Dawkins, chief operating officer, Air Logistics Group, said, "There will be continued requirements from airline customers to provide additional services be it fiscal, sales, or operationally from professional GSSA companies and Air Logistics' innovative approach allows its airline partners to take advantage of a variety of solutions, from turn-key Total Cargo Management to local sales in niche markets." Air Logistics Group represents a wide range of carriers across its worldwide network. They currently have a comprehensive global network of 81 fully owned offices spanning 48 countries.

Recently, ANTONOV Airlines has appointed Flywell Aviation as its General Sales Agent (GSA) in India, as part of its ongoing growth strategy. New Delhi-headquartered Flywell Aviation has offices in Mumbai and Bangalore, and provides services to the defence, aerospace, oil and gas, rail and construction, as well as other sectors.

Technology and 'GSSAs'
As GSSA sector continues to consolidate, companies are facing increased service demands from their airline partners. Challenging economic times continue to place cost pressures on both. Thus, GSSAs specialising in air freight have responded to these challenges differently. They are meeting this challenge through acquisitions to broaden service areas and investing heavily in the much needed technology upgradation. In this era of investment flowing into technology, there are new technological solutions emerging and GSSAs are being a part of that change when it comes. The GSSA of yesterday has had to broaden its service and network spectrum to stay relevant in today's environment. Successful GSSAs know that sales will not be effective or sustainable without service. They need to up sell and grow market share in an environment with overcapacity. This is only possible with service.

Another leading GSSA, ECS Group, recently teamed up with Montreal-headquartered Exp-Air Cargo, to consolidate its leadership position as a key general sales and service agent in the Americas. Within six months, they opened new offices in Chile, Peru, Colombia and Ecuador. They already had set up in Brazil and Mexico. Asia is another prime area where they definitely decided to invest through the acquisition of a strong partner GSA over there: AVS. Since last year, ECS Group is in 11 countries in Asia and consolidated its presence as a strong partner over there.

In its new role, Adrien Thominet, CEO, ECS Group, informs, "At ECS, we've set up a new department dedicated to Technologies and Innovation. One of the main tasks of the team working in this Lab is to focus on airlines expectations. The idea is not only to follow our customers but to be able to be part of the transition in the current scenario. Hence as an example of one of the solutions we developed, we invested in a totally new IT system which will allow our principals to get direct access to our business intelligence. By encompassing the management of all aspect of airlines freight and by being a complete IT tool, Cargo Vision will be a real support to our customers."

He continues, "This lab also work on new tailor made offers to provide to our customers. It is not possible to pretend that one offer can match all the different and specific demands from our prospects and clients. More than adapting ourselves, we have to chameleons ourselves."

For instance, Air Logistics Group has invested over 6 million dollars into IT development over the last five years to strengthen its network and offer a cost effective solution to airlines in a multitude of cargo fields such as sales, revenue accounting, trucking management and business intelligence.

The current market environment sees airlines deploying emerging IT solutions. However, the GSSAs do not consider the evolving technological solutions utilised by them as a threat. Commenting on this, Ingo Zimmer, CEO, ATC Aviation Services, said, "Not at all. Portals which are on the market to simplify booking are far from offering same service as GSSAs. No infrastructure, no personal contact, no dedicated contact, lack of knowledge etc. ATC Aviation Services has gained a few new Cargo GSSA contracts in 2017 - Air Seychelles in Germany and Netherlands, Aerolinas Argentinas in USA. The GSSA giant has also seen extension of existing contracts.

Harish Shah, CEO-India, M&C Aviation, said, "Technology is always a challenge and partly yes as airlines have introduced new technologies, but at the same time it cannot totally reduce their dependence on GSSAs who have come out with new initiative in technology like, E Commerce, new business models, capacity planning, yield management, operational supervision, market analysis etc." M&C Aviation is present in 19 countries representing 34 Airlines and continues to grow into new markets.

Challenges amidst opportunities
The air cargo business is a dynamic industry and there are always new challenges to deal with – rising fuel costs, increasing competitors, overcapacity in tonnage etc.

Major challenge in current scenario is the excess capacity of over 40 percent in most of the markets. Equipment change from narrow body to wide body due high passenger traffic, additional capacity on the aircraft for freight apart from increased frequencies. This in turn affects the yields and bottom lines for the Industry. Exclusive freighter operators although in demand do have an effect on their planning due wide body belly capacity and drop in yields. This makes them re think on their strategy and plans of entering into new markets. "We are already seeing some synergies that are working between the Airlines thereby reducing their losses, trimming down the overheads and in turn gaining additional markets/new routes/aircraft utilisation," observes Shah of M&C Aviation.

Being optimistic amidst the challenges in the current market scenario, Zimmer, ATC Aviation Services, said, "I am positive that we have done best to face these demanding tasks by investing in state of the art technology as well as providing our staff with best training."

The way forward
Against the backdrop of existing challenges, the GSSAs have seen steady growth in the first half of 2017. "The growth in air freight demand is increasing following the recovery in global trade. Hence since the last quarter of 2016, we are observing new exports contract and in fact steady increase of freight volume generated, mostly by pharma and e-commerce commodities. Still, demand is increasing faster than capacity and thus stimulates the yields. We remain pretty confident that this trend will last since the demand in terms of e-commerce or time and temperature sensitive products remains strong," said Thominet, ECS Group.

"The first six months were extremely positive for us. We had a tremendous increase tonnage and worldwide increase of yields, exception US where the market has not recovered yet," said Zimmer.

As airlines are under more and more pressure to keep the cargo business profitable, this will be a chance for GSSAs to step into the business. The main focus for these agents of change to stay competitive is to invest in modern technology and trainings for employees in order to adapt to new procedures and market standards.