Global air freight demand surged 9% in 2017; staged robust growth since 2010
January 31, 2018: The recent full-year 2017 data for global air freight markets released by the International Air Transport Association (IATA) showed that the demand measured in freight tonnes kilometers (FTKs) grew by 9 percent, which is more than double the 3.6 percent annual growth recorded clocked in 2016. 

According to IATA, the freight capacity measured in available freight tonnes kilometers (AFTKs) grew by 3 percent in 2017. This was the slowest annual capacity growth witnessed since 2012. The demand growth also outpaced capacity growth by a factor of three.
Air cargo's strong performance in 2017 was sealed by a solid result in December. The year-on-year demand growth during December jumped 5.7 percent. This was less than half the annual growth rate seen during the mid of 2017, but was well above the five-year average of 4.7 percent. Freight capacity also grew by 3.3 percent year-on-year during December.
The overall 2017 demand for air freight grew at twice the pace of the expansion in world trade (4.3 percent). This impressive performance was due to strong global demand for manufacturing exports as companies moved to restock inventories quickly.
"Air cargo exhibited its strongest performance since the rebound from the global financial crisis that hit in 2010. Demand grew by 9 percent. This outpaced the industry-wide growth in both cargo capacity and passenger demand. We saw improvements in load factors, yields and revenues. Air cargo is still a tough and competitive business, but developments in 2017 were quite positive," said Alexandre de Juniac, Director General and CEO of IATA.
"The outlook for the air freight market in 2018 seems optimistic. Consumer confidence is buoyant. And we see growth in the global e-commerce and the transport of time and temperature-sensitive goods, such as pharmaceuticals. Overall the pace of growth is expected to slow down from the exceptional 9 percent growth witnessed this year. But we are hopefull for a healthy 4.5 percent increase in demand during 2018. There are various challenges, which includes the need for industry-wide evolution to more efficient processes. It will help improve customer satisfaction and capture market share as the expectations of shippers and consumers demand grow," said de Juniac.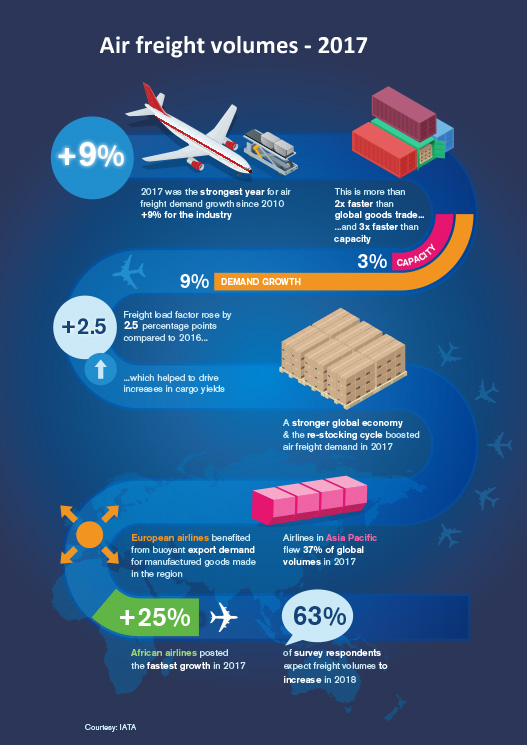 REGIONAL PERFORMANCE    
Asia-Pacific carriers saw demand in freight volumes grew 5.6 percent during December 2017 compared to the same period in 2016, and capacity grew by 2.2 percent. This contributed to a growth in freight demand of 7.8 percent in 2017 compared to 2016. 
Similarly, capacity also increased 1.3 percent. The strong performance of Asia-Pacific carriers in 2017 largely reflected the ongoing demand for exports from the region's major exporters, such as China and Japan, which was driven by the uptick in economic activities in Europe and solid performance from the US. 
North American airlines saw and increase in freight demand by 5.4 percent during December 2017, an increase of 2.2 percent. It contributed to an annual growth of 7.9 percent.  The capacity also grew by 1.6 percent in 2017. The strength of the US economy and the US dollar improved the inbound freight market in the recent years. The recently agreed US tax reform bill is expected to support freight volumes during 2018, although it may offset due to the recent weakening in the US Dollar.
European airlines posted a 5 percent year-on-year increase in freight demand during December, with a capacity rise of 3.2 percent. The strong performance in December boosted cargo volumes during 2017 by 11.8 percent—the largest increase of all regions with Africa as an exception. Capacity in the region also increased by 5.9 percent during 2017. It was consistent with Europe's manufacturers' export orders, which is currently growing. 
Middle Eastern carriers' freight volumes also increased by 6.3 percent during December, and the capacity increased by 4.7 percent. It contributed to an annual increase in demand by 8.1 percent during 2017—the third fastest growth rate of all the regions. 
Capacity also increased by 2.6 percent. However, despite sluggish demand of other regions during the first half of 2017, Middle-Eastern carries' share of global demand dipped for the first time in the last 18 years.
Latin American airlines also experienced a growth in demand of 4.9 percent during December, with capacity increase of 11.6 percent. It contributed to an annual growth in freight demand of 5.7 percent, with capacity increase of 3.1 percent in 2017. It was the first increase in the annual demand in the last two years. The surge in demand was due to economic recovery in Brazil. 
African carriers' posted a fastest growth in freight volumes, up 15.6 percent during December 2017, with capacity increase of 7.9 percent. It contributed to an annual growth in freight demand of 24.8 percent in 2017—the fastest growth rate of all regions. It's the second time that African airlines have topped the global demand growth chart since 1990. The capacity in 2017 increased by 9.9 percent.  The demand was due to strong growth in the Africa-Asia trade, which increased by over 64 percent during the first eleven months of 2017.